New Big-boy TR Chapter Links - generously donated my MineMail
Introduction
Chpt 1 – The trip is born
Chpt 2: I can't believe we're paying for dining
Chpt 3 - I can't believe he's on Chpt 3 and not at WDW yet.
Chpt 4 – I honestly believe he's never going to get to WDW
Chapter 5 - Well... they're finally boarding the plane...so at least that's something
Chapter 6: MVMCP, we finally made it.
Chapter 7: Get on with it….what is this War and Peace.
Chpt 8: Please…I'm begging you… just get on the bus already
Chapter 9 - please, somebody make it stop
Chapter 10: "Chapter" You keep saying that word….but I don't think it means what you think it means.
Chapter 11: Did we really need a whole chapter about lunch?
Chapter 12 – Oh…just shut up with the chapters already…they're nonsense
Chapter 13 – We're still at AK right? Just checking
Chpt 14 - How to bungle the jungle parade
Chpt 15 – I'd like to leave a wake-up call for the end of this TR
Chpt 16 - Day 2....which means day 1 only took fifteen chapters...great
Chapter 17 - Whatever
Chpt 18 - I promise we'll enter the park...probably
Chpt 19 – We're really cooking now
Chpt 20 – Who's up for some lunch?
Chpt 21 - Yup...we're still at MK
Chpt 22 - Yup...we're still....still at MK
Chpt 23 - Who's up for 30-40 chapters about a single day at Epcot?
Chpt 24 - Baby steps to the park.
Chpt 25 - More droning on about EPCOT
Chpt 26 - Did I just miss something...or was that another chapter about lunch?
Chpt 27 - Dinner at Germany
Chpt 28 - Tomorrow we're sleeping in
Chpt 29 - Lunch with royalty
Chpt 30 - I don't know....I'll have to check my notes
Chpt 31 - Dinner at Tonys
Chpt 32 – A day at the park formerly known as Disney MGM
Chpt 33 - More MGM stuff...probably
Chpt 34 - Well, it's lunch time....so you know what that means
Chpt 35 - What have we done!
Chpt 36 - Lost
Chpt 37 - What Pal Mickey would have wanted
Chpt 38 - Ariel's Grotto......of disappointment
Chpt 39 - Dinner at Le Cellier
Chpt 40 - Our final chance for Wishes
Chpt 41 - Black Forest Cake for lunch
Chpt 42 - Park Hopping to MK....after spending a bunch of time in the Norway pavilion
Chpt 43 - our last night at WDW
Chpt 44 - Wishes at
the Poly
Chpt 45 - Heading for home (Part One)
Chpt 46 - Heading for home (Part Two)
Epilogue
Introduction:
I cant remember if I cried
When I read about his widowed bride,
But something touched me deep inside
The day ….the mickey ……died.
Forgive me dissers, for I have shunned. It has been nearly two years since my last trip report.
There was a time…not so very long ago… when I was sure I would never be doing this again. Too much pain. Too many memories. How does one enjoy a site where… around every corner… there are painful reminders of our dearly departed Pal Mickey.
But something changed when we booked our December trip. Somewhere deep within me… a tiny flame was re-kindled. A part of me that I feared had died on that fateful day in December 2007 when we lost mickey stirred….. gasping for life.
But why now? Why….after all this time….would I chose to tell my story? Maybe I feel it needs to be told. Maybe something tells me that Pal Mickey deserves to be remembered. Maybe these walls I've built against the pain are selfish and weak and maybe….just maybe….I'll never be able to love another plush, inter-active, talking mouse doll again until it's told.
Hope springs eternal. Let's begin.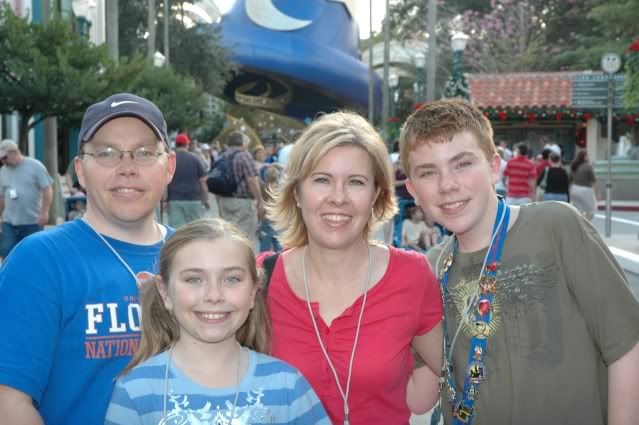 Introducing the Panic Attacks (Pal Mickey is taking the photo)
Background:
Allow myself to introduce….myself. I'm Peter Panic Attack……and yes that's my given name….born to Eugene and Gertie Panic Attack (and before you ask, no...I am not related to the Providence RI Panic Attacks...I wish!) In a former trip-report life I was Dabby. I was Dabby when I used to log-on under my DW's username "Tinkershell". Eventually, I grew tired of posting my manly comments under "Tinkershell" and made the decision to register under my given name….a decision I seldom regret.
Tinkershell is my extremely patient DW who drives our families WDW obsession. She is funny and a great mom who likes pina coladas and getting caught in the rain. My first trip to WDW was on our honeymoon. You'll notice I said my first trip to WDW was on our honeymoon. It hurts me to say this, but Tinkershell had a pre-marital WDW experience while in college. I've never asked for the details……too painful.
Tinkershell and I have been blessed with two of the best kids money can buy. Baba aka Buddy aka Buddy-boy is our 15 y.o. DS who no longer lets me call him Baba in front of his peers…..apparently they pressure him in some fashion. He is now half-a-foot taller than I am and for this I can never forgive him.
Woobie aka Snow Woob aka Pookie is our 12 y.o. DD who owns the world's second largest collection of Littlest Pet Shop animals and will tell you the unique name for each one of them if you have the time or inclination to sit through the 20-30 minute presentation. Only recently, she has started to replace her little girl posters with posters featuring pasty-faced characters from Twilight…. and this troubles me deeply.
Pal Mickey (deceased) was purchased during our 2005 trip. Insightful comments....clever banter....little-known facts....it was like vacationing with a small furry Cliff Clavin. He crossed the veil during our 2007 vacation under extremely suspicious circumstances. The local authorities were, curiously, disinterested. Worst part is...we didn't even get to say goodbye.
Next up: Chpt 1 – The trip is born