Disney Hollywood Studios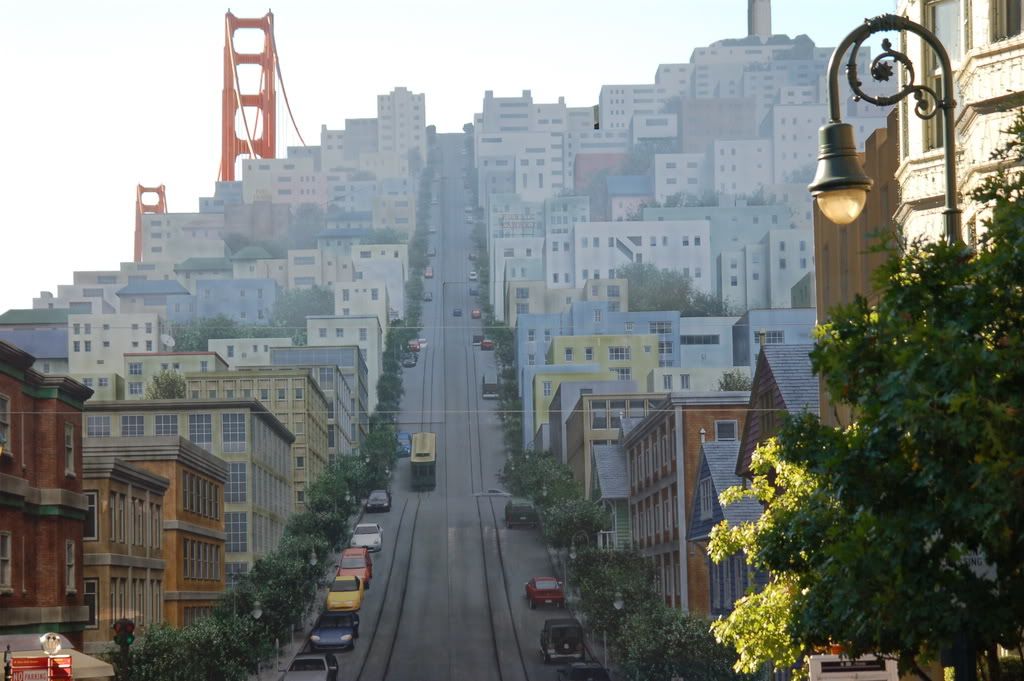 We had a bit of a late start today which was a bit annoying as we were heading to Disney Hollywood Studios and I had wanted to get there early so we could get straight to Toy Story Mania. We arrived picked up maps and headed straight to Toy Story for fast passes. The ride was down so people were lined up for fast passes. When I entered the line the fast passes were being distributed for between 11.45 and 12.00 ?? When I got my tickets we had to come back after 1.45 pm the ride was still down when we left the line so I was getting worried that it would stay down.
We wandered over to do the back lot tour to discover it didnít open until 10.00 (which I will admit annoys me if the park opens at 9.00 then in my opinion everything should open at 9.00 but anyway we dealt with it)
So we went and did the Muppet Vision 3-D instead, which was good, we wandered around took some photos went and road the Great Movie Ride, we seemed to queue for ages for this, even though the line looked short we were in the theatre for quite a long time, the kids were starting to get cranky, the first time we had that issue during the week we were there. We enjoyed the ride we had the Gangster tour; I would like to see the Cowboy but didnít want to wait in the line again.
We stopped and had some morning tea at Starring Rolls Cafe, Seth had asleep and we had a wee rest. After this we went and saw Playhouse Disney Ė Live on Stage which Cullen loved, and Seth enjoyed it for a little while but then just wanted to crawl around so I had to get up and hold him at the back otherwise he would have crawled right up the front.
We went and did the Studio Backlot Tour and on leaving there we ran into Mike from Monsters Inc so we stopped to have some photos taken with him.
Seth was getting a bit hungry so I stopped to feed him in the seats near Studio Catering Co, while Doug took Cullen into the Honey, I Shrunk the Kids Movie Set Adventure and Cliff and Avril went to watch Indiana Jones Epic Stunt Spectacular or Lights, Motors, Action Extreme Stunt Show I canít remember which. After feeding Seth, he and I went in and found Cullen and Doug. What a great play area. Cullen did not want to leave.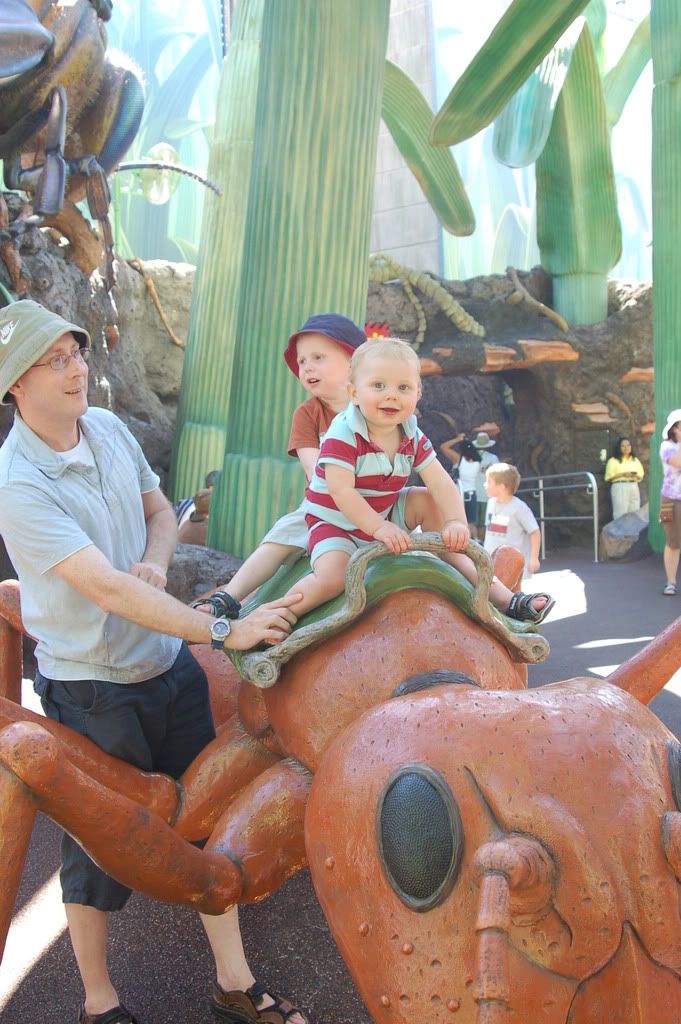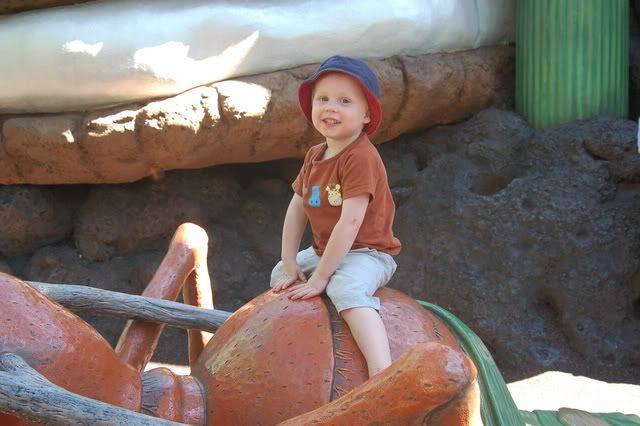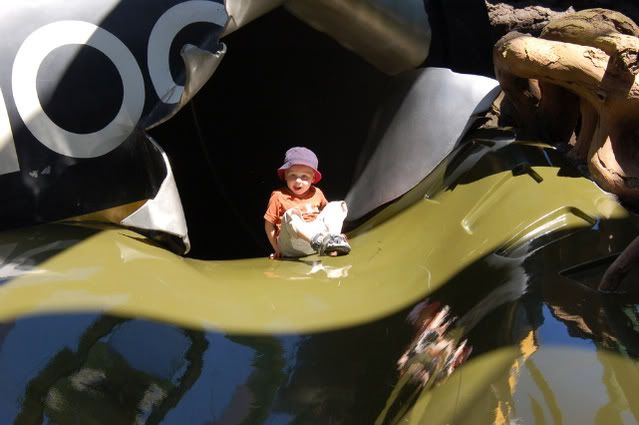 We then decided to go to Toy Story Mania and while we were in the line it broke down again, an announcement did come over the speaker saying it had broken down and they didnít know for how long, some people left the line but we decided to stay and give it I think 15 mins before we would evaluate the situation. It started up a little bit after that so we got on, Seth and I and Doug and Cullen were on one and Grandma and Grandpa on one, during the ride it broke down again but luckily we could just sit and practise our shooting, Seth got a bit niggly and wanted to get off my knee but was fine once we were moving. It was great fun, I canít wait to ride it again in DL. We met these guys outside as well.
I canít remember when during the day we did it but we also had a photo taken with Lightening McQueen and Mater, Cullen got a set of car toys before we got on the plane to keep him entertained, he does like the movie however, if you give him the choice between Cars and Cinderella the big girls blouse picks Cinderella every time. LOL. But he did think it was fab seeing them, Seth not that interested as you can see by the photos. It will be interested to see how they both react during our upcoming trip as they are both a little bit more interested. In fact they are quite frequently fighting over one or other of the cars Ė we also have 2 of each of most of them and they still fight.......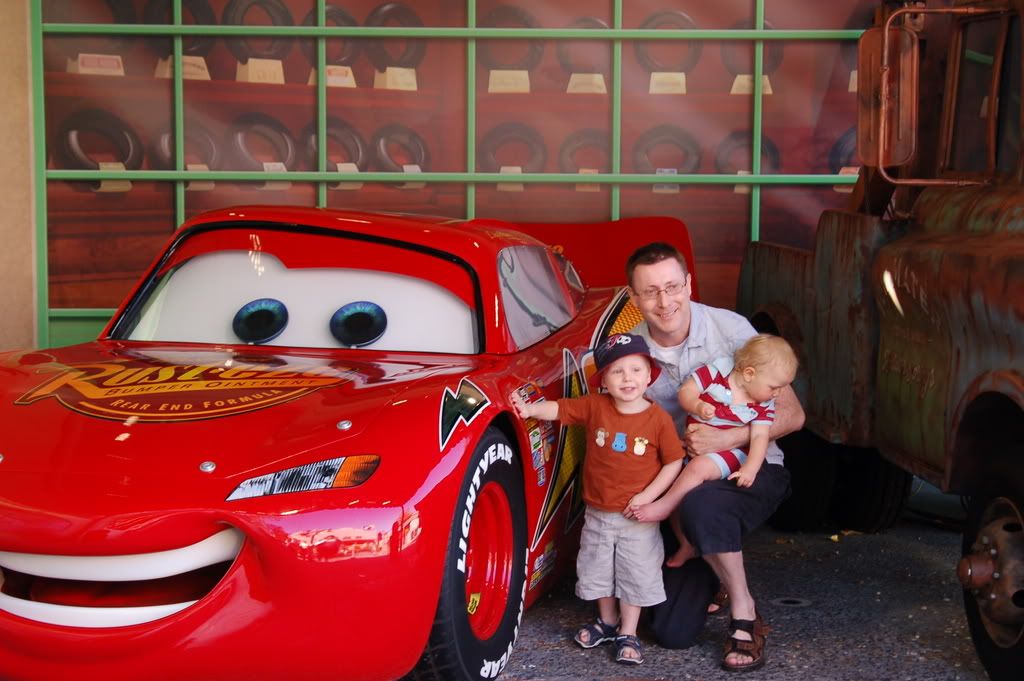 We decide to leave after this ride and head back to the condo, all those commando visitors will be shaking their heads at us, because we didnít do everything or even in this case see most of it. With our kids we felt we did enough and we have saved some more for another visit. We ran into the Block party Bash so we stopped and watched a wee bit and then cut through the shops to get out. We stopped at McDonalds on the way home for a light late lunch; both kids fell asleep in the car.
We hung out at the condo for a while and then I did some pasta for the kids for tea, the adults are going to Californian Grill for tea so as we were leaving the next day and had very early reservations at Crystal Palace we spent the rest of the evening packing our bags so we could just throw them in the car the next morning.
I had got a babysitter from Fairy Godmothers and just before 7.00 Vivian arrived, she came with a bag of toys and quite disappointed that the kids were going to be in bed, I was putting Seth down, he required to be fed to sleep, so once he was down he was good. Cullen met Vivian this was the first time we have left him with a babysitter he didnít know and only about the 3 time we had left him at all. (we have no social lives LOL) he went off to sleep before we left as well. We headed to the Californian Grill in the Contemporary Resort. We had a drink at the bar; I asked the barman to make me something refreshing and ended up with some cocktail which was very nice. The fireworks started so they dimmed the lights and set the music up we had the opportunity to watch the fireworks from the observation deck but we decided just to sit at the bar we could see a bit. We were seated shortly after the fireworks with a great view of the castle.
We all had sushi for our starter,
I had the Spicy Sensation which was just divine so well made and fresh and yummy and the best sushi I have ever had. Also ordered were another Spicy Sensation, Big Bang Roll, and Californian Roll. Everyone enjoyed sushi and for Avril and Cliff I think it was their first try of it.
I then had the pork which was also very very good. Other meals were the Lamb and a Fillet, nobody had any complaints desserts were lovely as well, I had a banana dessert which I remember was very nice. We shared a bottle of wine and the bill came to 336.90 plus tip, so not cheap but so very worth it, it was a lovely atmosphere and great food, I will certainly be going back on our next trip to WDW.
We got home to find both kids awake, I did tell Vivian that if they woke up not to worry about trying to get them to go back to sleep as it would just end up in a screaming match from Seth. So he was snuggled up with her and they were in with Cullen Ė who had just woken up singing him a song.
I canít remember exactly how much she cost but I think I remember giving her about $80-$90 which included a tip but we donít go out very often and I really felt it was worth it. I know people donít like the idea of leaving a stranger with their children but I was very comfortable with my decision.
1. They use to be the service recommended by WDW, however, as it is now run by Grannies it is too small and Kids night out is now recommended.
2. I have never read any bad reports on it and quite frankly in this day and age of computers if there was something bad it would be on the internet.
We had organised a code word before hand so that if I was feeling uncomfortable with my decision I would use the word and hubby and I would be on the same page and pull out of the deal, paying her of cause. But as I said I was very comfortable with it all and we had a fab night.
We went to bed very full and not at all looking forward to our last day the next day.
Tomorrow: Magic Kingdom and our last day at the parks
http://www.disboards.com/showthread.php?t=2133630