Welcome to my TR! Here are links to individual posts. Don't forget to leave a comment if you feel so inclined
Thanks for those of you who have been waiting around for it.
If you're new and want to read the PTR, just scroll on down!
Enjoy everyone!
Episode #1 The Trip
Episode #2 1st Stop EPCOT
Episode #3 Divide and Conquer
Episode #4 POP Goes the Nap Time
Episode #5 O'Hana and EMH at MK
Episode #6 AK and moving into BCV
Episode #7 An extra special Princess
Episode #8 Finally riding TSM!
Episode #9 Visit to Fort Wilderness
Episode #10 Breakfast at Akershus
Episode #10 Continued
Episode #11 TyTy Time at AK and Student Meet and Greet at Illuminations
Episode #12 Finally seeing the Fairies!
Episode #13 Bullies at Belle's Story Time
Episode #14 TRex and La Nouba
Episode #15 American Idol Experience!
Episode #16 Flower and Garden stuff
Episode #16 Continued.. Wrapping up the trip at Epcot
Hello there everyone! Welcome to my newest PTR! I'm starting this with only 27 days to go. Let me start by explaining the title.
First of all, I am technically, officially, and completely allowed to use the term "band geek". Why? What qualifies me? Well...
I AM ONE!!
Allow me to introduce myself. My name is Susie.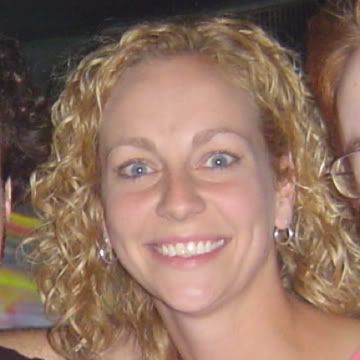 I am a third grade teacher in a suburb of Indianapolis called Avon. And, NO, I don't sell make-up or ring doorbells. I DO, however, participate in community theater: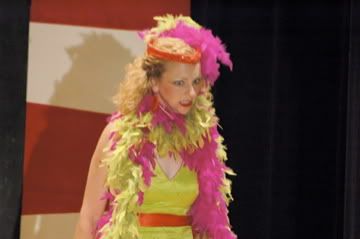 I also LOVE the arts... all kinds! Even drawing!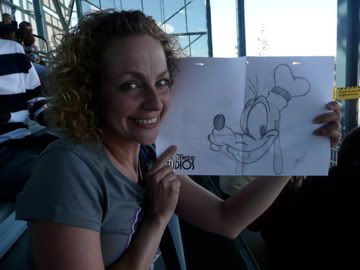 And acting, of course!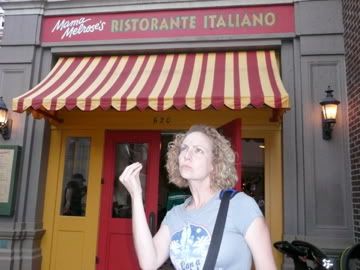 All of my love for the arts started way back, back when I became a band geek. I started with the piano, moved on to flute... then to percussion. Decided to play saxophone and even did a stint as drum major. All of this lead to my desire to be in the color guard! Once that started, my life changed. I really came out of my shell, met my DH, taught color guard for a LONG time.. then moved on to theatre. I still teach color guard camps, clinics, and other special occasions. Like this past winter, DH and I were asked to teach the Bands of America Tournament of Roses Honor Band.
Here we are in sunny CA: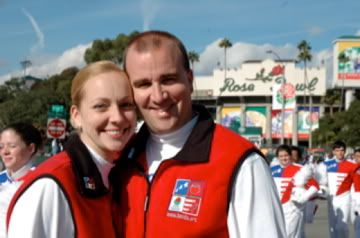 Here is the float our honor band was partnered with: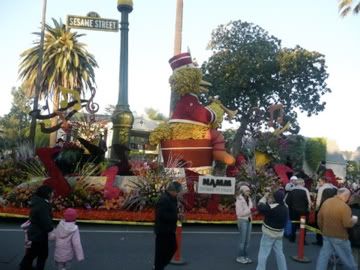 And here are some of the girls in my color guard: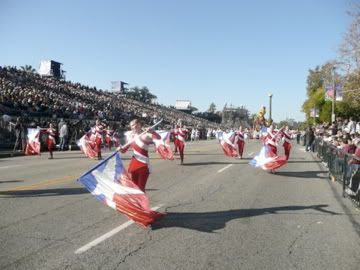 So.. you can see. I'm pretty much a band geek. But I couldn't call a whole TR "Band Geeks Takin' Over the World" if it was ust me, right?
Well, you caught a glance of my handsome DH. That's Matt. He is an associate band director here in Avon. It's a pretty incredible band program. They just won the Bands of America Grand National Championship this past year. He is not only a band geek, he is an UBER band geek. When he is not teaching band (which is hardly EVER), he is the brass caption-head at Carolina Crown, a drum and bugle corps! His dad was a band director and his brother is a band director. Yup... Band geek through and through!
Here is another picture of us: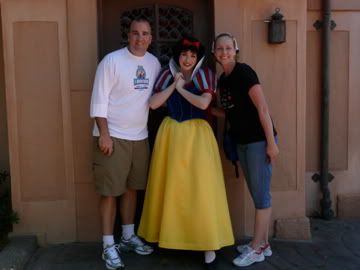 And my favorite one of Matt: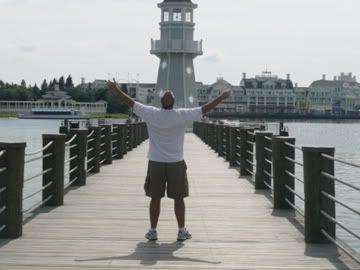 Two band geeks enough? How about the kiddos. OK, they really aren't old enough to be band geeks yet... but with the history of the family... they are DOOMED!!!
The first is our DS, Tyson. He is a 2nd grader. Taking piano lessons, playing basketball, performed in a few shows with me. Handsome as can be!
Then we have our little princess, Shaelyn. She just turned 3 on Valentine's Day. Her big thing right now is potty training. It'll be interesting debating pull-ups or panties on this trip!!
Here are our darlings: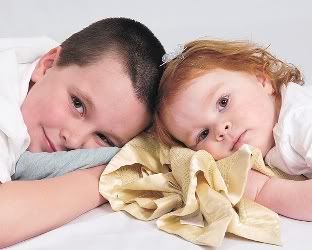 But WAIT! There's MORE!
We have some dear friends that planned a vacation the SAME time we did! They live about 45 seconds away from us in Avon.... and.. YES... they are BAND GEEKS TOO!!!
Dean is a band director at Avon, as well. Actually, he is starting up their orchestra program. He also teaches drum and bugle corps and went to CA with us to teach the Honor Band! Here are Matt and Dean in the limo on the way to the airport: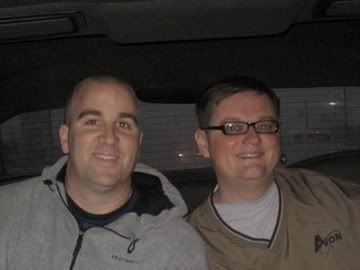 Then we have Dean's lovely wife, Adrianna. She is a band geek by marriage. Maybe we could call that band geek-in-law?
She adores gardening and all things flowery. She will be going to town taking pictures at the flower and garden festival!
Finally, rounding out our troup of band geeks, we have Dean and Adrianna's daughter, Abby. Again.. a bit too young to be a true band geek, but definitley destined to be one!
Here are Tyson, Abby, and Adrianna in the limo: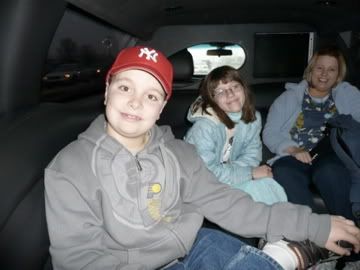 Dean and Adrianna at the float making tent in CA: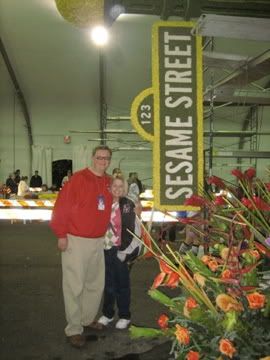 Tyson and Abby at the Pacific Ocean: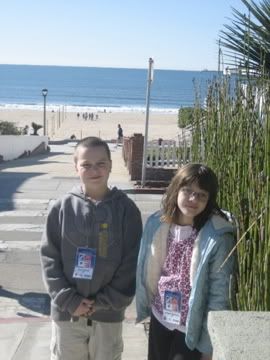 Matt, Dean and Abby being silly outside of the Grand Californian Hotel: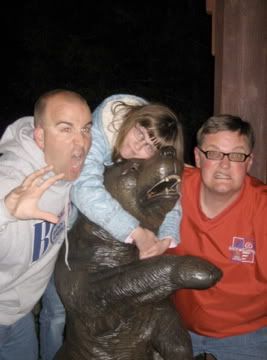 So, as you can see, our families have GOBS of fun together. Lots of laughter... lots and lots of laughter!!
But what is even MORE special.. the MOST special.. is this:
Even though band eats up a majority of our lives... DISNEY is JUST as important to all of us!! When we found out that we were both planning a trip at the same time, we couldn't stop smiling, planning, anticipating, and celebrating!!
Now, we are not traveling or staying together. They are hauling a camper to Ft. Wilderness. We are staying at BCV (We have been DVC members since 2004). We plan on doing some things together, but mostly plan to have our own family time.
Stay tuned for our joint plans, separate plans, and pictures of our Disney planning meetings!
Yes... we have Disney meetings...
You love us already, don't you!
Sign in and let me know you're along for the ride!! I'll be baaaaaack!