I love Alaska. I really do. It's gorgeous here. It's relatively quiet (except for a short time this fall, when reporters descended upon our little haven like a Brazilian tour group at Rock n' Roller Coaster…but I digress.) I don't even mind the cold…really I don't. I don't mind plugging my car in at night to ensure it starts in the morning. I don't mind wearing Ugg boots and gloves in the house. I don't even mind enduring a measly 5 hours of daylight most days in December and waiting half a day to get studded tires put on my minivan. But day after day after day of -30 degrees gets real old. Real old.
Here is a little bit of what I'm talking about:
Frozen doors at church: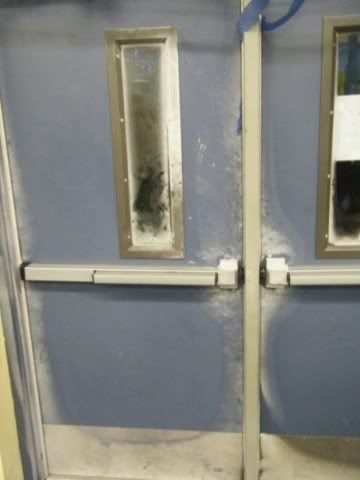 Bundled up to watch the fireworks: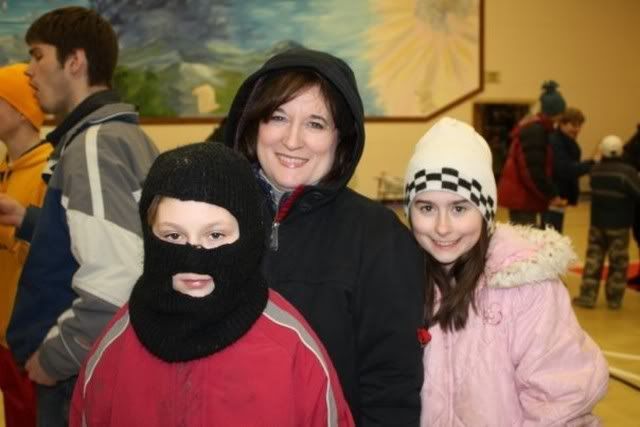 Square-dancing in boots and parka inside because it is so cold: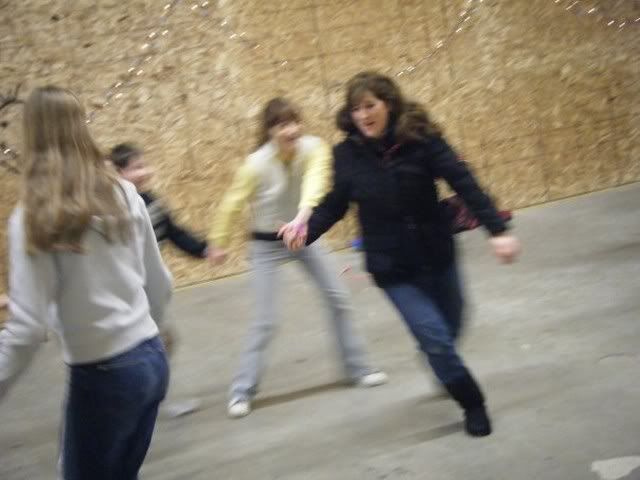 Thanks to our frequent flyer miles, I booked a trip way back in April for January. This trip marks the first time not all of the kids are going. My oldest son started college, and can't miss classes. My second oldest son was smack-dab in the middle of basketball season. DH, being a teacher, doesn't usually go on our Disney trips. He just funds them. What a great guy. He isn't the Disney enthusiast that I am. I'm also leaving behind my little Jack, a sweet puppy DH got for me for as a surprise.
I'm going to miss him very much. So for this trip, we are the typical "family of four," except that instead of mom and dad and two kids, it is mom and three kids.
Here's the cast:
Me: 44 (turning 45 during the trip) a true Disney nut.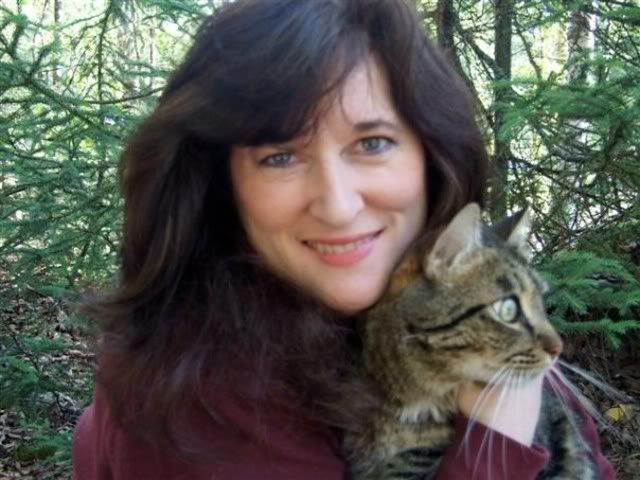 DD: 15 a.k.a. "Princess." Amazingly did very well being away from friends, iPods and Facebook for a whole two weeks.
DD: 12 a.k.a. "Sweetness." She is, most of the time, a very accommodating and sweet girl.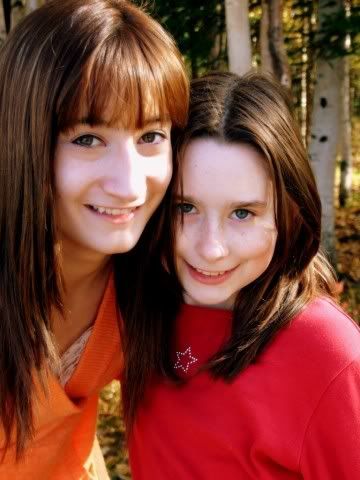 DS: 10 a.k.a. "Mr. Energy." You know how toddlers just go, go, go 100 mph, and then just drop? That's my son…except he's 10.
Our trip is for 17 days total. I start looking at 10 days for a trip, and keep searching until I find available flights we can get using miles. This time, that means 17 days. Thanks to a great travel agent, I'm able to get an AP rate for the entire stay at POP Century. This is our first time at the hotel, and we are really excited.
We have to leave in the middle of the night, since the airport is 1-1/2 hours away. I say goodbye to the boys (sniff, sniff…that was sad and hard) and then stay up. I didn't want to risk falling asleep and missing the flight. We get to the airport 2 hours early. Flights down were great. 3-1/2 hours for the first flight, and 5-1/2 hours for the second.
Flying over Alaska: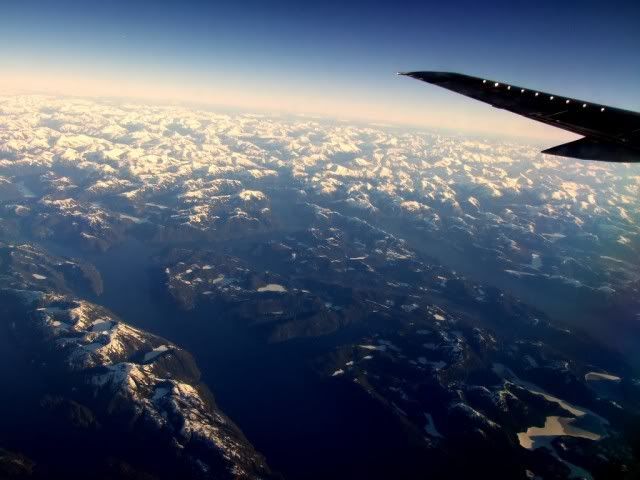 Remember the good old days, when they actually fed you on the plane? For these long flights especially, food was not only necessary, but a welcome diversion from boredom. Just arranging the food, and the napkin, and opening the little packet with plastic silverware, gave you something to do for about half an hour. I even loved the little paper sack bags with cold sandwiches they had a few years ago. Now, you don't get anything. Zippo, nada, zilch. Since we were flying all day, literally from before breakfast until long after dinner, I did get the kids snack packs. They were pretty good.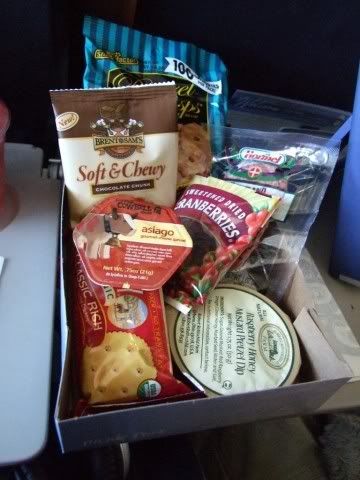 We also rented digE players, again to help with boredom. I watched a good movie, "Alvin and the Chipmunks" and a really bad movie.
We got into Orlando early, and had no trouble finding Magical Express. The airport was pretty empty. We retrieved our own luggage, since we were getting in so late (10:30 p.m.) and wanted to have our stuff for the night. We loved Magical Express! (I was going to post a picture of my girls on the bus, but my older daughter made a 'peace' sign for the camera, and my younger daughter did too. Except part of her hand in hidden behind the seat in front of her, and you only see half of the sign. The wrong half. So, I'll have to work with Photoshop on that one.)
Checking into Pop Century was easy too. Again, there was hardly anyone else there. I was disappointed to find out that the building I had requested wasn't available. They did tell me, however, that if I was willing to switch rooms in the morning, I could have a room in the building I wanted for the rest of our stay. Yippee!
We dropped our stuff off at our room, and then went to explore the hotel. It was almost midnight, but we were so excited! Pop Century is a great resort. We absolutely loved it there.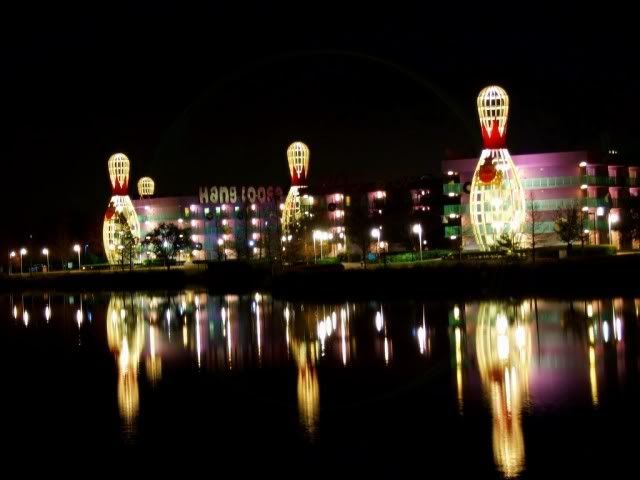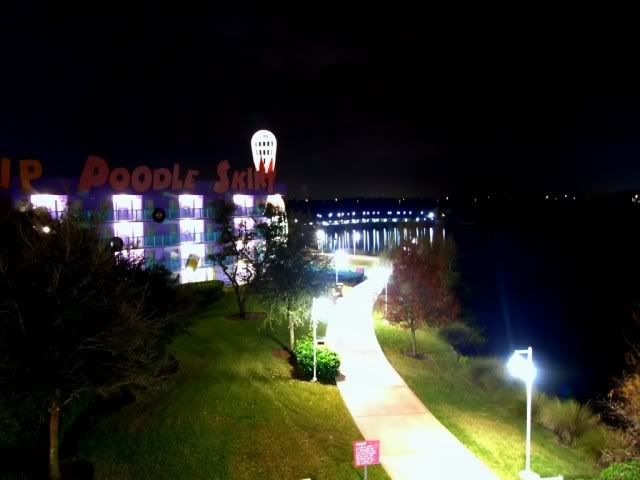 We didn't unpack everything, since we'd be switching rooms in the morning. Finally, we did go to bed. It had been a wonderful first day.
Next Installment: How Much Chocolate Can We Consume In One Day?