TR started!! If you are just joining me for the Trip Report post 1 and 5 are a good introduction to us and this trip.
Coronado Island
Sea World
Sea World at night
Seashells by the Shore
Lost in San Diego Zoo
Hotel Del Coronado
Train to Disneyland!
DTD, Rainforest Cafe
1st Day in Disneyland!
Toontown and Critter Country
Musical Chairs with Alice in Wonderland
Celebrate! Parade
Goodnight Mainstreet Disneyland
Magic Morning
California Adventure
Ariel's Grotto for DD's 5th Birthday!
Afternoon in California Adventure
Disneyland and Pixie Hollow
Snow White's Wishing Well
Amazing Evening
Universal Studios Hollywood
Universal part 2
Universal part 3
Final Day
WDW vs DLR
Three generations "Girls Only" Trip
Hello! I told myself that I would not make a TR for this trip but I just couldn't resist. I love sharing all our memories with the only other people who truly understand my obsession with all things Disney.
Here's a photo from our last WDW trip in September 2008!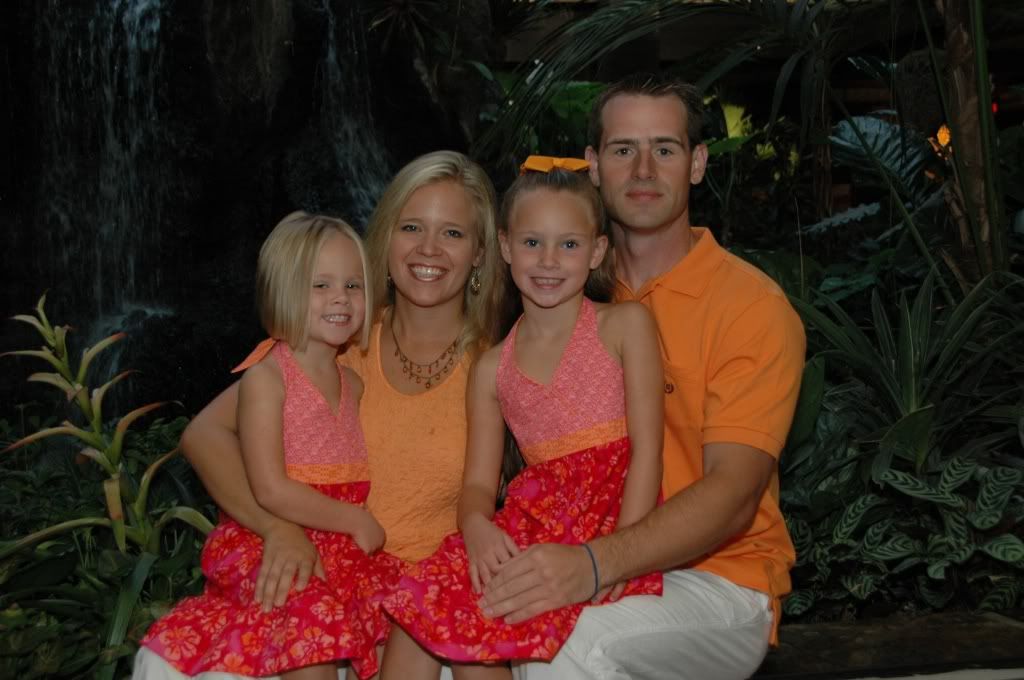 We became Disney addicts two years ago in October 2007. Since then we returned 11 months later, are visiting DLR 8 months after that, and plan to do WDW and a Disney cruise in December. Here is a link to our Sept. 2008 TR if interested.
http://www.disboards.com/showthread.php?t=1966843
This trip will be me (31 yr old SAHM)
My two daughers 8yo and 4 year old, turning 5 on the trip.
And my dear mother!
DH started with a new company the first of the year and did not want to leave his new job for vacation already. (We are planning a Christmas trip to WDW 2009.) So at about only 90 days out I called my Dear Mother and asked if she'd like to go to Disneyland with the girls and I over DD4's birthday. I was surprised at how quickly she jumped on board. Actually, not really surprised. She loves to travel.
I am excited but will really, really miss DH.
I chose Disneyland once I discovered how it is literally 1/2 as much for us to fly there rather than Disneyworld. I also discovered how much more resonable accomodations were in DL in May! Finally, we are purchasing the Southern California City Passes which will allow us to see San Diego beaches Sea World, San Diego Zoo, 3 days DL and CA, and Universal!! What a great deal.
I have not been to DL since I was 10 years old. Can't really remember it at all. From what I've read it has completely changed in the last two decades anyway. I'm looking forward to California Adventure too!
The trip seems pretty straightforward at first but planning has become rather complicated. I'll get into that later.
But first here is a picture of the girls and I.
My mother is a riot! She is so much fun. The girls love her because she is a goofball just like them. Here are a couple pictures. First the flattering picture.
Then she probably won't appreciate this picture as much but it shows her being the fun Granita that we love! (I'm not sure what she's doing here. I think she's pretending to play the guitar.)
The reason I have named my TR "Which was to Disneyland?" Is because Granita and I have absolutely no sense of direction at all. We go to our local zoo (about an hour away) all the time and get lost almost every time no joke. My father is absolutely terrified about us having free reign over Southern California. We will have a GPS for sure.
This trip has evolved into two special guest that will be joining us for the end of the trip. This will be a surprise to the kids and a special birthday present for DD4 (turning 5). Stay tuned to see who it is.