Quote:
Originally Posted by
mncherokee
I went to work and when I came home my husband was frantically trying to cook the chicken on the stove.
Apparently, even though I had turned ON the crockpot, it wasn't plugged IN.
There was a power cord plugged in behind it.... for my coffee grinder!
So, we plan did 'B'... Subway!
So,yes, use your crockpot, but lesson learned... double check the power supply!
OMG . . . I thought MY DH was the only one who did this!
I had a pork roast defrosted; and all the vegetables cut up and tossed with onion soup mix. All he had to do was put everything in the crock pot with a cup of water and turn it on, which he did . . . and I got home from work . . . and no delicious smell; he hadn't plugged it in. My goodness; did I have to tell him to plug it in?!?!?
We had pizza instead that night.
__________________
DS17 & DS11 on the Teacups at DL!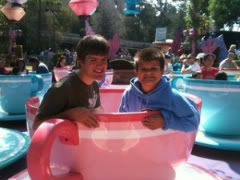 Port Orleans Nov 91 (Honeymoon!) • Dolphin Nov 99 • Dolphin & 7 day Magic cruise July 01 • HRH & Poly June 04 • HRH May 05 • West Coast Magic Cruise June 05 • HRH Sept 06 • Wilderness Lodge July 07 • West Coast Magic Cruise June 08 • HRH & Coronado Springs Dec 08 • HRH, Wilderness Lodge & 6 day Christmas Magic Cruise '11 • Wilderness Lodge & HRH '14 • DL AP holder since 1989!!