Hello Everyone,
I am currently running a TR on our Honeymoon trip that we took in May, but I just couldn't put off starting a pre-TR for our upcoming trip in September.
However, before I get too much further into this let me make some introductions:
First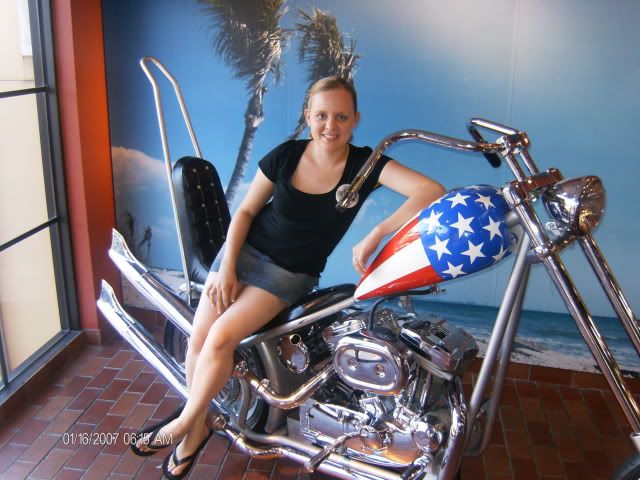 , my name is Shannon and I am 26 years old. I am currently going to school to get my BBA with my concentration in Accounting. I am toying with the idea of getting my Masters in Accounting, but I will wait to see if I survive the BBA program first
. Besides going to school, I also run the Corporate and Dealer division of a private Motor Vehicle Division. I am constantly busy and often overwhelmed and the DIS has become my new stress reliever! When I have free time my hobbies include: photography (not even close to being great at it, but enjoy it just the same), swimming, listening to music (I listen to all types, but am a country girl at heart), watching movies (my favorite Disney movie is Beauty and the Beast and often changes it's top spot with The Little Mermaid and Aladdin and my favorite non-disney movie is Mermaids) and eating...I LOVE to eat!!
Ok, enough about me, next up is my Husband (of 7 months)
, Candido (but we call him Candi for short). He is 27 years old and he is also going to school to get is BBA but with a concentration in Management and Leadership. He will be the first to admit that he is done after the BBA and thinks I am absolutely nuts to even consider a Masters. Of course, he doesn't need it, he is the 3rd in line at the same company I work for and has been basically guaranteed the COO position when she retires. So, he is correct in the idea that he is better off with the BBA and the rest to be "on the job schooling." He is even busier than I am and doesn't understand how I can find relief from stress by spending even more time on the computer than I have to with school and work
His hobbies include: playing video games, watching movies (his favorite Disney movie is Darby O Gill and the Little People and his favorite non-Disney movie is Stand By Me), he enjoys all types of music, oh and I forgot to mention on my little synopsis, but we LOVE to go swing dancing together.
Ok, so that's probably more about us than anyone cares to know, but if you want to know anything else just ask and I'll be happy to answer.
Now that all of that is out of the way let's get to the important stuff...THE TRIP
How It Came About:
As I said previously, we spent our Honeymoon at Disney World and even though my Husband enjoys Disney it took a little bit of convincing. He had been to Disney Land several times and just couldn't understand how Disney World could be so much better, crazy right? I know, that's what I told him and in the end he was thrilled with "our" decision. We spent 7 days at the Wilderness Lodge followed by 4 days on a Disney Cruise (link to TR at bottom of page if you're interested). We both had a great time but said it would be a couple years before we could afford to come back. Well, one day (about a month ago) on our lunch break Candi tells me that he would really like to go back to Disney World for our one year anniversary ... he's an angel I tell ya
So, of course as soon as I got off work (ok, I might have left work early) I came home and crunched the numbers
well, these numbers did not make me happy. It just wasn't a good fit with our other bills and trying to buy a house. Sadly I told the Hubby that we would have to find something else to do for our Anniversary because we couldn't afford it with it being only 6 months away. Well, now both of us REALLY wanted to go so we threw around all kinds of ideas....stay less days? No, we felt like a week wasn't enough time....Stay in a moderate or value? Ok, that helps but Hubby wasn't sold on it, he really, really wanted to stay at WL again....go on a strict budget?
he knows my spending habits too well. Then he said the most magical thing ever...Order the DVC information and we'll talk about it then...huh? What? Are you serious? Ok, I know what a lot of people are probably saying (heck, I said it too) You just said you can't afford one vacation how can you afford DVC??? Well, I just ordered the information and figured we would look it over and know that we couldn't do that either. So, the information came we contacted the guide figured out the interest rate we would get approved at, the monthly payments, the incentives etc. We looked at how many points would make sense for us and decided if we did it, then we would do 210 points. So, I called our designated Guide back and found out the monthly payment, that we would get 210 developer points (good for one year) and $1680 in gift card that we could use on the down payment. I nervously did the number crunching again and ran everything by Candi. And then I got more nervous, I couldn't tell what he was thinking, so we talked about it. We could afford the monthly payment, the developer points seemed like the perfect thing for our upcoming Anniversary, the money towards the down payment was awesome...."ok, go ahead and do it."
WoooHooo, this meant tons and tons of Disney trips in my future!!! Of course I called and we became owners at AKL. So, we booked for our Anniversary for 10 days at Saratoga Springs (that's the only place the developer points could be used). I was off the wall excited, we were spending our one year anniversary at WDW
Obstacle #1
Well, not even a week after the trip was all set up we ran into our first obstacle to overcome. When we booked the trip we forgot that ALL of Candi's vacation hours had been used up on the wedding and the honeymoon. We definitely couldn't afford to go for 10 days and not get paid for it. Even though I had just had my evaluation and gotten my new set of vacation hours it wouldn't be enough to cover things for that long. So, we had to change the dates but to when? We knew it had to be sometime after June because that's when his evaluation was. However, June was out because of work things. July? Nope, that's when he goes to his Dad's ranch to do branding for a week and he couldn't miss a week for that and then turn around and go on the trip. August? Nope, work conferences. September? YES!!! We got the time off approved, we knew we both would have enough vacation time to cover it and the only down side was that it wasn't during our Anniversary. Oh well, who can complain when they were going back to WDW?? We would just do something nice at home to celebrate that day and knew we would celebrate for 10 days later and it would be well worth the wait!
I'm sorry, who wants to come??
Well, not long after planning the original trip my Mother-In-Law was begging for her and her Husband to come with us. Now don't get me wrong, I love my In-Laws but this was supposed to be an Anniversary celebration and well, you don't do that with PARENTS!! However, after we made the switch to September and I knew how badly she wanted to go we extended the invite and even told them they could use the rest of our points for their room. Yes, yes, I know I am very generious
Totally kidding! They do so much for us that it was the least we could do for them.
Ok, so now we had the new dates along with new people joining our group. So, I made yet another call to DVC reservation systems, and then DH decides he doesn't want to stay at Saratoga Springs, he wants to stay at AKL since that's what we are buying into. Ok, did I mention the part that the developer points are only good for one year AND only at Saratoga Springs?? Yeah, he didn't care, he said we should just let someone else use those points and use or "real" points to stay at AKL. So, another call to the dear people at DVC and we are all set. Now the real details:
Who:
Me, Candi, his Mom (Flora) and his Dad (Candido).
What:
Our (better late than never) Anniversary Trip
Where:
AKL (one 1 bedroom, one studio)
When:
September 5 - September 13, 2009
Why:
Because my Husband loves me and knows it's my absolute most favorite place in the world!
So, there you have it. I hope I haven't bored too many people with the long drawn out explanations of everything. I am just super, super excited and only so many people understand talking about it this far in advance.
Coming up soon:
The Planning Begins
I hope you all enjoy reading and I look forward to hearing from all of you!!
Oh, and just for fun (and because this thread is lacking pictures) here is my favorite engagement shot of us: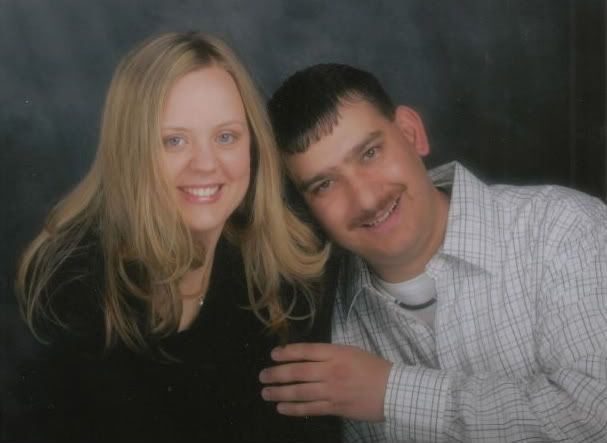 Hope to talk to ya'll soon!