I admit it. When it comes to Disney, I have been a Princess in every way the last few years. As I said in my first trip report, we do NOT live this way in everyday life.
Disney is different. I've just returned from my fourth trip this year and we live in Tennessee. It's not exactly Whirlwind Trip territory. Nope. It's just been the perfect storm of circumstances. We had a fantastic family trip in January that marked our first Disney vacation in 5 years that was just the four of us. Then in early June, my Mom, sisters and I drove to Disney with our six children for my nieces' first Disney experience. September, of course, was the Maelstrom Meet with my very real cyber friends. I certainly didn't expect to be there Thanksgiving. In May, though, Shrek's wonderful mother, known as Mee Maw, said that she was thinking about the trip she shared with us five years ago and would love to join us next time we went. That was all Shrek needed to say, Book it, Jam.
Thanksgiving week won over Christmas as the kids had the whole week off this year. Fortunately, we planned it about 182 days out. Perfect. Then we decided to try the Deluxe Dining Plan. Shrek likes to stay on Club Level and requested the Contemporary. Done. Add a few more luxury touches and you'll begin to understand the title of this report.
Let's get right to it.
Cast:
Me—Jamal, Jam, The Fixer, FTM, wife to Shrek and Mom to A and E
DH—Shrek, FMD (later), wonderful husband and provider. Ogre with a huge heart. MUST nap every day at Disney. Prone to break out in dance at any moment, much to the embarrassment of…
DS14—A, fantastic teen and lover of Disney and family. Guitarist, soccer player, recent Foodie.
DS8—E, Golden Sunshine, always happy with a plot up his sleeve. Greedy, snuggly, athlete, sugar-addict.
Mee Maw, 81—incredible woman who loves God, family, coffee, and everyone she meets. Most positive, energetic person ever , even after losing beloved Paw Paw last year. Runs circles around us all.
Saturday, November 22 was a cold and rainy one here. Florida was looking good before we left town. Shrek loaded the car with enough luggage (I had warned him..) to carry us (me) through unpredictable temperatures and evening dining wardrobe options. He asked the boys to help while I dried my hair and kissed the light-up magnifying mirror goodbye. I heard a basketball bounce following by a bellowing Shrek asking A if he was crazy for not loading the car. This prompted a window greeting from the neighbor, who must have waked to wish us goodbye. After a lovely car ride to the airport, complete with clear expectations of good behavior and respect, we reached our launching pad.
My dear husband has friends with planes. Yes! We were fortunate enough to pull right up to the side of our chariot, load up the luggage, and take off for the 16 minute flight to pick up Mee Maw. She greeted us with hugs, cheers, and personalized cookies! She announced that if Buzz Lightyear kissed her again this trip, they were engaged.
On the plane, we explained a bit about the itinerary, Deluxe Dining Plan, and Concierge level. It would be an amazing foodathon as we had ADRs for many Signature restaurants. Yes, I'll tell you all about them. I had requested MK View but was prepared to be happy with Bay Lake View as well. I'm glad Disney has gone back to making those separate reservation options for 2009.
We landed next to the strettttch limousine (Walk This Way!) that would whisk us to The World.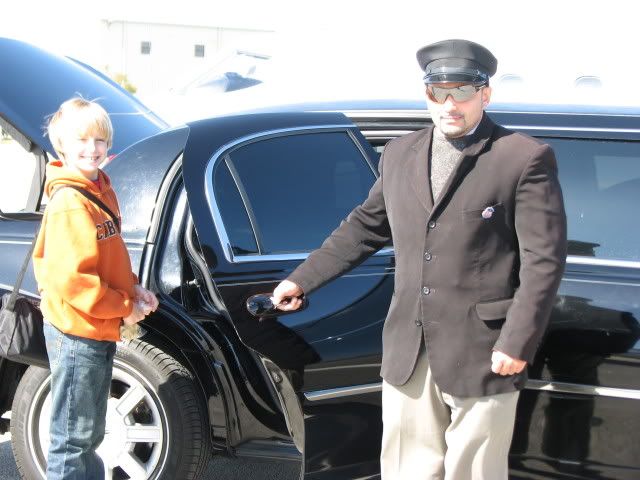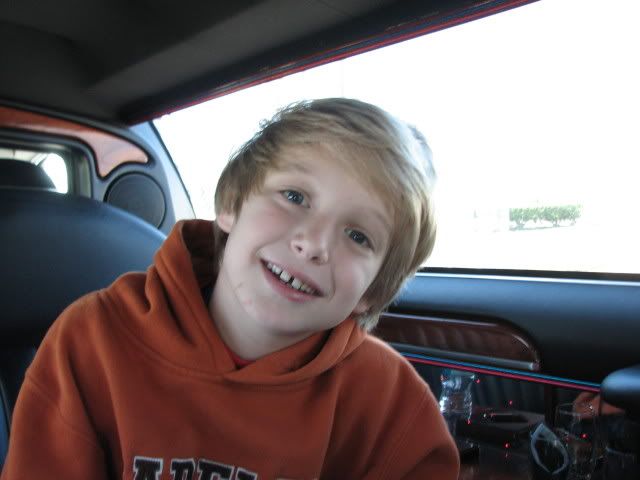 E is all about the hair.
When we arrived at the Contemporary, a Concierge met us downstairs and took us to the 12th floor. We had stayed on the 12th and 14th floors before and definitely prefer 12 with its open atrium. The 14th floor is almost all suites with few King Bed rooms. It would have been tough for us to get connecting rooms there. Besides, I like to wake up to the sound of Chef Mickey's. Yes! MK view connecting rooms! I insisted everyone wait in the hall while I snapped a few pics. We can mess up a hotel room in 10 seconds flat, with or without luggage. I'm serious.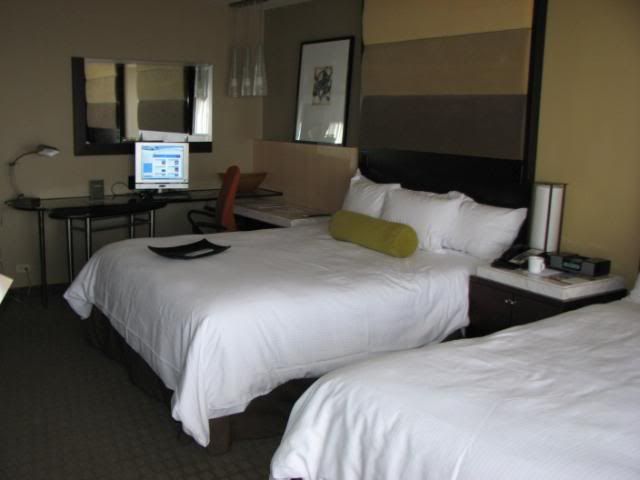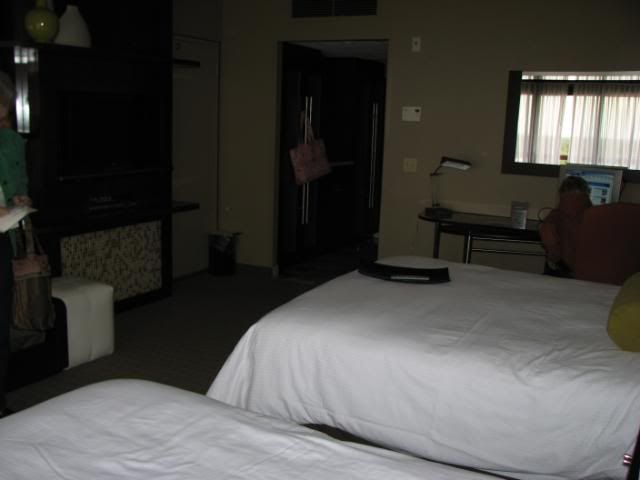 We last stayed at the CR in 2005, just before the rehab. I thought I would like the new rooms, but they were sleeker and more luxurious than I had imagined! E, designer and architect in training, was enthralled. Even the bathroom was better than I expected as I hung my bag over the towel bar and banished the boys' toiletries to the shelf under the sink. Perfect.
I immediately called for 14 more hangers (5?? Please…) to use when we returned that evening.
We grabbed some Goldfish and delicious cookies from the Lounge and headed out.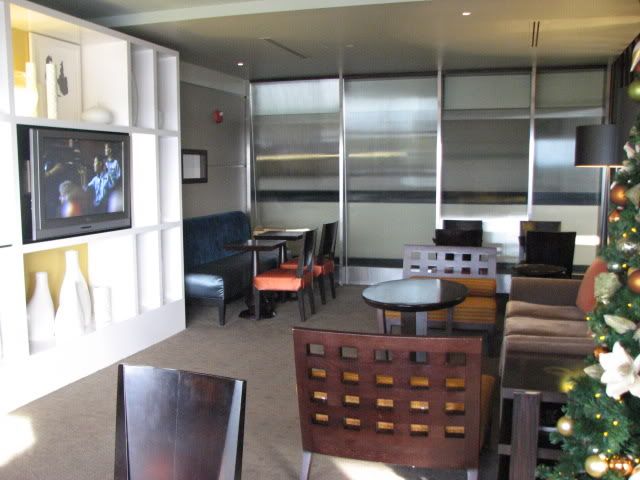 It is just GORGEOUS!!!
It was about 1:30 when we jumped on the AK bus. We had another morning at AK but I was afraid we wouldn't have time for Lion King AND Nemo on Thanksgiving and I wanted Mee Maw to see both. I should tell you that besides the usual goal of hitting all the parks, I wanted Mee Maw to see all the Deluxe resorts. We got around!
E brought his own messenger bag and offered to carry our wares. This lasted two days. On the bus, I pulled out something and presented it to him: a three year old container of orange Tic Tacs. Over three years ago, the boy had begged me for those Tic Tacs in WalMart. I caved, bought them, stuck them in my purse, and waited for him to ask me for them.
He never did. I kept them. I decided that bus ride was the perfect time to expose him as a greedy, in-the-moment, thing-wanter. We all had a good laugh (he didn't remember the WalMart day) and the story had an unexpected benefit: he never asked for a thing the entire trip.
In AK, we grabbed some Fastpasses for Everest then headed to the Nemo show. Perfect timing! After the wonderful Nemo show (I may have napped for 10-15 seconds) it was almost time for our Everest FPs. We watched the coaster. Mee Maw said she was game for a meeting with the Yeti. As we walked to the doors, she asked the other observers to watch out for a green jacket flying off the train and to please send help!
She did it! She even liked it! Wow. I hope to be half the woman she is at 81. Everything in her life is to be a celebrated adventure.
We caught the very last safari of the day at 4:45. It was fantastic!
We actually walked out of AK in time to see their new "Kiss Goodnight" with the Fab Four on their trolley. This was a great excuse for Shrek to break out in dance. I thought A would die from embarrassment. He couldn't hide far or fast enough, which only made Shrek dance more. E loved it.
A is in the orange shirt in the distance.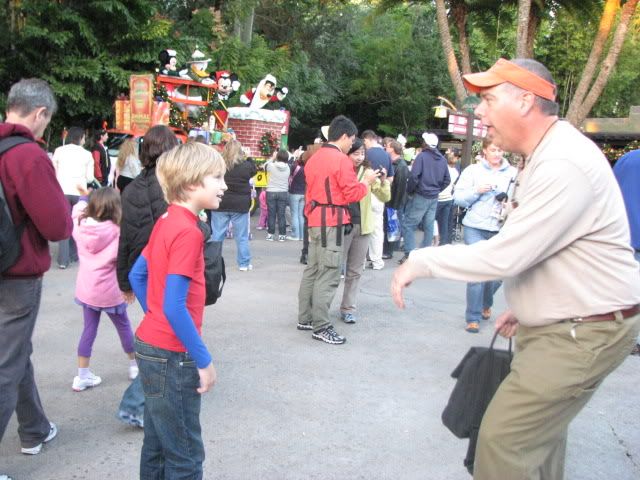 Our next bus was to AKL for our Jiko ADR.
Shrek and I had eaten at Jiko five years before and I enjoyed it at the Viking Convention 2007, but it felt new to us all. My glass of South African Pinot warmed me right up.
So with the Deluxe plan appetizers come with the meal. Yes. Appetizers, entrée, dessert. Every. Meal. My A has become a connoisseur of cheese plates and ordered one at every opportunity. We're still amazed, as this is the same kid who LIVED on PB and J and mac and cheese until age 11. We told him to enjoy as we couldn't afford to feed him that way at home! E was happy with 3 Shirley Temples…
Our server, Nasser, encouraged me to try the chicken. It was delicious! By the way, I will run out of superlatives to describe our food this trip. Sorry. I gobbled up the chicken and goat cheese mashed potatoes. Shrek, A and Mee Maw had the filet. E ate the first of many many macaroni and cheese offerings.
When we were leaving, Nasser stopped by, pointed to E, and asked his name. he said he had a phone call at the front desk! The CM at the host desk played right along and punched a few buttons before handing E the phone. It was Goofy telling him to have a Magical Day! Awwww….
We took a taxi back to the CR where I began the unpacking process. I will say we could have used a few more drawers for 7 nights and 4 people, but Mee Maw offered her room if we needed it. We stored our luggage in her corner and everything else was fine.
We opened our balconies and waited for Wishes to begin. We found the music on the CR TV channel and sat outside to watch. It was bliss! E noticed the boats 'all in position' for the Electric Water Pageant. I loved the familiar music of that show, which we could hear from our balcony.
I ended the day with a walk down to the Lounge for a cup of green tea, which was available! Ahhh… now I felt truly pampered. I returned to the room, popped on the free internet for a minute, and fell into bed.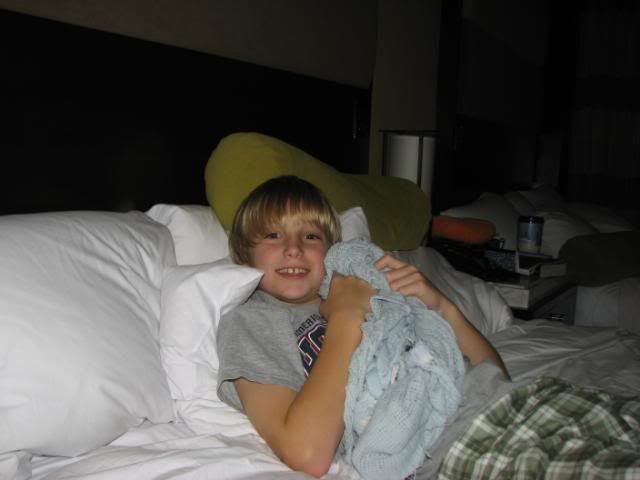 Next up:
Magic Kingdom, watching our Titans, a new adventure, and one of the best meals ever!