Quote:
Originally Posted by
definitiveact
I do not have a picture but I just made the tomato salad from the biergarten from the Germany pavillion in epcot and holy moly was it tart!!! I had only used 1/4 of what the recipe originnaly called for and next time I think I am only going to use 1/8 of what the recipe calls for. Believe me I love my vinegar but this was too tart for me. Just thought I'd let any curious people know before they made it themselves!!!
I made this recipe as well but I really liked it. It's very much like the German tomato salads my Mom makes and I guess I'm used to the vinegary taste,
I think I've mentioned how old my digital camera is so I rarely bother taking pictures of food because I can't get clear pics indoors. Anyhoo, I tried again this week and have tried to edit them to be clearer... not too much sucess.
New England Pot Roast.. Liberty Tree Tavern (Delicious Disney)
A fairly basic recipe that I thought had too much liquid (7 cups for 3 pounds of meat).. but then I don't know how liquid a pot roast should be. DS (20) and his buddies liked this as did my parents.
Thai Noodle Bowl with Coconut-Crusted Tofu from THE Hollywood Brown Derby (Delicious Disney)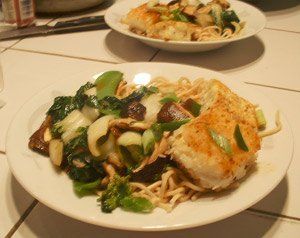 This tasted very good despite the fact that I had to improvise on the broth part of the recipe as I was missing the miso and used Clamato juice for Tomato juice. I couldn't find Thai noodles either and my Chinese egg noodles are thicker than what they picture. I also chopped up my bok choy instead of leaving it whole.