I've realized that its going to be a pain in the butt to look through this whole thread to see the TRs and pictures, so if you wanna bypass all the convo, here is an index for pictures/Trs !
INDEX for all other TRs!
April '04 TR:
Day One, Two & Three
Engagement '06 TR:
Day One, Two, & Three
January '08 TR:
Day One
Day Two & Three
MTOTP TR:
Day One
Day Two & Three

January '09 TR:
Day One
Day Two
Day Three
Day Four
Birthday TR:
Day One
Day Two
Day Three
Halloween Disneyland Trip!
Day One:
Hey everyone! !
I'm always on the DIS during my design history class (which I was in right when i wrote this!!) and I thought I'd take the time to talk about our trip. To start off with, we flew to Anaheim, which was a breeeeeze. It was very easy to get shuttles to our hotel (Desert Inn & Suites). We did not make ANY reservations for shuttles and just showed up to get a ride. We had 9 people and SNA Shuttle took us in two separate vans (4 & 5 people in each) and charged us $45 a van. Not too bad.
When we got to Desert Inn & Suites, we checked in. I booked a 2 parlor suite that fits 8 people (we put 10 in our room). I've stayed at this hotel before and thought it was just fine even though PLENTY of people have complained about it here on the DIS. I was happy about the rooms because they were VERY clean, re-decorated with a nice back splash of mocha on an accent wall. The bedding was also very pretty
It looked very autumn-ish.
We had Vons send groceries to our hotel on the same day (which was very easy to do !! you can check it out here :
http://shop.safeway.com/superstore/d...&page=corphome
) I had scheduled to get our delivery sent between 1 & 3pm and it arrived around 2:30. What I was bummed about was that they did NOT send any of the groceries that were needed to be refrigerated. In order to get your groceries delivered you needed to spend at least $50. I ordered 3 cases of water (24 in each), one 12 pack of coke, one 6 pack of diet Pepsi, 2 bags of lays chips, 2 bags of beef jerkey, 1 box of granola bars, a jug of orange juice, a package of breakfast hotpockets, and a package of jimmy dean breakfast biscuits. Those last 4 items did not come which didn't bother me much because I was just adding more things on the list so I could spend up to $50, so I called Vons and told them that some of my items didn't get sent. They were very nice about it and apologized. They took those items off of my visa (it took the next day for them to take it off).
I was really stoked about the people going on this trip because I'm very close to all of them separately and knew that they would all get a long (which they did
)
When we got to DL we were already heading towards a speed bump. When Shyboy72 and his sisters bought they're tickets, they did not get activation receipts from the Disney Store. He was going back and forth on the phone then to the store in Oakridge trying to figure everything out. They said that we should go to guest services at the park to get it settled, so that is the first thing we did. When we first got there, the CM who first helped us said we would have to go back to the store to get it settled. We were furious. We live like 6 hours away. There is NO way that is happening. Ironically, 3 other families were waiting in line for the same issue. They bought their tickets at Disney stores as well. They managed to work everything out for us, but the family who was from Arizona had to buy NEW tickets and get their other tickets taken care of by the store they bought them from. It was RIDICULOUS. They said there is nothing they can do about it because the stores are run separately.
After all that, we finally got in the park! We headed straight for Indie since it was already 10 and Fantasyland was out of the question. The wait for Indie was 15 minutes !!! AMAZING ! I was so surprised since it was already 10 am on Friday and the wait times were so good. We got on Indie, Pirates, HMH, and Splash before heading to eat some gumbo at 12:30pm. Once we were done we headed towards Main Street. On the way there we went on the Jungle Cruise and went straight to Buzz ! That was pretty much a walk on. It was so fun. I kicked everyone's butt.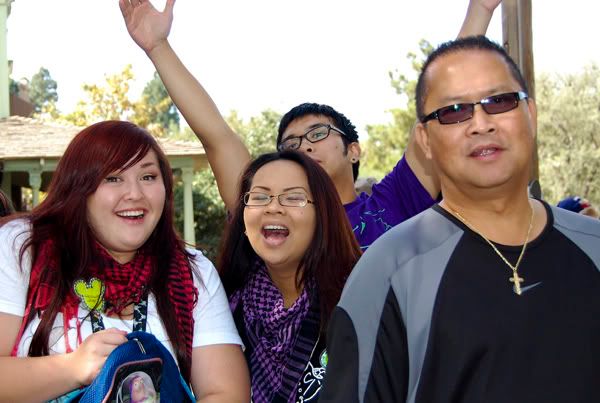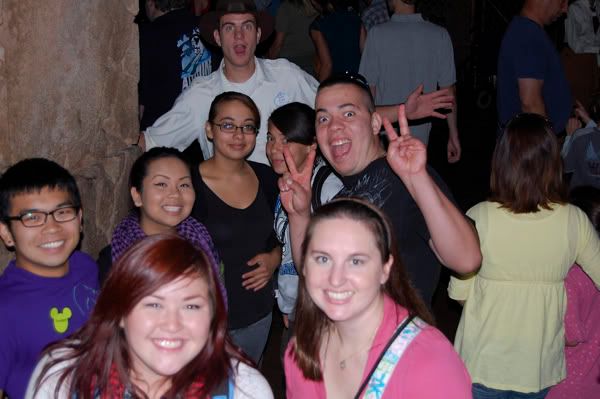 Before heading back to go to the hotel we rode Space (20 minute wait) and the Train. Shyboy72 & I had to get our pictures taken and our APs. We got there around 2 and only had to wait about 5 minutes to get it done ! WOOO ! We were waiting for some people in our group to get out of the Emporium before walking back to the hotel. When we got to the lobby we got our food from Vons minus the refrigerated foods and got settled.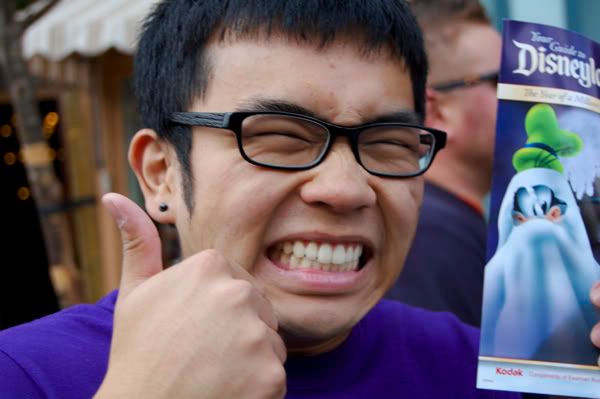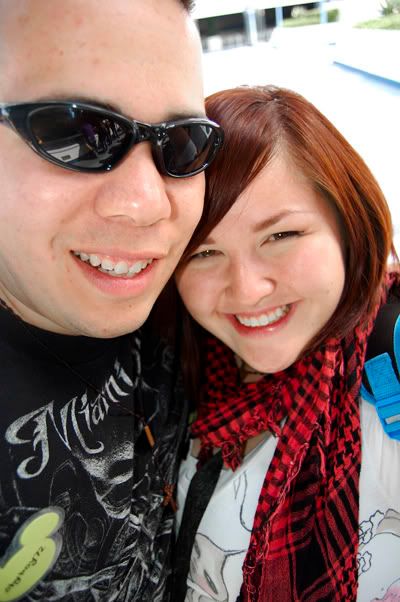 Because it would take long for Kaycee & I to get all the makeup done we started right away. We still ended up behind on getting ready.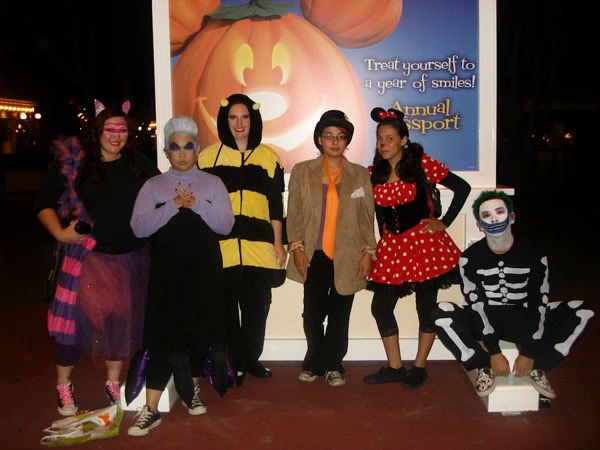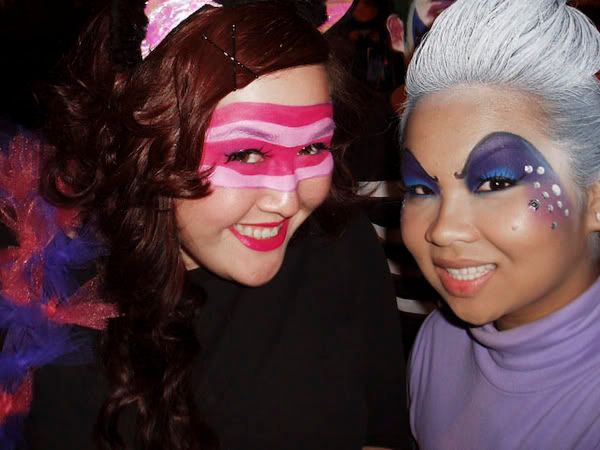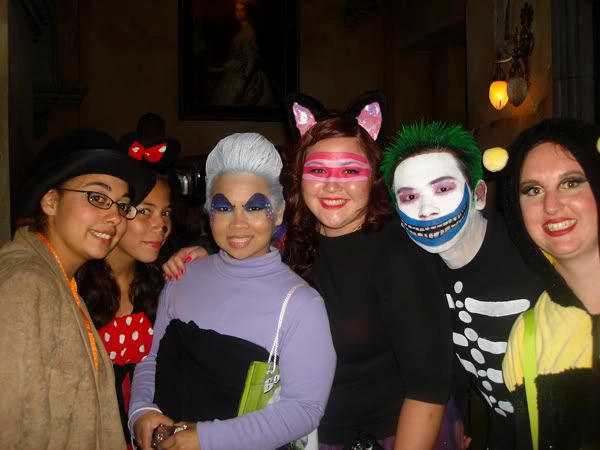 While walking toward the gates we got stopped by a woman asking if she could take a picture of us. OF COURSE we said yes !! It was so cool! We got to the turnstyles and quickly were let in. The mood was so great because there were people dancing in front of the HUGE candy corn ! We went straight towards Monster's and starting collecting candy. Throughout the night we stopped a couple of places for treats (not a lot). Even though people from the first MTOTP said the lines were not long, they were for our night. It was PACKED. Of course it was though because the event was sold out.
We did not have to wait long for TOT which was great or for Monster's. TSMM was a completely different story. The line wait said 30 minutes, but it was pretty much an hour. It was fine though because TheAXIOM dressed up as Barrel 'broke necks' as we say. People were taking double takes and kept saying how cool he looked. It was great !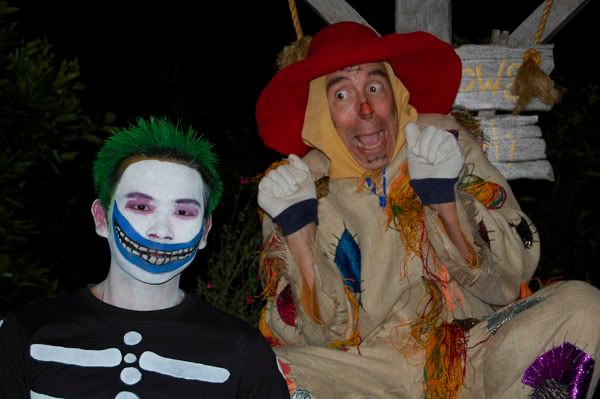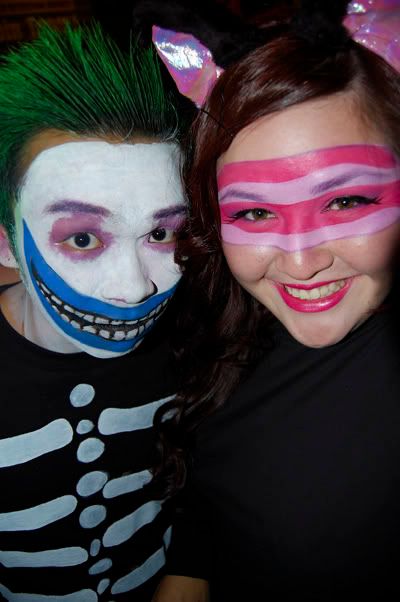 We were getting realllly hungry during the party because we did not eat dinner yet. My younger sister-in-law wanted to get corn dogs so we went and tried to get some but it was CLOSED. We ended up getting slices of pizza at Pizza Oom Mow Mow. They were pretty big. I had the barbeque chicken. It was pretty good. I'm a waitress at a family owned pizza restaurant and I happen to believe that it is the best pizza on earth, so I'm picky on my pizza. They had a pizza called 'Bodacious Sausage' but I read it as bodalicious haha! Like a hybrid of bootylicious and bodacious; so hilarious!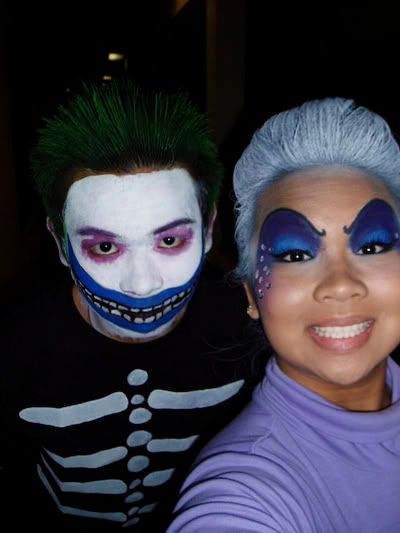 At the end of the night, disneyL0VE, my cousin-in-law and I took pictures for the rest of the night!
More to come of the next two days