Hi there!
Thanks for mozeying on over to this trip report. What's that? You only clicked on it because the title was weird? You DON'T want to hear a long spiel of me telling you how glad I am that you came this way?
(Hey, thanks for coming!)
Anyone still there...?
One of you. Okay, that's good enough.
ANYWAY...
Hiya! Like the title says, this is indeed my first trip to the World- Disney World, that is. And my first trip report (because writing a report about a non-existant trip gets tiring after a while). So...here we go.
Hi. I'm called by several different names. I'm NotSoEvilStepmother on the Dis, Chels to my friends, and "that weird girl who wears the Mickey Mouse ears to high school" to all those that don't know me (ONCE, a girl makes a little mistake and suddenly that's what she's known for
). I'm an actress, writer, and Disney fanatic extroidinaire (do you know how many days it took to build Disneyland in Anaheim...? I do). Last year, I was able to grace the stage as the White Rabbit in
Alice's Adventures in Wonderland
as well as the (last minute) Stepmother in (cough,
Rogers and Hammerstein's
, cough)
Cinderella
. Hence the screenname. Amazing how these things tie in. I was brought up on going to Anaheim for Disneyland AT LEAST once a year. That's where I learned about any and all things Disney.
I'm a bit weird.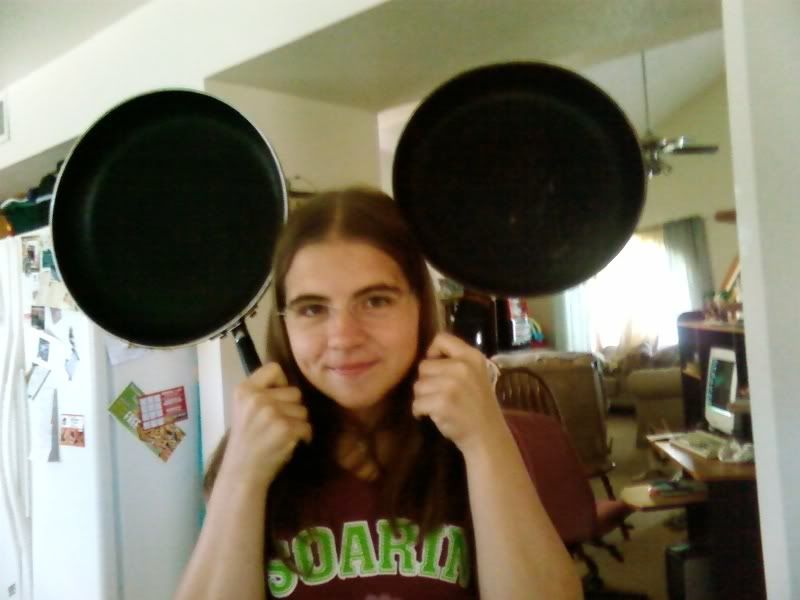 (And, yeah, I'm a teenager but that just gives ya a new perspective on the magic. At least, that's my excuse.)
And now presenting...the parents that raised me to be a Disney freak (I don't classify myself as a freak, they do) DF, better known as Grumpy, and DM, known as Sleepy. They were those lovely parents that brought their children to California each and every year just to stand in 102 degree heat to have a picture taken with a character or ride on a 2 minute carasoul similar to those at the local fair. Gotta love 'em. Of course, they'd been just about Disney'd out by their previous three children by the time I came along so Disney fanatics still...only when they're wide awake, with a cup of coffee, and there's no lines. Yup. We used to go to DL for free until I was about 11 because of my dad's job. Those days have ended, but the want for Disney each year is still there. Grumpy and Sleepy went to Disney World once for there 20th anniversary many, many moons ago (7 night land/sea DCL...I stayed home, sick) and really didn't do much other than get sick on RnR, look at animals at AK, and sleep in.
If I'd been there, it would've been MUCH different. Here's a picture of them outside of Disneyland a year ago.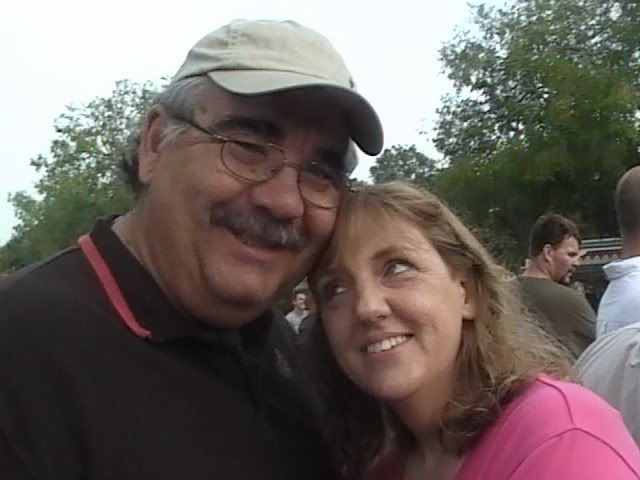 Still there?
Ok, so around March or April of 2008, we found out that we had enough $$ to possibly go on a decent vacation that summer (seeing as the other 2 possible ones fell through). We toyed around with Washington, Northern CA, Rhode Island, Texas...just places we knew or were interested in going. Then...on a total whim, I suggested
Disney World.
At first it didn't seem possible that we could go at all. We had $$, Disney wanted $$$$$$$$... Finally, on a last thought, we checked expedia for a bundle for staying offsite.
Wait...we could...we could almost do this. Within a few days, we had booked the air, (gulp) offsite hotel, and rental car all well within our budget (okay, almost). We ordered tickets just days later. Then we made our one and only (silly us) ADR at the San Angel Inn in EPCOT (it still confuses me why we went all the way from AZ to Florida to try their Mexican food
). As soon as the tickets arrived, I knew it was true.
We were going to Disney World.
Silly me. At this time, I knew nothing of the Dis.
One night, I google searched Disney World tips. There was a discussion site on there that had 100's of pages of tips for surviving Disney World. This, my friends, was the beginning of an obsession. At first, I thought it was only the tips, but I was soon searching other corners of the website. They had a trip report board. And, hahahaha, some of them were so funny. By the time July rolled around, I was a member of the site, a lurker at most, but still a member.
I had also discovered the Unofficial Guide to Walt Disney World. Knowing we only had 6 days at the park, we were going to take advantage of their touring plans in the back of the book (it had worked REALLY well the previous August at Disneyland).
So time passed quickly as we discovered all that we could discover about this strange new world—Disney World. From the time we booked until the day we left, it was only about 3 and half months so I felt kind of rushed
, not to mention that my last year at my junior high was coming to a close as well and several friends and I were splitting ways for the entire summer. Sleepy and I made several shopping trips so that we wouldn't die in the humidity and our local Wal-Mart got to know us very well because we were always running there for something new.
Before I knew it, it was the day before the trip—July 11th. I was packed, we'd done the 24 hour check in for our flight, we'd checked, rechecked and triple rechecked our reservations, making sure the flight wasn't cancelled last minute.
And I had nothing to do.
Tired of searching through multiple pages? Use these handy-dandy links to find your way. Brought to you by the color green. Isn't it lovely?
1.
Daddy, why are they searching Mommy?
2.
Are you SURE they're not following us? AK part 1
3
.
In the big, wet world!
4.
THIS is my future? A first timer's adventures in Future World
5.
Tee-hee. Protein Spill.
6.
You're supposed to take the picture right side up, not sideways. And there's supposed to be more in it. My 100th DIS post!
7.
Wow, My Future's looking a bit funny
8.
The chapter without a title.
9.
The mad search for a chocolate bar--ending the World Showcase (for the day)
10.
3...2...1... WELCOME HOME!!!!
11.
Wait, Wait, I didn't see it!
12.
Grim, Grinning, Ghost give great giant giggles
13.
Drowned Rats
14.
Gasp! We're late! Day Two at the Magic Kingdom
We interupt this trip report for a short picture break
15.
Mom, My Hands Smell--The chapter
16.
We encounter some sort of Marketplace
17.
RUN!
18.
Disney Magic
19.
The Happiest Place on Earth?
20.
A boring excursion.
21.
Another phone call
22.
Chocolate, Trolls...FIESTA!
23.
Why'd They Change the Name?
24.
Seeing Stars
25.
Do We Make it to Fantasmic?
26.
Do we REALLY have to leave?
27.
Final Thoughts. Still not done yet!
28.
Scrapbooking! Final post! One year since booking!