OKAY then... my first Trip Report!
I am a lifelong Disneyland fan. I really, REALLY wanted to go do WDW but once I started planning things got ugly... REALLY ugly. I got on Tour Guide Mike (One particularly late night at the computer my husband poked his head in and said, "are you coming to bed or are you sleeping with Mike tonight?" It was a valid question!), Disboards, RideMax, ALLears, Mousesavers, ARES, and several other of the hottest names on the dis channels.. there was a great Disney themed music station online but I can't remember the name of it... great for late night planning sessions...but anyway, I digress.
WDW was going to cost us in the neighborhood of $5,000 the way I wanted to do it.
And unfortunately, I don't got it. You know.. I went to college.. my husband went to college...we have "good jobs" and nope.. no money. Who knew? I told my husband to get a second job. You think I'm kidding, don't you? lol I'm not.
Moving on.... we go to So Cal often (we are in Portland, OR) for family events and this summer a wedding came up that we had to go to. With the prospect of a 65 hr work week looming my husband hoped to appease the Disney Gods living within my brain. So he flippantly said, "We
could
go to Disneyland while we're down there." And as my signature states, unfortunately for him, I always act on flippancy. And thanks to Oybolshoi, the FLIPPANT TRIP was born!
Yes those are matching shirts, yes they're hand made, yes my husband wore one, too.
Close-up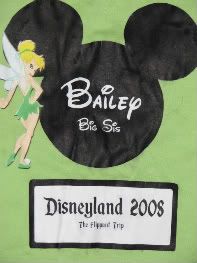 THANK YOU DISigners!
Cast of characters comes next, I believe...
ME: age 38. Love to plan vacations, Love Disney, thought the Neverland scene in Peter Pan was the greatest single feat ever accomplished by mankind. Definitely believed that you shrunk in the Adventures to Inner Space machine. I mean, BELIEVED. No doubts. They showed small people for godsakes!
DH: age 38. Has been to Disneyland, will do anything the family wants to do and loves to enjoy himself. One in a million!
DDB: age 12. DDB for Bailey...Big Sis.. even though she's shorter than her little sister who is 1 yr and 5 days younger than she is. She is an old soul. A true BFF
DDC: age 11 DDC for Cassidy...Lil Sis....11 going on 17. Way too cool for the rest of us but still willing to wear a matching shirt! Ahh tweens..
Bear with me as I figure out how to insert pics and make links... I've got a lot of images to share!