Shortcuts:
Big Give outfits & pixie dust from the DISBoutiquers, pages 6 -14
Make-A-Wish send-off party
Overview of our adventures!
Day 1, Part 1 -- the flight to Orlando / GKTW
Day 1, Part 2-3 -- GKTW
Day 2, Part 1-2 -- Magic Kingdom
Day 2, Part 3 -- Magic Kingdom
Day 3, Part 1-2 -- Universal Studios / Islands of Adventure / Christmas at GKTW
Day 4, Part 1-2 -- Animal Kingdom / Disney Hollywood Studios
Day 5, Part 1-5 -- Universal Studios / Islands of Adventure
Day 6, Part 1 -- EPCOT
Day 6, Part 2-4 -- EPCOT / Magic Kingdom
Day 6, Part 5-6 -- Magic Kingdom
Day 6, Part 7-8 -- Magic Kingdom
Day 7, Part 1-4 -- GKTW / SeaWorld / the flight HOME!
PhotoPass pics from Disney!
The pre-trip report starts here:
OK, due to the encouragement of my fellow posters on the
Wish Trippers Unite
thread, I've decided to go for it and do a pre-trip report! Our dates are set for Tuesday, July 29, through August 4, 2008, and we are bound for Florida thanks to the Make-A-Wish Foundation. We are a family of six, which includes my husband (43) and me (36-ugh!), a daughter (14), a son (11), and twins--another daughter (8) and the star of the show, a son, Clay (formerly known on the boards as "CJ") (8). We are so excited to be staying at Give Kids the World Village as I have been so very impressed with everything I've heard and read. In fact, when I first read the story of GKTW's founder, Henri Landwirth, I was moved to tears and retold the story to anyone who would listen. The second thing I did was purchase a paving stone in my son's honor in hopes that it will be ready to show to him once we arrive there. I would love to have his picture beside it, but we'll be cutting it close. I did purchase the stone twelve weeks before we are to be there (which is how long the website says to allow for the engraving to be completed), but they are currently running up to a month behind. It never hurts to hope and pray, though, does it? I haven't told anyone I purchased a paving stone--not even my husband. I want it to be a surprise. On my list of definite things to do before we leave is finish reading Henri Landwirth's biography, which GKTW sent to me after my donation.
Moving on, a little about Clay: he was born with mild cerebral palsy. Although he wasn't actually diagnosed until eighteen months of age, we noticed a problem at about five months, which was made all the more dramatic by the fact that he has always had a very aggressive twin. Very early on, he began receiving physical and occupational therapy and things were going well until Clay was six. In the middle of his kindergarten year something happened that I hoped and prayed never would--the brain damage began causing him to have seizures. At first they were partial complex seizures (staring or "blanking out" spells), but then they progressed to petit mal and finally grand mal. After trying a few meds with some not-so-lovely side effects, we have found the perfect med for him, and he has been seizure-free for two years, praise God.
We have struggled--especially my husband has struggled--with being able to accept the generosity of the Make-a-Wish Foundation and everyone else who is making this trip possible for us, but when I think of what he's been through and what he goes through every day, I do feel that he deserves it! He is mobile, but he does walk with a limp and does not have full use of his right hand. He does well in school, but it's no picnic for him. He is a great reader, but he does struggle with math and other problem-solving activities. I'm so glad that he tries the way he does, though. I am very, very proud of him. I'm also proud of his siblings. They are amazing in the way they watch out for him. I know why God gave him a twin, and I know why He gave Clay his
particular
twin. She is a bossy thang!! But boy does she watch out for him! I truly have amazing kids, and I'll shut up now about them.
I've posted these pics before on the
Wish Trippers Unite
thread, but I'll post them here again:
Clay & his twin sis, Shay Lynne: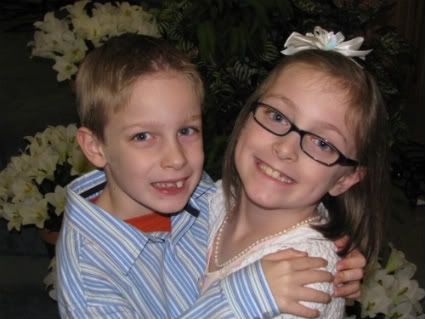 Older bro, Ty & sis, Madison: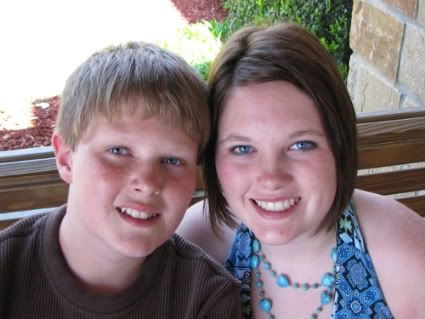 And I have to post this pic of Ty and Madison at WDW in 1999 (just can't help it...aren't they cute? I'm taking a comparison pic in a few weeks!):
And here is Clay at the Texas Motor Speedway recently--he was invited to the final day of the Corvette Classic by Make-A-Wish, during which he got to ride in this driver's Corvette and race around the track!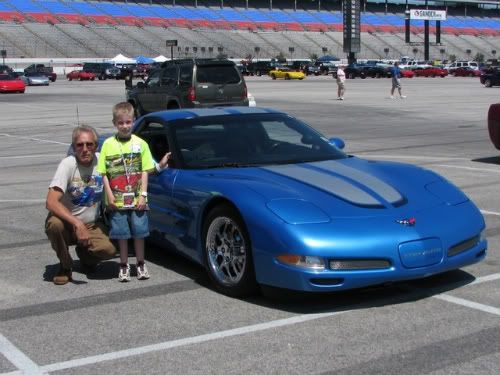 Thanks for reading!! More about our proposed itinerary, etc., later....