Ladies and gentlemen, boys and girls, in eager anticipation of my upcoming visit to the Happiest Place on Earth, we set the wayback machine for last December, when I continued my now 4 year and counting tradition of visiing Disneyland at Christmas time. So pull up a chair, sit back and enjoy (if you're so inclined) the ramblings of a Disney geek who had very little choice in the matter of whether or not he would like Disney.
Once Upon A Christmas Dream: A Disneyland Trip Report
Starring, drumroll please, me. Exciting or insane cast, depending on your point of view. Maybe even both. Yep, I'm the only member of this ensemble. Since I recently changed my user ID here and I've posted sporadically at best over the past couple of years, allow me to introduce myself.
Before I was even born, my mother put a Mickey Mouse poster up in my nursery. Then, when I was just over 2 years old my parents took me to Disneyland(since I already loved the Mouse) and then took me to see Star Wars. Yes, the things you expose your children to have an impact on them since here I am all these years later and I still love Disney and Star Wars. Hence, I'm a Jedi Knight seeking his Jedi Princess.
Prologue:
Of all the special places in Disneyland, Sleeping Beauty Castle holds special meaning for me. After years of frustration, heartbreak and difficult challenges in life, I had become rather cynical, with all of this coming to a boil in late 2003. While in Disneyland, I found myself wondering what had happened to my usual optimism, hope and faith in the future. I had become the very thing I'd always wanted to avoid being, a bitter, cynical adult. And so one night during "personal time" at the parks, I chose to stake out a great seat in front of the castle for Believe in Holiday Magic. This night, I was moved to tears. As Disney played
Star of Wonder
and
Silent Night
during
Believe in Holiday Magic
and launched the single firework like the star from that first Christmas morning so many years ago, I remembered what it felt like to be a child again. I remembered that God is indeed watching out for me. I felt good again. And as Disney snow fell from the skies of southern California, a tear streamed down my cheek. Somewhere up in heaven, Walt Disney was smiling. The Disney magic was very real that December 2003 night and I felt a measure of peace and healing come to my troubled heart. I felt young again. Since that fateful night, not a night at Disneyland passes when I don't remember what the Happiest Place on Earth means to me. This is especially true during Christmas.
Chapter 1: The Merriest Place on Earth
And so, our story begins here. Well technically it began in Northern California last Thursday morning when I left, but it's not very safe to take pictures while driving, so you'll just have to deal with the start of this trip report being at Walt Disney's star when you first step onto Disneyland property from Harbor Blvd.
If not for Walt, who knows what Anaheim would be today. They'd better give the man a star.
Next up , we have the famous sign. It just makes me happy to see it. I'm especially glad that they've decided to return to the classic script logo they used since July 17, 1955. The cursive Disney with the regular land just never looked right to me. But I digress. After passing under the sign, I head towards the entrance.
And almost instantly comes one of my favorite sounds in all the world. I just love how Disneyland has the classic Disney music, both from the parks and the movies playing as you walk to the security tents and across the plaza before entering either of the two parks. With such a little touch I know I'm about to enter the Happiest Place on Earth. In a matter of moments I am transported from the challenges of life to my laughing place, if you will.
I love how Walt Disney designed the entrance to Disneyland. As you buy your tickets and walk into the lobby, soon you pass under the train station and into the theater, where the curtain opens to reveal the the show before you. At Christmas time, Disneyland has a gigantic Christmas tree at the end of Main Street.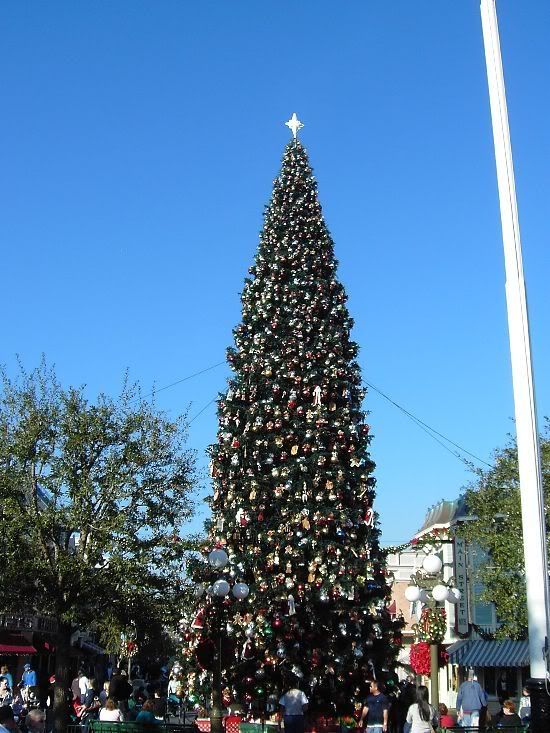 And just beyond the Christmas tree, you see the garland all down Main Street USA, but this being Disneyland, the garland is different. Oh sure, it's green and has all sorts of ornaments in it, but the wreath at the center of each garland strand is shaped like a certain famous mouse, who started the whole thing in November 1928.
And as I look down Main Street, I see myself for the first time all the splendor and wonder of Sleeping Beauty's Winter Castle. I love how the snow has settled on the spires and turrets of the castle. Yes, even in sunny(thankfully) southern California, it's beginning to look a lot like Christmas. A white Christmas is nothing new to me. My family lived in Utah until I was 13 and then I returned to Utah to attend Brigham Young University for college. Throw in the two years that I lived in Moscow, Russia on a church mission, and I know what a white Christmas looks like. (Let me interject here that that you've never heard Christmas music until you've heard a techno rap version of Silent Night in a Moscow McDonalds, which is probably a good thing for you if you haven't). I'm all too familiar with the icy roads, freezing, bitter cold and shoveling of the white stuff to really miss it all that much. So, I'm more than happy to admire Disney's very pretty snow covered castle without having to worry about slipping and falling right on my backside in the freezing cold.
Be sure to tune in next time as I attempt to regale you, (or perhaps bore you to sleep) with further tales of my continuing adventures in the Merriest Place on Earth.