Hey everyone! Welcome aboard my 3rd TR! If you haven't already done so, I encourage you to visit my PTR for all the background info:
Click Here
OK so lets get this show on the road!
(ETA: At the bottom of this post there are links to the updates so you don't have to read all of the, um, "witty banter" as Buzz calls it, in between)
Wednesday - 02/27/08
I got out of work at 7pm and rushed home to start our packing. I had to go up to the attic
to get our luggage down and that in itself was an adventure. First of all....my house has those pull down attic stairs, which essentially means a metal ladder screwed onto a 2 x 4 that hangs down from the ceiling. The roof of the house (like most homes) come to a point so when in the attic, you can't stand up straight in certain spots. There is no electricity up there so we have a utility light strapped to a 20 foot extension cord that you have to plug into the outlet in the bathroom at the bottom of the ladder. And there is no "real" floor. There is a layer of insulation (circa 1952) and some more 2 x 4's standing on end. So it pretty much looks like this: l l l l l all the way across, with insulation in between the spaces of the slats. My dad put some plywood planks down over the slats to give us something flat to stand on, except he didn't nail them down or anything and each one is about 1/4" thick so if you stand on it in between slats, the whole board feels like it's going to crack underneath you. A few years ago, my mom actually managed to fall (partially) through the floor so her lower half was dangling from the ceiling of her bedroom. It's hilarious to imagine and she didn't get too hurt, but there was a gaping hole in her ceiling for several weeks until someone could come out to fix it.
So anyway, here I am in Satan's Attic digging around for luggage. I found Lumar's and tossed it down the door/opening where I came up from, and then went back for mine.
Rule #1: Never throw your luggage down a flight of metal stairs.
Exhibit A:
Yes, there is a big chunk of plastic now missing off of my suitcase.
Here's my suitcase, packed and ready to go!
And yes, the Darkwing Duck shirt rocks your socks.
One of my goals for this trip was to not overpack. On almost every trip I have ever been on (Disney or not) I always end up bring a ton of stuff I never use, and a bunch of clothes I never wear. So I really tried to narrow it down to necessities on this one. Here's a pile of clothes that didn't make the cut: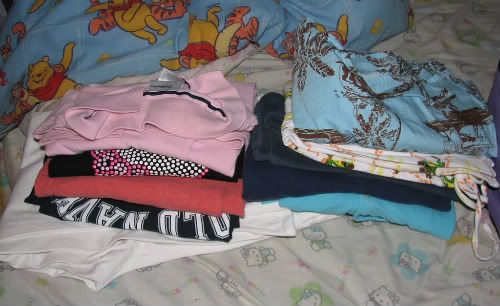 And yes, I have Hello Kitty sheets and Winnie-the-Pooh blanket. There's also a Garfield blanket in there somewhere. Hey, I told you we're nerds! Lumar doesn't particularly care for the HK sheets but he just has to deal with it.
Around 10pm I had to go pick up Lumar from work, and when we got back around 10:30, I frantically rushed around trying to finish packing. Some people like it when their significant other helps them with packing. I am not "some people." I can't concentrate when he's in the room, and he is not, under any circumstances, allowed to pack his own suitcase. If I left it up to him, he would go with an entire suitcase full of electronics equipment and no clothes. So anyway, here I am, running around like an idiot trying to remember where the heck I left my list and trying to make sure I didn't cross off anything that I didn't actually pack. This is how Scout helped me pack - with a look of utter disapproval that only rabbits can give (for more Disapproving Rabbits, visit
www.disapprovingrabbits.com
)
"You're not going to try and pick me up again are you? God, just go on vacation already!"
And here is how Alex helped:
Priorities, Alex, priorities!!
The Flash was absolutely no better, and I swear that I did not pose him this way. He digs under the blanket and comes out the otherside, covering himself up!
OK so all packing was officially done by 11:30pm and it felt sooo good to know that I didn't have to try and do all of this tomorrow night!
----------------------------------------------------------------
Update 3/15: Arrival Day!!!
Update 3/16: Day 1 - Epcot
Update 3/18: Day 2 – Magic Kingdom
Update 3/23: Day 3 - Animal Kingdom
Update 3/25: Day 4 - Hollywood Studios
Update 4/7: Day 5 - Animal Kingdom
Update 4/21: Day 6 - DHS plus Pirate & Princess Party
Update 4/23: Day 7 - Epcot
Update 4/30: Day 8 - Magic Kingdom
Update 5/12: The Last Day