Characters
: DH and I, mid-forties - no kids, yearly WDW visitors since our honeymoon in 1994!
Timing
: We were trying something new - January! We've been in March, May, September, October, and December in the past. To be exact: January 24-27, 2008.
Day 1 (Thursday 1/24) – Arrival, Check-In, and the Magic Kingdom
Our morning flight on Northwest from Indianapolis to Orlando took off a few minutes late, but made up the time in the air. Unfortunately, there was a terribly bumpy, turbulent 10-15 minutes or so (that felt like an hour to me), but we survived.
As soon as we board the airport monorail back to the luggage claim area, it feels like our vacation has officially begun. Roger (of a recently DIS-banned transportation company, now apparently the
Company Who Must Not be Named
) was waiting there with a sign displaying our name. In all of the times we've used this
Company Who Must Not be Named
(at least 5?), we've always had Bob, never Roger, and so I was glad to meet him. We didn't have checked luggage, so we headed straight out the door. My husband had tendon surgery in his foot in October so, even though he had the "all clear" from the surgeon; he brought his cane along as a precaution and to take some strain off of that foot. When Roger saw the cane, he immediately went to get the SUV and brought it right up to the curb for loading.
We were staying concierge level for this short trip, something we had never done before.
WL is our favorite resort, so concierge was just icing on the cake. We stepped to the bell desk and told them we were concierge guests. Someone from the check-in desk met us in just a minute with all of our paperwork and tickets in hand. She escorted us upstairs to the concierge desk on the 7th floor where the concierge finished our check-in, explained the lounge and elevator to us, and escorted us to our room.
I'm going to just take a second here to voice a couple of minor disappointments with this concierge experience.
I know that this type of thing usually gets jumped on, so please understand my taking the time to express this slight disappointment. It didn't ruin our trip or anything and I'm not mad. Just a little disappointed that, when paying that kind of money for a particular level of service…
I had mentioned when booking that we were celebrating our 15th wedding anniversary – it was on the paperwork. I told the IPO that the concierge level was a
surprise
for my DH as an anniversary present. He knew we were staying at the WL but didn't know about the concierge. When I had them booked our Friday evening dinner at LeCellier, I told them that was our anniversary dinner. I wasn't looking for any kind of upgrade from our standard view room. I wasn't hoping for free champagne or flowers or anything like that. However, I would have thought that somewhere along the way they might have mentioned our anniversary, given us silly anniversary pins, or sprinkled some confetti somewhere. However, there was absolutely NO ACKNOWLEDGEMENT WHATSOEVER of the event. Plus, they kind of ruined the documented surprise by calling our house the day before our departure and leaving a voicemail telling us to make sure we told bell services that we were concierge guests so we wouldn't have to wait in line.
Our room was very nice. It was a double queen bed room with a woods view.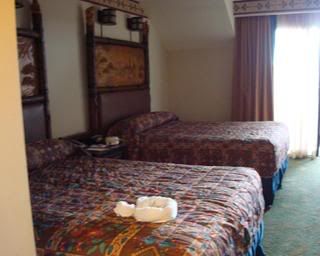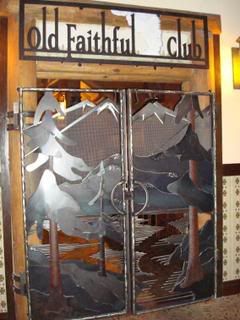 After a quick unpack and a snack in the concierge lounge, we hopped on the boat to the MK, arriving at the gate by 1:00 p.m. to the shock of our lives…
After waiting in a line about 20 people deep to order food at Pinocchio Village Haus, we found that there wasn't a single available table available.
Not inside, not outside, not upstairs. It was insane. DH and I sat on a bench by the door and ate our lunch.
There was a 60 minute wait at Big Thunder Mountain. There was a 50 minute wait at the Haunted Mansion. There was a 90 minute wait at Pirates! On a Thursday in late January?!!!
We waited for our favorites and then headed back to the WL, making an early day of it, to relax for the evening.
Coming soon:

Day 2 – (Friday, 1/25) The Backstage Magic Tour and our dinner at LeCellier