As with many of our most cherished, precious memories, our Mommy - Daughter Princess Trip was something unexpected that I would never have dreamed up on my own.
You see for me, the concept of just 2 people out of a 4 person family taking a trip to one of the most Magical Places on Earth is not something I would even have considered. However, due to circumstance, that is exactly what happened to me and DD4; we ended up alone, just the two of us, in Magical WDW in September 2007.
Exactly how and why this happened...well, you will just have to stay tuned to find out. In the meantime, here's a quick sneak peak at what ended up being one of the most Special and Magical trips of my life!
DAY 1 - TRAVEL, MAGICAL EXPRESS AND CHECK-IN TO CBR
First, I will introduce the Star of the Show, DD4 herself. Here she is the morning our adventure began adjusting the final Mickey Head on our Countdown Calendar. Even at 4:30am you can tell she is anxious to get on the road!
So off to the airport we head. We have 2 flights to catch today with an estimated arrival time in Orlando at 1pm. From the minute we left the house in the morning, the two of us girls, out on our own, driving down the highway to the airport - excitement was in the air! After all, this was the only time that the two girls had ever travelled solo on a trip together!!!
Here is DD in the airplane looking surprising calm given all of the excitement and activity her well-intentioned Mother had in store for the next 5 days: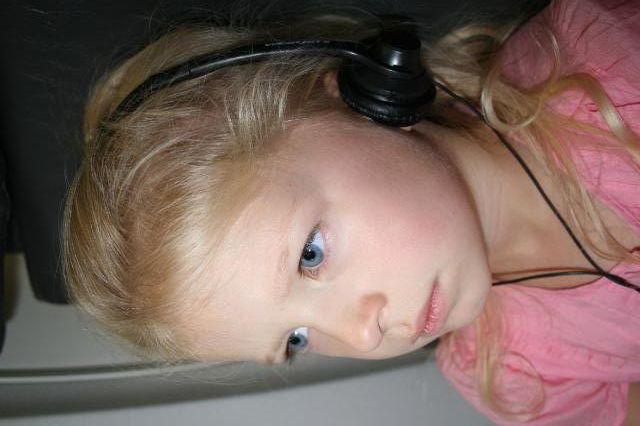 Well, after 2 very long flights and a hop over the border, we finally land in Orlando! As we were staying on Disney Property and only staying a short 5 days we decided to forgo a rental car and just take the Magical Express.
While this obviously meant no off-property shopping at the great Orlando malls and outlets I had come to know and love, the big plus was that there would be no car seat to install. Given that I had never performed this task before in my life, (that's what husbands are for, isn't it???) the significance of this benefit to Magical Express cannot be overstated!
Now I had heard lots of pros and lots of cons about the Magical Express on the Disboards and elsewhere. However, our experience with the Magical Express (at least getting FROM the airport to the Resort) was pleasant and efficient. We really had no complaints.
After one wrong turn inside the airport, we finally made our way to the Magical Express ticket counter. While there were about 15-20 families standing in line ahead of us, there were a good number of agents working and the line was moving fairly quick. I would say after 5-10 minutes we found ourselves at the head of the line where the agent verified our travel vouchers and sent us on our way to the bus line ups.
As each Resort has its own que, we found our way to the Carribean Beach Resort and stood in line waiting for our Bus. While I don't know for sure, I am going to assume that we must have just missed the last Bus for CBR. I say this because we were the 2nd family in line and then spent about 20 mins watching every other line get boarded on their bus but ours.
But heck, we were on vacation and waiting in line 20 mins for our Bus to come and take us to our resort was certainly not a hardship - LOL! We had a good time laughing and chatting with our neighbours in line and enjoyed people watching all of the other vacationers like ourselves on our way to a Magical Vacation.
In no time at all we were on our Bus, and before you knew it we were arriving at CBR - the First stop - yeah!
We were both very excited to be back on Disney Property. The last few times we have travelled to Disney we have always stayed off property. In fact, the last time I actually stayed at a Disney Resort (the Poly) was my first ever Trip to WDW back in 1977!!!
After exiting the Magical Express at the Custom House check-in centre for the CBR, we waited about 10-15 mins before we were checked in and given our key to a room in Jamaica as requested!!! Yeah!
Now here is where the "Magical" in Magical Express ended for me! After being dropped off at check-in I found out that we had to wait to get on another bus which would take us around the resort to our room. Only problem? This time we most certainly JUST missed the last bus. As we arrived at the stop outside the Check-in centre we actually saw it leaving! At this point it was about 3:15pm and we had a reservation for 4pm at the Bibbity Bobbity Boutique in Downtown Disney!
Will we arrive in time??? Stay tuned....