Hello Disboard Officianados
!
The time has come to start a thread for my DDs Make a Wish Trip
. It has been very inspiring, informative and fun to read Wish Trip Reports
here. I hope our thread will do the same for others.
For those who don't want to read the background story.... skip this part.
Index of Pages in this Trip Report:
Medical Background and Introduction
Requisition Poem #65
Send Off Party #110
Day One: Flight and Arrival at Give Kids the World Village #133 and Day Two: Sea World #135
Day Three: MAGIC KINGDOM!!!! #137, Day Four: Morning at the Village #142, Animal Kingdom #143, Day Five: Universal Studios #145, Islands of Adventure #148, Pirates and Princesses Party at Give Kids the World #149
Day Six: Epcot #151, Disney Studios #152, Day Seven: Hang out at the Village and Fly Home #154
Magic Kingdom Poem #33
Let me begin in 1987. My DW Lin
, who even my female coworkers acknowledge is a HOTTIE, is also a redheaded Irish-Cherokee
. LIfe with her is lots of fun and certainly interesting
. Long before we met, she lost a little daughter to Neuroblastoma before she reached 2-years of age. "N-blast" is a cancer that often strikes children before or soon after birth. Before our family came along, it was commonly thought that it was not a genetically connected disease. My wife's maternal line showed otherwise.
My DW lost an uncle, two cousins, a sister and her daughter Becki to this disease. There are many other family stories from "the old days" of family members dying as children from cancer or "abdominal troubles."
My DW also had three healthy children before we met, and I had four nearly grown children of my own (they are all grown and gone now). To make a long story short, we met, fell deeply in love and married. We have one child together, Elysia, the Princess. Her name is from the Greek word for paradise.
We knew something was wrong when a fetal-age ultrasound showed an abnormality. We prayed that it was not N-blast. Immediately after birth, our beautiful DD went in for a CT scan. At 6 weeks she began her surgeries. I will never forget the eye contact she made with me when the surgical team took her away. All I could say was my nickname for her "Sugar Baby," as tears welled up in my eyes.
Surgery lasted hours. One adrenal gland was removed as cancerous and a 'c' shaped tumor was removed from around her spinal cord. Unfortunately, the adrenal tumor had adhered to her renal artery. Several hours later another surgery was performed to remove her kidney. Months of chemo followed.
Somehow, our, now bald, little baby bounced back. Things looked great for months. 6 months later the other adrenal gland showed up as cancerous. It was removed and more chemotherapy followed.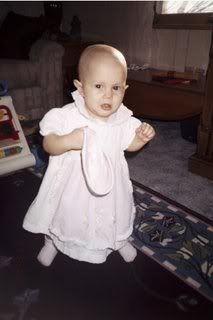 Miraculously, she has been cancer free for over three years now as confirmed by twice-yearly diagnostics (2-days each go and lots of difficult tests). We thank God for this answer to prayer. Dr. Judy Felgenauer of the Spokane Sacred Heart Children's Hospital Pediatric Oncology clinic is to be thanked for her expert guidance and wise consultation with colleagues
. Dr. Diane McCarthy, the surgeon achieved the amazing feat of removing EVERY cancer cell during the last surgery
.
Bill and Lin