This is my first Trip Report so bear with me... this could be scary!
Table of Contents with Easy Access Links to all the updates are below this first post.
I think I'll start with introductions since I did not do a pre-trippie and it could get confusing without knowing who everyone is. Well, you know what I mean. Purple is going to be my color of choice so as to not get confusing. I'm anticipating lots of visitors and conversation, but that could be in vain...
I'll start with myself. I'm Heather. You all know me as WDWHeather, Heather, PB and various other nicknames I'll disclose for now.
I'm 22 and in college studying accounting. And basically my family is great and I'll take as many free family vacations as they're willing to dish out. I think you all know me pretty well so I'm going to move on to the next member.
Next is my sister. We'll call her Ladle. Ladle is a nickname we have for each other. In fact, she calls me Ladle too. She's also on the boards but rarely posts. If you do ever find her, her user name is pirates_are_our_joy. Yes, you can laugh at that pathetic name if you wish. Apparently we made it up years ago when we thought it was "Super Cool" or something... Ladle is 17 and just graduated high school. This was a closed mouth celebration for her really. Well, we say that's why we were going, but really, we were just going because, frankly, we go every year.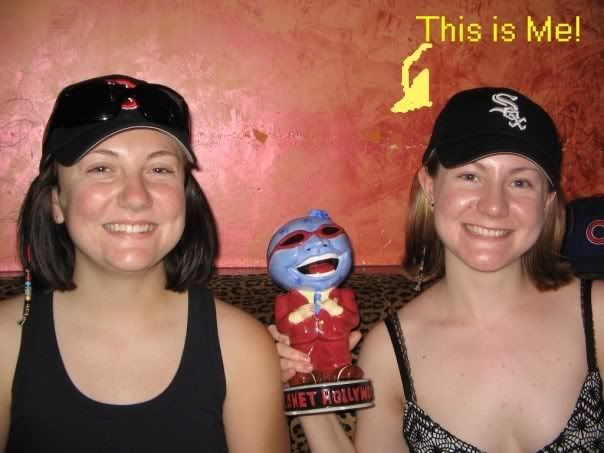 Above is a picture of my sister and me. If you've noticed, we do look a lot alike. Despite the five years difference between us, people ask if we are twins all the time. In fact, we walked into a gas station one time and they did not believe we weren't twins until we pulled out our drivers licenses. I will also be adding a count of twin references on this trip. Also, what's the fun of looking alike if you can't play along sometimes, right?
Next is my mom. We'll call her Sally Shine. This nickname will be explained later. If you already know the reference, just sit tight because I will also explain it. My mom is a real estate buff here in New Mexico and works hard all year so we can take these trips. She's a big thrill seeker so she is game for riding anything with my sister and me. Makes a perfect trio on Space Mountain.
Lastly is my dad. We'll call him Garco. That name will be explained a little later when it fits into the trip. He's a huge Cubs fan and I only took him to his first game recently in Chicago. He has a Cubs shirt for every day of our trip and is never seen without his Cubs hat. My dad doesn't ride any of the really fast, dropping, thrill rides. He's more into the less intense rides. He also always carries around his video camera to tape us getting off the rides he doesn't ride... Very strange.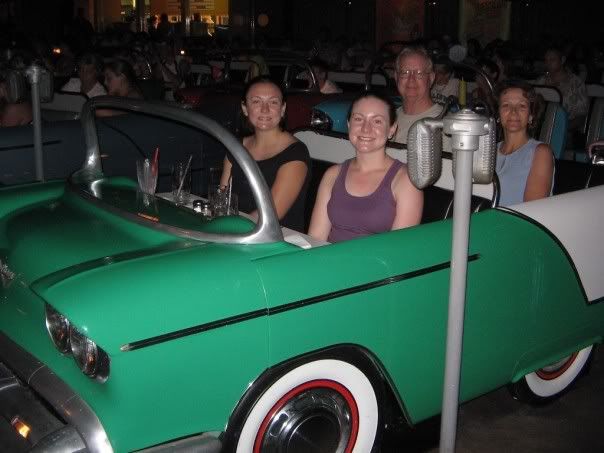 Above is a picture of the whole family on our vacation last year. This is at Sci Fi, a restaurant we frequent.
Now, this is a very interesting group of people, let me tell you that. As with any family, our personalities sometimes clash and make for a most um...odd time. Over all it works out, but there are always those tense moments. Not sure if they're even worth sharing on the report so I might just bypass those and get on with the good stuff...
Easy Access Links:
Airport Catastrophes
We've Arrived!
Fancy Pants!...And Matching Outfits.
Finally Day 1
Day 1 Ct'd
Day 2- Morning Edition
Unrelated Related Information
The Long Awaited Day 2 Ct'd!
Day 3, May 19th
Sci-Fi
From Ladle
Who's Who
Fantasmic!
Cell Phone Dilemma
Addendum: Twin Sighting Number Two
Ladle?
The Line Finally Revealed
Chicken in the Air Tour
The Pirate Arm
Coming Soon...
Tony's
Comatose
A Little Detour
Monday, May 21
Swashbuckling and Other Pirate Tomfoolery!
A Wild Night at Animal Kingdom