Just some things to keep in mind:
So obviously I'm young, and my and my DB(boyfriend!)
and there just aint no way we (he since he paid for everything!) can afford a five day thing at disney, and plus my birthday is only one day. So we just stayed 2 days 1 night!
And I live with him in Fl, i use to live there but 2 days after my hs grad i move to co. so i couldnt take it there, i need disney 45 mins away so i move back with him and is family. But my parents are totally 100 percent in my life and we love eachother! Also we used all our own money!
I go to Disney for my birthday every year for the past 6 i think, be last year we ended up with DQ! still fun
Oh yes, and on day last year we skipped school and went to fort wilderness and hit up the breakfast buffet, then headed to some other resort, one of POR and fell in love with it, the fishing and the buildings i just had to stay there, so thats why we picked that, and i once stayed there when i was little and it was dixielandings. so yeah its history to me!
This will be short!
March 18th:
Me and DB wake up around 1030. We already packed the night before so we didnt have to worry about that. So we get up he takes a while to wake up i get up and go on the computer for a little then he gets up showers, and his mommy had breakfast ready for us so we ate, packed up the truck and head out to Disney's Port Orleans Riverside.
Its only about a 35 45 minute drive, so we get there and I start to get all excited this is the first time ill be staying at a resort with out my parents! And our second time to WDW together. So we pull up I jump out and give him a huge hug!
And we go to check in. Now i dont know if it was just because we were young, or just hot because everyone was looking at us like, OH NOOO. ha?
So we check in and i did some research on here about the rooms and was really wishing for Alligator bayou, but we ended up with Oak Manor which was BEAUTIFUL!! Couldnt be happier. We had good luck getting a beautiful courtyard view!
Me, at Oak Manor, this is on the side facing the parking lot.
Courtyard view from the sidewalk.
Me in our room!
Ok! So we get settled in and put on our bathingsuites, and I'm a little nervous because its a disney hotel and i have three tattoos that i can cover up with clothes on but bathing suite i cant, but they arent anything bad at all, but still it being diseny i knew i was going to be getting some looks.
So first we go to go Fish because by that time it was 130 and fishing closes at 3. So we went over there for 30 minutes, met some cool people, and caught a few fish and SAW 4 OTTERS!! They are soo cute!
Ha, so then we went over to the main pool, picked out some chairs, and headed straight for the slide! And as expected I got the stares, but there was a girl there that was full of them so i felt a little better!
We finished swimming, went back to the room and I showered off while DB was trying to get in tough with the lady that was hooking us up with a free park hopper ticket. So we got ready headed to downtown disney. We decided to take the water taxi, bad move, it took about 30 minutes to get there!
We went to Earl of Sandwhich bc DB eats 6 meals a day practically, so we eat there.
I have always wanted the classic mickey ears so I got some and had them embrode "Birthday Girl" on the back and then we met up with the lady to get the free ticket, and to our surprise SHE HAD TWO!!
After thanking her over and over again we left and headed back to the resort because I had plans for Rain Forest Cafe to take him there for our 3 year anniversary (its a week and 2 days later so I wanted to take him to dinner!)
We headed back, I get ready all dolled up and totally should of brought a jacket because it was freezing! We finally get our name called(we got there about 7 and the wait for for about 3 hours luckily there was only 2 of us so we didnt have to wait that long!) So we eat, and as always it was yummy yummy.
We decide to take the bus back, and with my luck we just miss it and have to wait out in the cold, but oh well. When we get back DB takes a shower, and i put PJ's on and turn on the TV to watch some good ole DIsney channel. And i totally couldnt sleep i was too excited, so around 10, i get some comfy close on and we go for a walk around the hotel! We went all around Alligator Bayou, and OMG I so want to stay there next time!! I loved it in there! They are so cute!
So we get back to our room around 11, I, as smart as i am!, brought benadryl the sleepy kind! and took some so i actually go to sleep! Called up for a wake up call at 8 am, and totally was passed out. DB said that he would throw things at him and yell and clap, and I wouldn't even move, and I am def. a light sleeper but they knocked me out!
ha.
March 19, 2007 MY BIRTHDAY(all four parks in one day!)
So I wake up before the wake up call take a shower, and as i get out we get the wake up call, i let it ring for a little so DB wakes up a bit and then let him sleep a little because it takes him 5 minutes to get ready! SO we are already, pack up the room, have a little fight, bc me being like my dad im very impatient and DB is slooow!
SO we pack up the car, make up! And go to check out! And i know that when its your birthday they give you and birthday pin! So i was looking around the gift shop for a post card to send back to my parents to make them jealous! And here comes DB walking in with my birthday pin! Hahaha I was so happy! I mail off the post card (of course its tinkerbell, when i was little i forced my parents to call me tinkerbell!) And head for the busses!
We get the bus right when we get there, its jam packed and we are the last one to get up and we have to stand! And I chatted up with the bus driver and it was her birthday too!! How gnarly! We get off she wishes me a happy birthday as do i for her! And start our day at the magic kindgom!
Pic i took up the MKC!
Us on Thunder Mt.!
SO we had reservations at the Liberty Tree Tavern (usually I go to the Crystal Palace, but I thought the LTT was the same, a buffet, soon do i find out...) for 1200, so we try to kill some time hit up the new laugh thing and didnt know it was so long get out at 1210 rush over to the LTT and I am glad i picked it because they put down this mickey confetti and ended up singing happy birthday to me and gave me a cupcake! haha.
So being as stupid as i am haha, i wear the wrong shoes, so we rush back to the resort i put on some flip flops and head to EPCOT! DB has never been!
Get in line for Test Track, its about an hour or so, will NOT go on Mission Space becuase DB will get sit very easily from it! Head over to soarin' ITS WAS 70 MINS! We wait in line for like 10 minutes and say forget it!
Start walking toward France and i see none other then FIGMENT! OH i am so a huge figment fan and am so happy they brought him back! got a picture with him and go around all the countries, get pics. taken..
Me and Figment!
<3
She took it a bit soon! I think she was new!
We get some fried ice cream in USA! OH WAS IT TO DIE FOR!!
We finally get out of there and head to Animal kingdom because it was about to close in two hours.
So we finally get in, after that oddly long walk from the busses to the enterance, and head straight to Mt. Everest, because I haven't been on it yet. WOW. I must say Disney went all out for this one! I didn't mind standing in line for that ride, and wow the ride it self was awesome!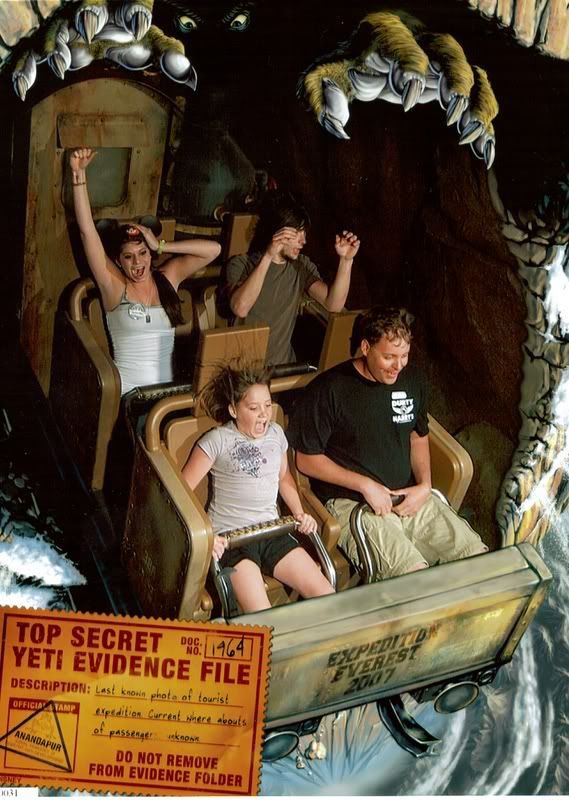 I love that pic, i couldnt stop looking at it i almost ran into a tree infront of a lot of people! BUT i didnt!
So we go on dinosaur and then get for MGM for the extra magic hours.
We decide by now we are hungry, but of course most sit downs would be all packed, espeically 50's prime time, the only place i eat at when i go to MGM so we decide to just get turkey legs. Well! when we get in line they announce
that THEY ARE ALL OUT OF TURKEY LEGS!! How does this happen??? ahah SO we just get chili cheese dogs, not so good, but whatever, get our bracelets, and get to rocking roller coaster, then haunted mansion, back to rockin, then fast pass for haunted. Ha, we finally leave around 12 AM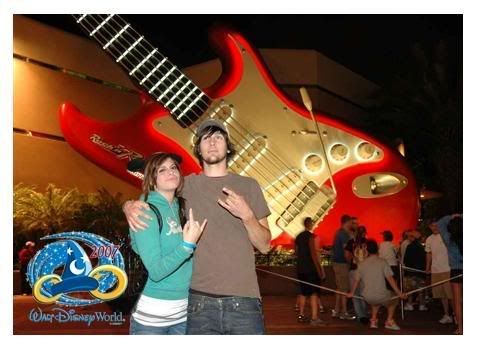 Rockin' Roller Coater haha We are Rockers!
So we head home I'm pasted out the whole was.
IT all in all was an AMAZING BIRTHDAY! THE BEST ONE I HAVE HAD YET! THE CASTMEMBERS WERE AMAZING EVERYWHERE I WENT I GOT A HAPPY BIRTHDAY EVEN FROM OTHER TOURIST! IT WAS PERFECT AND I LOVED IT!
I hope you enjoyed it!!