One of my dearest ditsy pals from a certain state known for peaches and rednecks asked for some pictures of our snowstorm. So I decided to share them with all of you, if you care to look and listen. If not, I don't blame you. Who gives a crap about a barnyard and some precipitation?
Here is the sunset on February 13th. Red at night, Sailor's delight, right? Well it remains to be seen if this will be the case on this particular evening.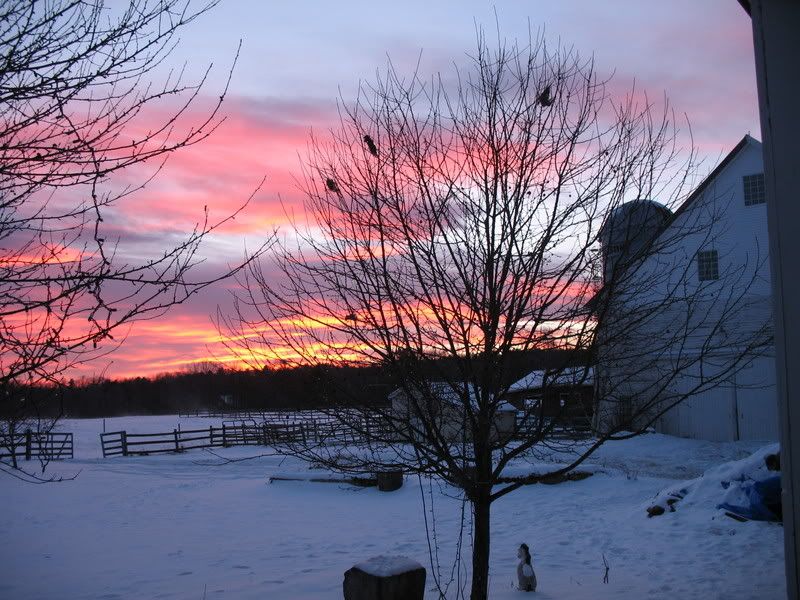 The Blizzard of Love they called it. It was slated to arrive promptly on Valentine's Day. Usually these storms are all hyped up and everyone goes into panic mode, braces for the biggie and it never amounts to much. However, Nor'easters are different. They are often quite predictable; as they develop right off the coast here, and when they arrive, like some unwanted guests, tend to stay awhile.
Anyone who knows me well recognizes that I tend to be a risk taker. I have always been that way. I hopped on wild horses no one else would ride, as a very tiny girl. I'd get thrown off, landing painfully on the hard ground and get right back on. I have a bad back to this day because of it. I have traveled the world alone to places like Italy and Alaska. My first time sailing, I got on a boat in Seattle, Washington and sailed through the Panama Canal and up past Cuba to New England. I would walk up to a famous actor on the street in New York and ask how to get into the business. These days my risks are small. I am just not in a position to have the opportunity to come in contact with major risks, although flying to meet people from the internet whom I had never met, might be the exception.
So anyway, the night before the storm's arrival, I made a calculated risk not to make Carson finish his valentine cards, or bake the 70 cupcakes needed the next morning for the 3 school parties my kids would be having at school. If the storm did not show itself, I would be baking all morning on my "Wednesday morning alone" time and buying cards and forging Carson's name on them for half the class.
I awakened at 3 am, and stoked the fires and checked out the storm closings. Many institutions had already canceled for the day. The wind was whipping and I bundled up to get some more wood and give the poor horses another flake of hay to help keep them warm. I decided to sleep on the couch in order to avoid awakening the sound sleepers upstairs. It would also allow me to turn on the TV early to see if the storm indeed had arrived and shut down school, without disrupting anyone. There is something so special about being up late at night alone. I love it. I wish the human body did not require sleep, as I would much prefer to stay up and listen to the sound of nothing, and read, and watch what I want to watch, and play on the computer, or just sit with a cat or dog on my lap and watch the flames dance in our woodstove.
There was not an appreciable snowfall at 6 am when I opened my eyes. However, the news was scrolling community after community canceling everything from the transfer station, to court to public transportation and school. Even LL Bean was canceling their first and second shifts. This almost never happens. I figured my risk paid off, and I would not be bringing in stale 2 night old cupcakes on Thursday when school resumed. And, Carson's teacher would not judge me the inadequate, undedicated parent who caved and bought cheap crappy valentines at Wally world.
After almost a half an hour waiting for our community to show up on the screen, I was becoming inpatient. I was afraid to blink. You know how it is, you wait and wait, and finally just about the time the alphabetical order is coming to your town, you sneeze, or need to let a dog in, and you miss it? Well this was my frustration. I had really never seen so many cancellations. So I went to the computer to look up the storm closings on the local paper online. The link was experiencing difficulties, and was not able to show the info. I was aggravated, as I wanted to know what was in store for all of us this day. It was nearly 7 am, and just about time to awaken everyone and go into rush-to-get-ready mode if in fact we were the one community in the state who would be having school. (This HAS happened in the past, tfi) Finally, I found a TV station online which confirmed the fact that the storm's forecast had convinced our superintendent to call it a day, before the day started and my once a week 3 hour alone time would not happen again this week.
This is our Greek Revival farmhouse, built in 1871 for the Cates Family, who owned about 2,000 acres around it. Today we own about 200 and have no neighbors for about 1/4 mile on either side. Front and back is more like 1 mile between us and the next house. It is very beautiful and pastoral and we have a view of Webber Pond, which is a sweet little lake where I can walk or ride to a spot and go swimming all alone. As you can see, the Blizzard was well on its way by 8:30 am.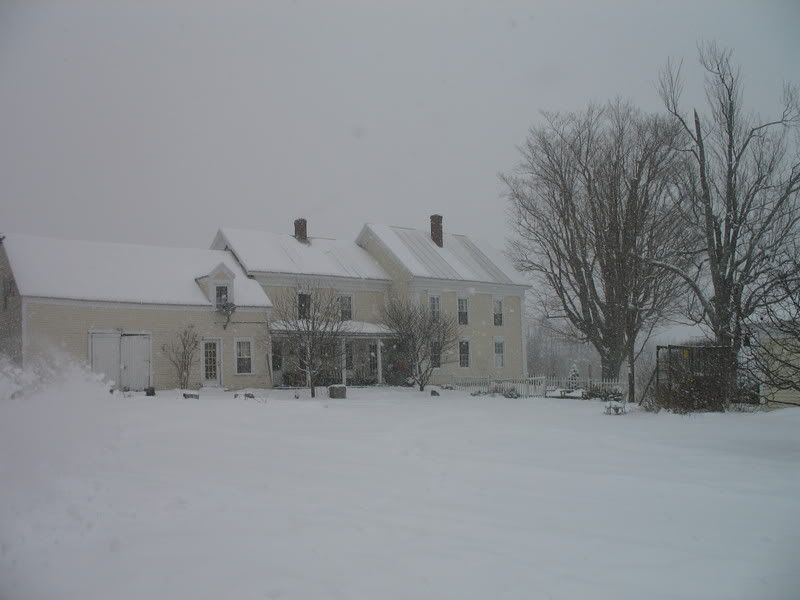 The kids were thrilled, of course, and whooped and ran around, and oddly enough, got dressed really fast. This never happens on school days. I wonder why.
Jack was interested in following his dad around the yard shoveling.
David chose to bring in wood for the day and water and feed the horses for me. I appreciated that.
And Carson decided to snuggle on the couch with old Winston and avoid the cold altogether.
I read about the Westminster Dog show results from the night before, sipped my morning Hazelnut with splenda and cream and read an "what kind of lover are you?" article that I found online and then bundled up to snap a few shots of the beautiful day outdoors on this frigid Valentine day in Maine. I missed the riddle again this day.
Here is Lawai, our Pinto mare. Her breeders had a home in Hawaii and when she was found in a patch of fern on their saltwater farm here in Maine on her first day of life, they named her. Lawai means sweet fern in Hawaiian. She is a fantastic horse, and so beautiful that cars literally slam their brakes on to gawk at her. She is incredibly social, and follows me around the barnyard like a dog. I should not have bought this horse, as we already had 4 equines, but it was love at first sight and I had to have her. That was 7 years ago.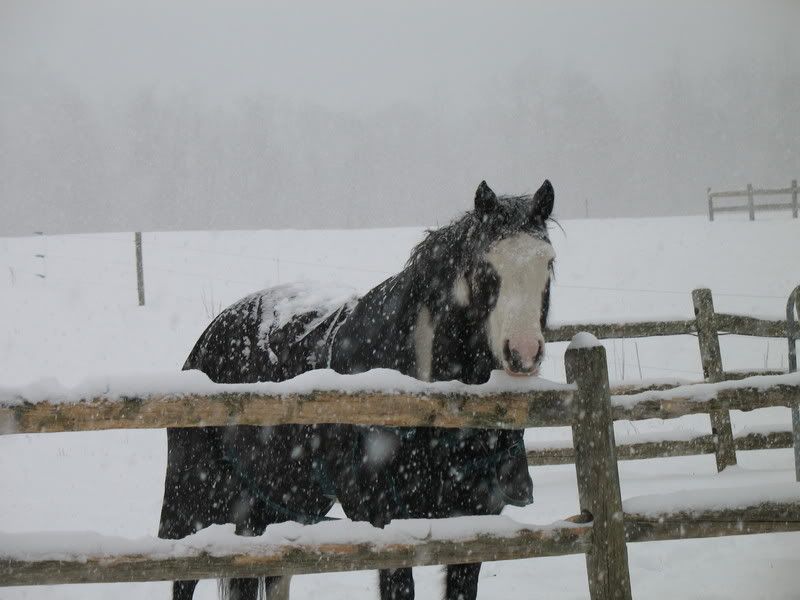 This is Blue. His name is actually Leah's Legacy. We have had him since he was 18 months old. He is like a Ferrari, an amazing, smooth and fast little sports car of a horse. I have a very big soft spot for this gentle and affectionate creature. He is just the nicest horse you'll ever meet or ride. He was named after Leah, a fancy blue blood breeder who loved Arabian horses and had managed to produce some very good lines. Blue was the last foal her sire produced. She died the day before he was born and his famous sire was never used for Stud again. He died soon after Leah did. She was 94 or so when she died of natural causes and it is said she went to the barn to feed her horses the morning she died.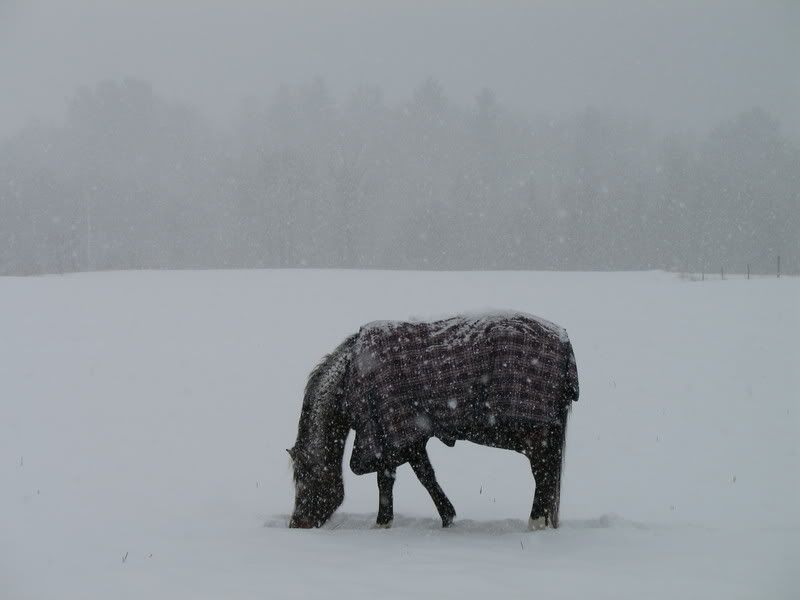 Sky, ever the nurturer was concerned about her horses and ponies being cold. That girl's heart is bigger than the big ole barn behind our house. She bundled up without breakfast to go try to wipe the snow off her pony's back. She is leaning on Rockaby, the mini horse who stands 2 and a half feet high at the withers. Next to them is little Lullaby, our Shetland. Lully was a pony I rescued on Easter 8 years ago. She was in horrible condition and tried to kick and bite anyone who came near her, including me. David was mystified by my determination to bring her home. I had to. She was suffering and I wanted to help her. She has become a most loving and wonderful pet, and has on several occasions fallen asleep with her head in my lap. You can see Rex in the background. He is our most talented and athletic horse, also the biggest. He came to us from Oklahoma at age 3 after a rancher's wife thought he was too anxious to go riding alone without the companionship of another horse. He is big, almost 16 hands high, and draws oohs and ahs from all the horse people that come around the farm. This gentle giant moves as gracefully as the dressage horses you see prancing in the Olympics and runs and jumps like the best Steeplechaser to run the fields of England. He is the kind of horse you wait a lifetime to own.
Here is a close up of Rocky, the miniature horse. He is extremely gentle and the kids can hop on him anytime, anyplace. This is extremely valuable in a horse of any size and believe it or not, he would fetch a fine penny if we chose to sell him. Fat chance of that, though, for now, as my darling daughter cherishes him.
I have been trying to reduce our herd for more than a year. Do you see why I am struggling with this? I love these animals, and would be lucky to have even one of them. Somehow I managed to find 5 wonderful gems. It was 6, but one is gone. That is another story for another day....
This is Lily, our rescue cocker. She is a traumatized, abused pup from the shelter. She was alleged to be 6 or so when we got her. That was 10 years ago. I suspect she was more like one or two then as she is still here, on this earth. She has a history of being a fear biter, and cannot tolerate going to the groomer's, as she is too scared, and well, bites them. So I have to groom her, which hasn't happened in a while, because everyone once in a while, if a comb pulls just a tad too hard, well, she bites me. As grumpy a dog as she is, she also is the most loving to me and David. Her soulfoul eyes gaze at us and she is always incredibly exuberant when we come home or merely come down from upstairs. She, however, hates the children, and has growled and nipped more than once at them. Their big hearts forgive her each time, as they repeat, "Poor girl, what a terrible life you had before you came to us." Their compassion and understanding of her amazes me....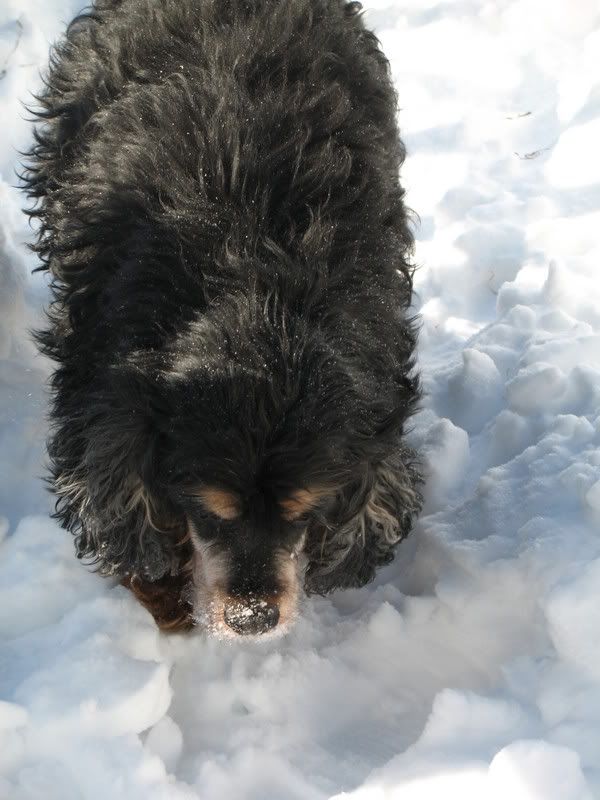 Here is baby Chloe, another cocker. She was born in '99, the same year as Carson, so she is not really a baby. But she is the youngest dog, and is so scared of everything and I guess, just will always be a baby to me. She is on the coveted bed-in-front-of-the-roaring fire spot that all the pets want. This hearth is the heart of our home….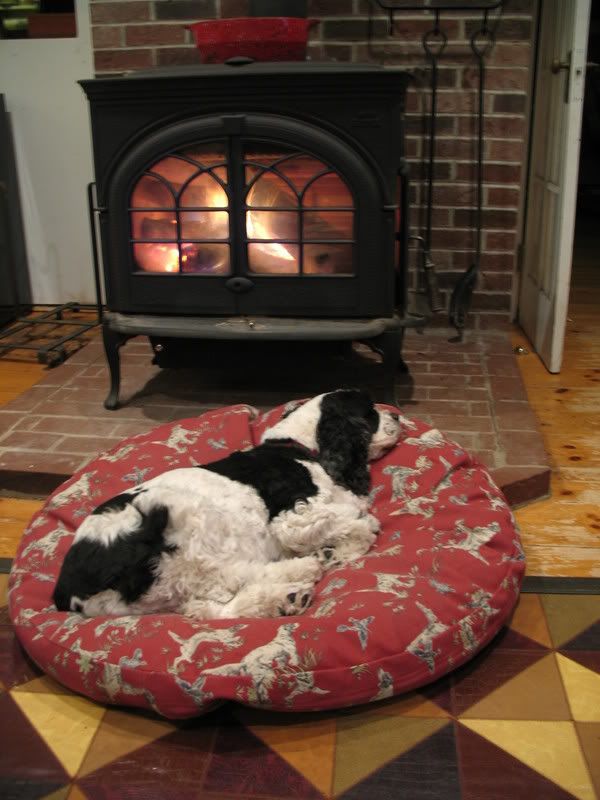 We let the kids stay up a little later than usual this night. And they ate some of the fudge and brownies I made from scratch for David for his valentine gift.
When they went to bed, we ate lobster and drank a bottle of Veuve Cliquot in front of the TV and watched Idol and Lost. How romantic, right? Well not really, but there is comfort in just being, after all these years.
Here is a case of peas. This is what I got for a gift after being together with my husband for the last 14 years. Not only was today the day of love, but it is also the day we said our vows when we eloped to New Orleans. Mock me, if you will, or him. It is an odd token of affection, I agree. But perhaps I got a canned vegetable that I would never buy for myself, because I have really everything I could possibly need in the world, well almost everything anyway. So I have a few snacks and each time I eat them, I will remember how much I really do have in this life.
Finally, here is a view of the farm this morning, post storm. Don't let the bright sun fool you. It is absolutely frigid and we got at least 18 inches of snow. Some of the drifts are 4 or more feet. It is breathtaking, but at minus 15 or 20 with the wind chill, none of us is inclined to hang outside to frolic in the snow for long today. It took David an hour or more to shovel a path to the barn, and dig out the Saab, that didn't fit into the garage bay that is filled with things he, the packrat, refuses to take to the dump. He hides them there from me, after pulling them out of the garbage, or the vehicle where I put them to try to reduce the clutter we seem to continually be drowning in. So one vehicle has to be outside this winter and thus I did not feel inclined to help him shovel….
I sometimes whine and whinge about being here, in the boonies, in the cold. That is who I am, a bellyacher, I fear. But truly, I feel very fortunate to have experienced this life here in rural Maine. It has been a wonderful place to raise the kids, and as much as I miss the city and the rest of the world, I can always hop on a plane and be there in a few hours, right? So for now, maybe just a bit longer, I'll hunker down here on the homestead, and stay in touch with the rest of the world through the end of my fingertips as I daydream out the window across the fields of what for now, I call home.
And as I told a sweet friend yesterday, do not think for a minute, that everything is perfect in my little life. It isn't. Not by a long stretch. Not even yesterday. But it's the moments I hang on to. The brief spurts where something touches me and makes me stop and survey my life. It is these times that make me tear up for all I have been afforded on this earth.