Cast:
Me: 42 year old Disney-crazy mom
DS 17
DS 15
DD 13
DD 10
DS 8
When:
January 8-23, 2007
Where:
Off-site, Windsor Palms
Pre-trip planning:
I really can't believe we're going again. Coming from Alaska, this is getting a bit silly. But…what can I say? I love the place. Unfortunately my DH does not share my "Love of the Mouse." But he does work 2 and sometimes even 3 jobs in part to support my Disney habit, so he is a sweetheart. He sends me and the kids on our way, and stays home to take care of the odd assortment of unwanted rescue critters that I seem to collect (as much as I collect antennae toppers and popcorn buckets…but I digress.)
Each trip we've taken has had some element of "free" in it…such as "free" rooms September 2005 (okay, not entirely "free," but .93 cents is pretty darn close.) For this trip, thanks to my teenage boys' ravenous appetites (hence…double miles on our credit card for groceries) and their seemingly endless baseball and basketball AWAY games (hence…double miles for gas)…we easily earned enough frequent flyer miles for 6 tickets. All we had to pay for was hotel, park tickets and a rental car…plus a few trivial things like food, parking, and over-priced ride photos.
It seems these days earning your frequent flyer miles is easier than redeeming them. We called the airlines and gave an estimate of when we would like to leave. They finally found something around that day. Then comes the fun part of picking a return day. Since we're traveling from Alaska and it takes an entire day of flying…plus a day to recover on each end…we usually try to go for 10 days to make it worthwhile. So we start at the 10-day mark and see what is available. No return flights available 10 days out. How about 11? 12? 13? Oh dear. Finally…they are able to find a return flight for us 16 days out. Hey…that's okay with me. Book it!
This was in April. Back when DS#2 was 14. Fast-forward to our trip…and we have a problem. DS#2 is now 15, and although he is homeschooled, he plays sports for the local high school. It is his first year. Our trip has fallen smack-dab in the middle of basketball season. Not only is he playing for the freshman team, but also for the junior varsity. Let's just say that the coach…and the kid…are not real thrilled with missing so many games and practices. Now major "Bad Mom" guilt settles in. Not only that, but my oldest son is missing his homeschool basketball team, and my daughters are missing dance. **Sigh** Aren't family vacations important? Well…it's already paid for and set, so we are going to go, but I promise both boys I will not take them out during a sports season again…lesson learned.
As part of DS#1's homeschool, he is taking a Consumer Education class, so I assign him the job of researching and selecting a villa. In the past, we've stayed in the Fort Wilderness cabins. They are my very favorite place in the whole wide world. But as my kids are getting older, the lure of a game room, private pool, separate bedrooms, and a second bathroom is too great. I figured since they're already a bit miffed about the timing of the trip, I'll let them pick a villa. Plus DH likes the cost better. DS#1 finds a villa in Windsor Palms. It is our first time trying a villa. More on that later.
Travel Day: Monday, January 8
Okay…"technically" it is Monday, but our flight leaves at 12:05 a.m., so to us it really feels like Sunday night. We've had a terrible habit of staying up late reading and watching movies late at night, so we really aren't tired…the night is just starting! My DH, however, is not thrilled with the time. We live 1-1/2 hours away from the airport. DH decides to drop us off 2 hours early. I really can't complain, so we all wait patiently at the airport. My youngest son packed 19…yes 19…stuffed animals to take with him. They are all named. He shows his favorite…"Old Jack"…the airplane.
I am a veteran of flying with kids alone. My kids have been very good travelers. Our biggest challenge was deciding who sits where. This is equivalent to who get the front seat in the car. (Please tell me other families go through this!) At home, we have 2 stuffed pigs on the dash of my minivan (don't ask) named "Stubby." (Stubby #1 and Stubby#2 came with on the trip to help us find our mini-van at the end of the day in the parking lot...and to have a little reminder of home.) Tradition has it that whoever is ready to go for the days' activities first gets to put Stubby in the front seat and claim that spot. Too bad we didn't get to use the Stubby tactic for the airplane. After about 20 minutes of heavily debated negotiation, the kids finally decide who gets to sit where. They decided for the first leg (of 3) it will be "boys" and "girls."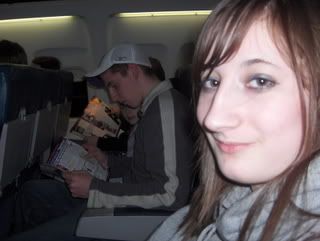 Before getting on the plane, I give the girls Dramamine. I really don't like to do this, but my last trip report was titled "Planes, Barf and Pixie Dust." Let's just say it wasn't a pretty sight, and my oldest son was on the verge of indecency as he kept shedding layers to give to his sisters who got sick on plane #1, in the airport during a layover, on plane #2…and so on. We also had a very short connection…only 35 minutes…in Salt Lake City. I was a bit nervous since the plane took off 45 minutes late, but hey…worry won't solve anything so I really didn't worry. Good thing, because the pilot made up the time in the air and we landed at the exact time originally scheduled. The flight was great, because they showed a football movie, "Invincible," which was right up my boys' alley. We made our connection easily in Salt Lake City, and got in to Atlanta. Then came the dreaded 4-hour layover. I really don't know why Delta changed our flight…we originally didn't have this long of a layover. By this time, the kids and I were SO tired. DS#2 is quite the practical joker. He kept himself entertained by taking pictures of pilots. He would "plant" his sister in front of them, so as not to be too obvious. I think he took about 30 pictures of pilots. He chased them around the terminal. I asked him why, and he said, "Because it's fun." Okay. Whatever keeps him entertained.
The other kids slept.
We arrived in Orlando and went to get our rental car. I let the kids pick. They had a choice between an Uplander, a Grand Caravan, or a Kia Sedona. They picked the last, due to the larger trunk space. DH said we picked the worst of the three. Oh well…I liked it, except that I kept turning on the windshield washers whenever I wanted to switch gears.
We then proceeded to find our way to the villa. By this time it is dark. We got a little lost. Let's just say the trip to the villa was interesting, and I now found out where Celebration is. It is very pretty, so I am happy that we got lost. We made it to the villa, tired but very excited. Everyone got settled in their room, we ordered a take-out pizza, the younger kids swam, and the boys glued themselves to ESPN (we don't get that at home.) We are going to sleep in and get groceries tomorrow.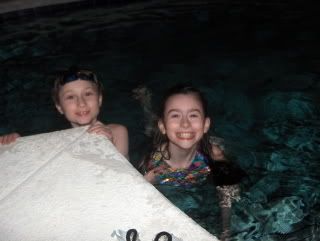 So far so good…
Next day: "Oops…I think we're headed to Tampa…"
Thanks for reading!