Day 5 – Say Hello,
Wave
Goodbye (sorry for that – DH's suggestion
) - Friday 13th October
Me – Joh, 33 – A bit nervous about wearing a bikini
DH – Gary, 39 – Wearing wedgy-proof swim shorts
DD1 – Sian, 13 – "Are there shops at Typhoon Lagoon, Mum"
DD2 – Rea, 12 – scared she won't be able to see anything without her glasses
Off to Typhoon Lagoon today. Another first for us – our first Disney water park. DH really wanted to try Blizzard Beach but I'd already scheduled that in for the day after MNSSHP so off to TL we went.
We managed to stay in bed a bit later today as the transport to the water parks didn't leave until 9:15. I went down to the lobby as usual for DH's cup of tea and got some chocolate croissants for us all. By 9, we were all ready to leave and we went downstairs to wait. DH got another cup of tea so he was now capable of partaking in conversation. The shuttle bus turned up on time and off we went.
We arrived at Typhoon Lagoon safely and waited with a small crowd of people – the weather was fantastic and it looked like it was going to be a real scorcher. As soon as we got in, we headed for the area recommended to us by our friend Sue and settled down with our stuff. DH and I left the girls while we went off to get a locker and a refillable mug, then we piled our stuff into the locker and off we went. First stop was Crush 'n' Gusher where we rode all 3 different slides. Our favourite was definitely Pineapple Plunger. We then did Gangplank and Keelhaul Falls, both great fun. After that, we returned to our 'base camp', grabbed a quick drink and then went off round Castaway Creek.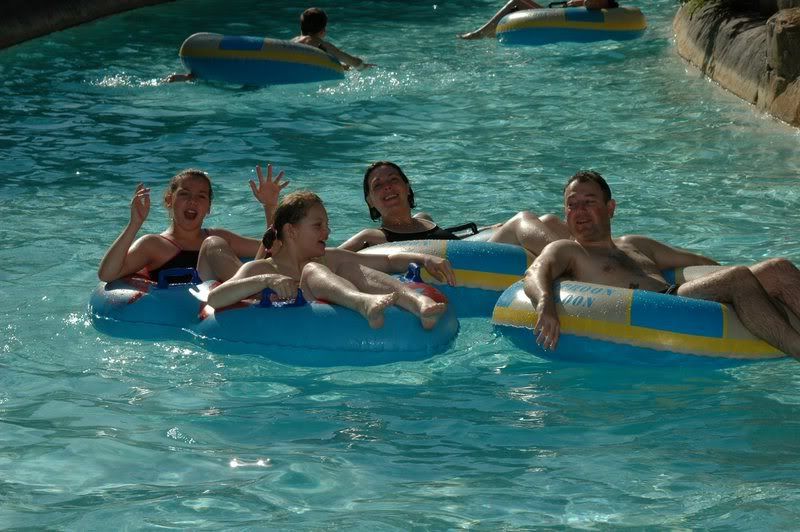 Next, it was time for some lunch. We got 2 chicken sandwich meals and 2 kids hot dog meals (total $25.74). More diet coke in the mug, half an hour to let lunch go down and away we went again, this time into the wave pool. Man, those waves are HUGE. I stayed quite a way back, while the others were more adventurous and headed towards the waves. After a while, I found the girls and told them I was heading back and that they could go off by themselves but not to be too long. Gary had gone off to check out Humunga Kowabunga (and, bless him, he did it too – he's a lot braver than me!) so I settled down with my book and some more diet coke. It was starting to get quite warm so I went off round Castaway Creek again, where I bumped into the girls. We all headed back together and sat for a while just chatting. I was relieved that they seemed to be enjoying themselves today and, just as I was thinking it to myself, Sian said 'Mum this place is so cool'. So, I'd finally managed to get something right. I felt like Edmund Hillary must have felt when he reached the top of Everest!
A little while later Gary joined us and we all went off to do a few more water rides, then it was time to get changed and catch our shuttle back to the hotel. After showers and a bit of a lie down (it's amazing how exhausting a relaxing day at a water park can be), it was off to dinner. Being Friday, for us, there was only one choice – TGI Friday's. I know we have TGI's here in the UK but the girls had never been to one and, like most things, it's so much better over there! It was quite busy but we were seated straight away and ordered drinks. DH and DD2 chose Blue Raspberry Slushies, DD1 had a Strawberry Lemonade and I was boring and opted for Diet Coke. I had been trying to encourage the girls to try new things while on holiday so Sian decided she would have the Lemon Splash chicken, which was described as chicken breast in a light lemon sauce with fresh angel hair pasta. DH thought that sounded good so he chose that too, while DD2 and I played it safe with chicken strips (I really ought to practise what I preach
). While we were waiting for the food, a balloon modeller came to the table next to us and offered to make something for the kids. The parents refused and for some reason she passed us by – probably thought our kids were too old. Absolutely not though – they both said they wanted a balloon model so I called her over and she quickly and deftly created a balloon cat and butterfly. I gave her a couple of bucks and she moved on to the next table. The girls were absolutely made up with their balloon creatures and they took pride of place on the table.
The food arrived shortly after and looked lovely – there was plenty of it too.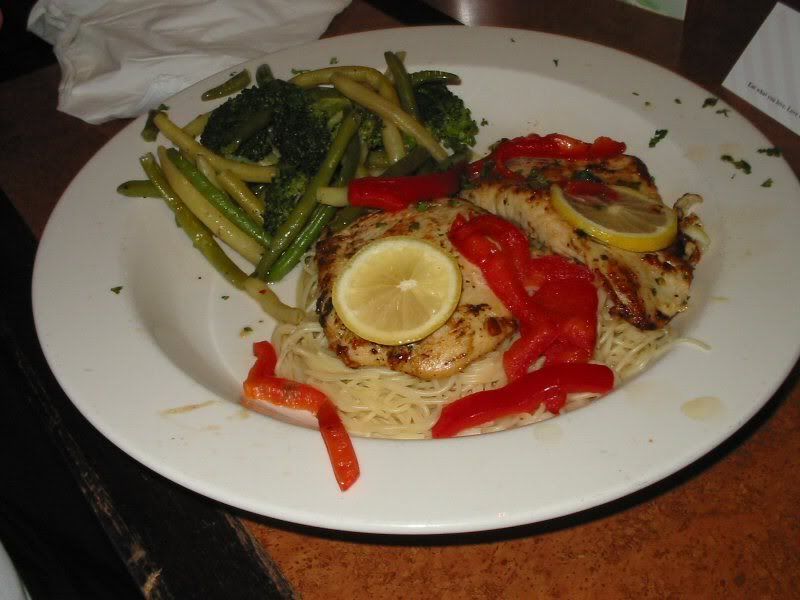 Unfortunately, it soon became apparent that Sian had not chosen well with her lemon chicken. There were an awful lot of chillies on the chicken and even DH commented that it had a bit of a kick. Poor Sian was downing her drinks faster than the waitress could bring them and, after she'd eaten all her pasta and proceeded to cut off miniscule pieces of chicken and try to swallow them with loads of water, DH put her out of her misery and told her to leave the rest. Bless her, she did try though.
We decided not to have dessert there as there wasn't much that we fancied on the dessert menu so we paid the check ($61.10 inc tip) and headed over to Friendly's to get ice cream. Me and the girls had mint cookie crunch sundaes (mint choc ice-cream with crushed oreos and hot fudge sauce), which were delicious, and DH had Black Raspberry ice-cream. While we were eating, a little boy sat down at the table next to us, spotted the balloons and promptly started nagging his mum for one. DD2 very kindly offered him her cat, which he took and then started screaming for Sian's butterfly too – ungrateful little toad! He had absolutely no chance of prising that butterfly from Sian's tight grip so we left his poor mother to try and placate him. We took our usual wander down I-Drive and then waited at the trolley stop for the trolley back to the hotel. I took a picture of the girls to prove they can smile when they want to.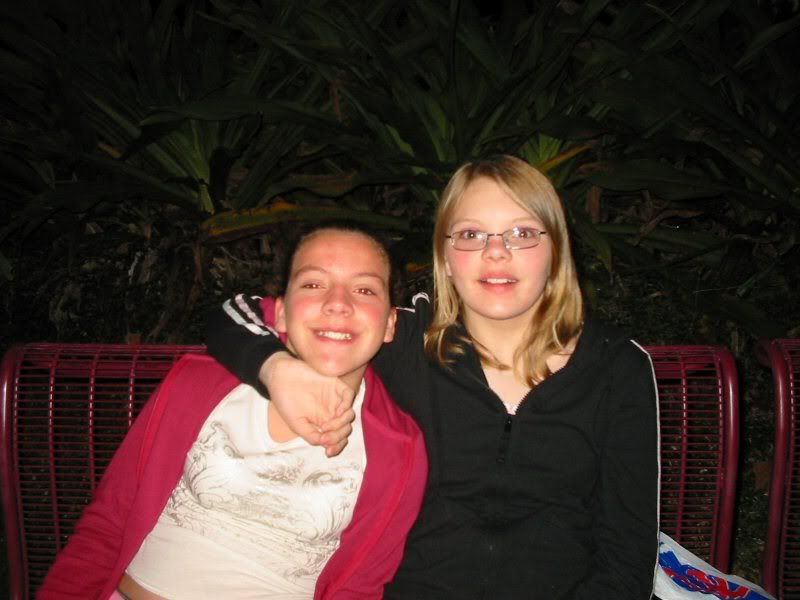 Tomorrow was to be a big day for us – the massive, stupendous, humungous, tremendous Dibb meet at Sea World!!!
Today's budget - $250
Total spend today - $162.85
Under budget - $87.15 :D (it can't last though)