This is how it started. It was an innocent purchase. Just one would qualify us for the room discount. And we were staying 7 nights – it was the kid's Spring Break – so it made sense. It paid for itself in room savings alone.
But, Disney knew EXACTLY what they were doing.
I was being assimilated.
No one buys an AP and uses it for ONE trip.
Allow me to introduce myself. My name is NicoleMarie. And I'm a Passholder.
Yep. It's true. With this little piece of paper, I can log in to the Passholder section of the Disney website. I qualify for special discounts all over the World. I can get good deals on rooms. I even get the Mickey Monitor which alerts me to exclusive happenings in the parks for passholders.
AND I could go to a park every single day for an entire year if I wanted to.
But I don't need all of that.
I just need the room discount for our Spring Break trip.
That's all. Just one Annual Pass, please. Thank you.
Like I said, Disney knew EXACTLY what they were doing.
So the Spring Break trip came and went.
We dined with characters, avoided crowds (thanks TGM!), rode our favorite rides multiple times, swam at SAB, saw lots of shows and parades, and had only one or two tense family moments the whole week.
It was as close to perfect as a family vacation can be. The kind of vacation that you can't wait to repeat. From the moment we got home and my post-Disney vacation depression settled in, I was itchin' to go back.
I have an AP, after all. It's free.
Then this past summer, The NM's took a "non-Disney" trip to a resort in Orlando with the in-laws – who wanted no part of Disney in the summer. I tried to convince my husband before the trip to go ahead and get AP's for the rest of the family. We could maybe sneak in a morning at a park. Wouldn't that be fun? And then we'd be set for the any future Disney trips we wanted to take in the next year.
He gave an emphatic "no" and thus the Pump Fake Disney Trip was born.
But it was on the Pump Fake Disney Trip that my husband said something that sounded as sweet to my ears as the day he said "I do." Something that let me know we really were meant to be together.
He vowed that this was the last vacation the NM's would take that didn't involve at least one day at a Disney park.
I fell in love with him all over again and picked up the phone to dial 407-WDISNEY.
My quest to be a Passholder Family was in full swing.
But before we go any further, let's get aquainted with the future Passholders. The bearers of full-time Disney magic.
Here's the crew:
DH – He is 8 days older than me. But goes through life exhibiting all the immaturity of someone half our age. Or more. But that's what makes things fun, right?
He loves nothing more than to embarrass his kids in public, throw out Seinfeld references to folks who probably don't get it, and think of who he can pretend he is when he calls someone on the phone. He's a complete dork and keeps me in stitches pretty much all the time. And despite his athletic prowess, dashing good looks and above average intelligence, the sense of humor is what drew me to him. And keeps us enjoying each other to this day.
We are quite opposite in that he is the exemplary Type-A and I'm only organized as it relates to vacations, but we buried the hatchet about that several years ago and just bought a house with separate master closets.
Me – NicoleMarie. NM in some cyber-circles. I'm 36 and holding. Forever. I love being a stay at home mom and wife, and I'm pretty plugged-in to the typical stuff that goes along with that. I won't bore you with the details. I'm laid back unless you make a spelling typo or try to mess with my Disney vacation itinerary. Or my babies.
I love a great pair of jeans with some cute shoes, but my make-up routine takes all of about 3 minutes. In the car. I highlight my hair, bleach my teeth (there are dentists in my family - it's free) and wear acrylic over my nails. But I'm all about keepin' it real. So I don't use self-tanner. I love music, taking pictures and Disney World.
Sweet Pea – 8 yrs old. And going on 18. I recently told a teacher in a parent/teacher conference that I had to apologize in advance for my eyes tearing up. I explained that anytime I talk about my children – regardless of whether I'm actually feeling emotional – I tear up. My love for them is that overwhelming. My love for my husband is, too. But something is different about my babies. They are a part of me. And a part of my husband. And to me, they are the best of both. Anyway.
My daughter is the child you would pick if you chose kids from a catalog. A perfect sleeper from the beginning. Has never thrown a tantrum. Obedient the first time. Grateful when you do something for her. Good student in school. Well-mannered in public - and at home. And says I'm her best friend.
I love spending time with her and seeing her evolve into the sweet young lady she is. Fortunately, she was the first-born and led us to believe two things.
First, that we had this parenting thing down. And second, that Number Two would be no problem.
Which brings me to just that. Child number two.
Little Man – 4 yrs old. And despite the drastic differences in behavior from his older sister, he's just as enjoyable to be around. And he has my heart around his tiny little finger. I absolutely adore this guy and find myself walking in his room at night after he's asleep just so I can stare at his sweet face.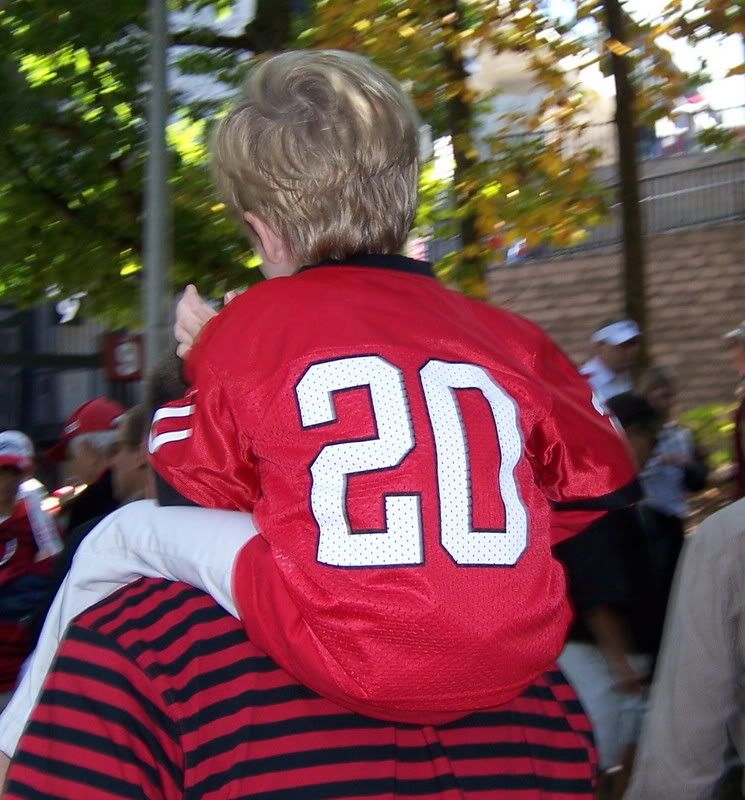 But oh, how he's different from his sister.
Here's a perfect example. Both of my kids suffer from that middle of the night ailment known as leg cramps. If your child doesn't get them, say a prayer of thanks right now. They are no fun for anyone. But if my daughter is awakened with one, she quietly climbs out of bed, tiptoes to our room, and stands beside me and whispers "Mommy?" When she sees I'm awake, she simply says "My leg hurts" and we go through the drill. Which is Tylenol, a massage, and back to sleep.
But Little Man's middle of the night adventures do not go quite like that. When he awakens, he then proceeds to yell to the top of his lungs.
From his bed. In his room.
"MOOOOOMMMMMYYYYY!!!!!!! MY LEEEEEGG HUUUUUUURTS!!!! OW! OW! OW! OW! OW! OW!"
Surprisingly, my husband can sleep right through this.
Our son is passionate about airplanes, Georgia Football, whatever community league sport he's in at the time, and his sister. He absolutely adores his big sis. He's inherited his Daddy's sense of humor, and he adds a dynamic to our family that is nothing short of precious and fun. We all baby him.
Bless his future-wife's heart.
Not really.
I already don't like her.
So that's the crew in a nutshell. And now that that's out of the way, let's get to the good stuff. The stuff that you came here for.
The Disney stuff.
Next Up: Frickles ALMOST Thwarts My Plan
Chapter Two