Day Three Saturday 16th September
Cast:
Claire (Me) - Initiator, planner, over excited one
Mike Ė Goes with the flow
Up early again today and down to hotel buffet.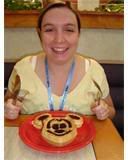 Off to Animal Kingdom, and straight onto Ex Everest. Loved the queuing area, not so keen on the ride, made me feel a bit ill, Mike loved it though. Next we headed over to the Safari and saw lots of animals. I canít remember what order we did the next bit in and I canít find my notes so Iíll have to wing it. I think we got on the train next to Rafikiís planet watch (not sure how you spell that) and had a look round there including meeting the crazy man himself and stroking the goats.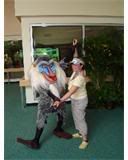 We might have had lunch next then we saw Flights of Wonder which we both enjoyed a lot. Onto the rapids where I ummed and aahhhed about whether to buy a poncho or not. I didnít want to get soaked but it was a very hot day so a bit of a splash would have been nice. I decided not to get one and of course I got drenched. I waddled over and bought an ice lolly which then kept melting on me. Went into its tough to be a bug next which was quite cold as I was still wet. Next we went to the Lion King show and I really loved this. At some point we met Donald Duck, Goofy and Pluto and there was no queue, didnít bother with Mickey and Minnie as they both had queues. We went on the Safari again before we left as weíd enjoyed it so much. Iím sure Iíve missed something out but I donít know what.
We went to Downtown for our tea but it was very busy so we ended up at Mac Ds and got some chocolate from Ghirardelliís although I didnít eat it for a few days which was very strange and had a quick look in the shops but very tired so off to bed early.