In the coming days, I'll try and get the rest up - we ate everywhere from Pioneer Hall to Narcoosee's to the California Grill.
9/23 - Our first meal on the FREE dining plan. We had actually planned on paying for the DDP before it became free, so that was just a bonus. I had all the usual reservations about using the plan – would service be worse since they had a guaranteed tip? Would free dining bring the throngs of people and again, service would be bad? Would we have hour-long waits for our ADR's? Thankfully, none of these came to fruition. I think the longest wait we had was about 20 minutes for Jiko, but I'll get to that later.
The Contemporary Steakhouse was where we were going to have dinner that first night. Now I know some hate it, some love it, we fall somewhere in between. As DH says – we go for the atmosphere of the restaurant not the food. We love seeing the Monorail and that just adds to the experience.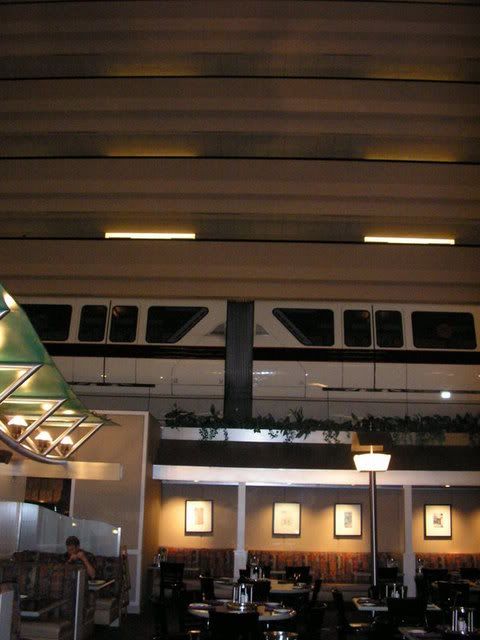 *This is a pic from our 2004 visit – I just looked and all we took was video of the monorail this trip, but it looked the same
Since it looks like the CS will be moving next year, we may visit one more time and see if the food can hold up without the "atmosphere."
When we walked up for our 7:00 ADR there were a bunch of people sitting around waiting for tables, and I thought we might be for one of those long waits I'd heard about. NOPE – 5 minutes later we are sitting down and others are still waiting…I'm guessing bigger parties or walk-ups? Our server was Xia and she was pretty good. I knew how the DDP worked but DH did not so I let her explain it to us. She took our drink orders (alcoholic) and brought us warm dinner rolls. Ooops – this is not starting well with my promise to take picture – forgot to take a picture of the rolls.
OK – we move on to the appetizers. I must warn that I am a baked onion soup nut, so even though it was a 100 outside (ok – not quite that warm but it was hot!) I was going to try the onion soup whenever I had a chance. The soup was good, but not as good as I've had back home. DH had the lobster bisque, which he liked.
Entrees were brought out after we finished our soups. DH had the prime rib with mashed potatoes, which he said was ok –
and I had the NY strip with mashed potatoes, broccoli, red wine sauce & red wine butter which was pretty good.
Another tip I picked up from the disboards was if you like things medium-rare, make sure to ask for medium. We did that and throughout the trip some things were closer to rare than med-rare, so I'd hate to see what happens if someone asked for it rare!
We both had the vanilla bean crème brulee for dessert and that seemed pretty popular throughout the restaurant that night as we had a view of the pastry chef constantly using the torch on crème brulees.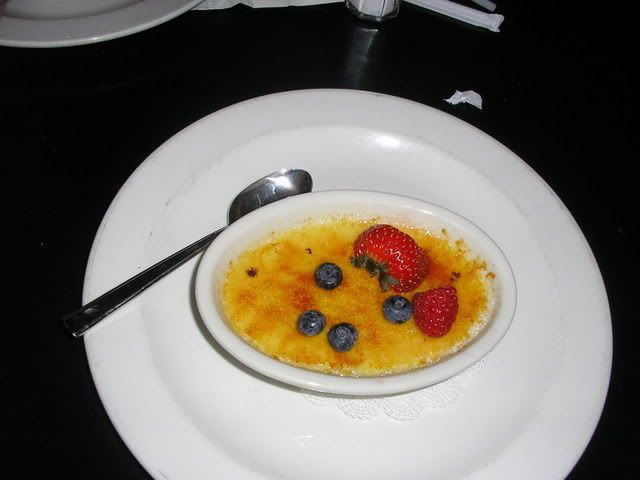 Overall a good dinner and our first experience with the dining plan. Xia even threw in free glow cubes in our drinks for our anniversary. The food did come quickly, but we never felt rushed. The only bad thing I noticed was, our server asked if we wanted another drink (alcohol.) We might have and that would have upped her tip. The drink tap did have an 18% gratuity already added to it, so we added just a little more. DH is big on leaving at least 20% for good service, more if service is great so we still left extra.
Total Free DDP – 85.21
Next: Chefs de France and Roaring Fork