I came back from a trip to Disney this week. I had left my kids and Dh at home so that I might have a first ever trip away on my own. I met some friends for the week and had the time of my life. But, I had to return. I was, of course, happy to see my family, however the post Disney blues set in anyway. It was also a hard frost last night, and I pulled out my non-sexy land's end fleece robe to keep warm this morning. My Dh sensed my blahs, and suggested we head out to pick apples, pumpkins and meander through a corn maize. It was sunny and crisp, a perfect fall Saturday in Maine. We loaded up the kids and headed west. There are a number of farms that offer the Upickem and maze combo. We selected the one that was closest that also featured a petting area, train, mini golf, and entertainment area. We figured the more stuff for the kids, the merrier.
The foliage will not be spectacular this year. The summer conditions determine how colorful the deciduous trees will become. The amount of rain, the humidity, the temperature and other factors were not conducive to our best color, however it is still very pretty at what is certainly almost peak right now here in our area of Maine. The foothills we drove through were gorgeous, and as we climbed higher in altitude, the White Mountains of New Hampshire poked up with astounding majesty. The chill of the morning air warmed up with the sun, and we arrived at the farm a little past noon.
We drove up to a mountainous farm sprawling over literally thousands of acres. The kids jumped out and ran to the farm stand….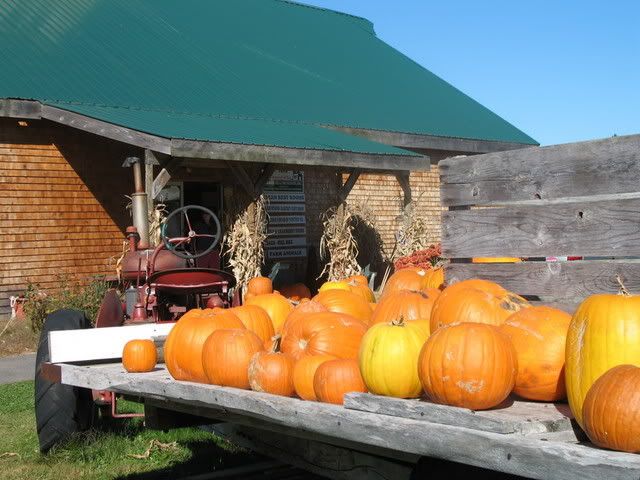 This place had it all! Apple orchard, cranberry bog, punkin patch, and everything else a good punkin patch should have.....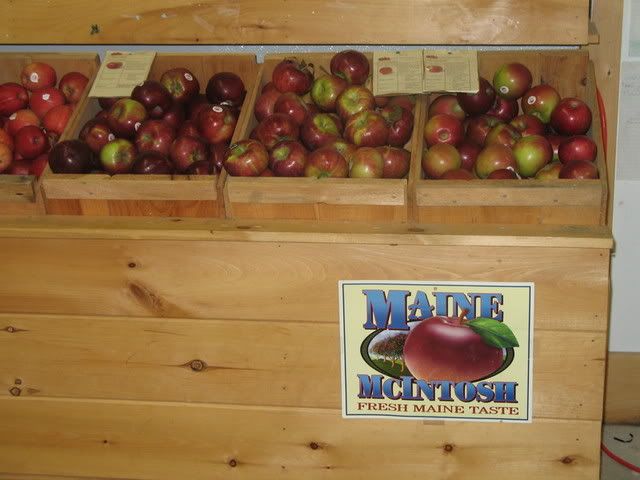 The smells of the cider, cranberries, muffins and pastries, homemade donuts and pies were amazing. We decided to sample one of everything, practically.
The kids loved all the toys, and little Jack peddled a tractor all around the store, NOT running into people amazingly.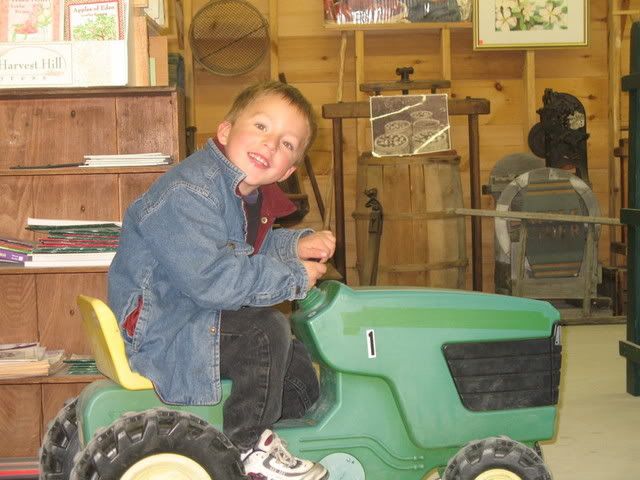 They had to ride the train before they ate their treats. So what if it went around in a 10-foot circle. They felt like they were on the ride of their life and showered huge grins on their parents as they sped by….er, I mean, chugged by, at a snail's pace, or even a slug or a sloth.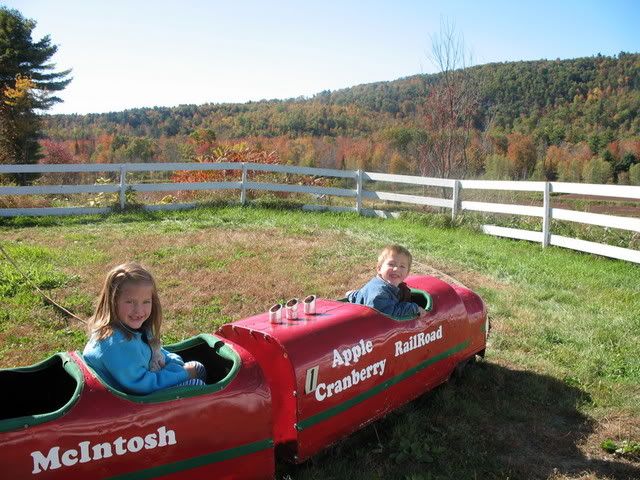 The apple turnover and pumpkin whoopee pies were the best, as was the Raspberry apple cider. The place did not have napkins and I was not having my children walking about this highbrow place with whoopie pie and cream all over their little faces, so I resorted to toilet paper. It was the only thing missing from this little fall fairyland…. Napkins. What was with that?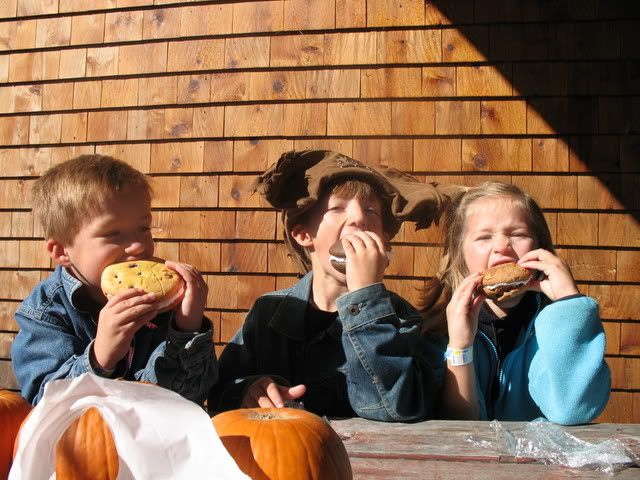 After the treats, we set off behind the kids to explore all that this embellished punkin patch had to offer. The kids were running like it was Christmas morning.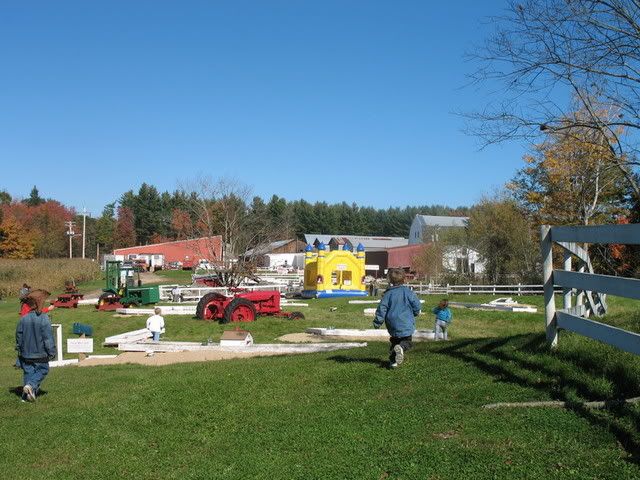 Carson, our 7 year old, chose to play mini golf with his dad, my hunky Dh, DJ. Okay, so it was a pathetic course. He could care less, and it was set in the most gorgeous backdrop of the mountains. Oh, by the way. Admission? $3 bucks for adults and $5 for children. Yep, that is not a typo. This must be the only place in America, maybe the universe, that charges more for tykes than the old folks. I liked it….So, for a mere $21 dollars, plus $1.50 per whoopie pie per person, we had our days entertainment.
Schuyler, our lovely 6-year-old daughter (pronounced like Skylar) and Jackson, our 4-½ year old pint sized Stitch ran for the bouncy castle. They met up with a few children and bounced for at least 45 minutes. I kept thinking, "yes! They are gonna sleep tonight!"
If you know me, you can guess what I was drawn to. Yep, the farm critters. Who cares if I didn't watch my kids so I could cavort with the precious lambs and pigs….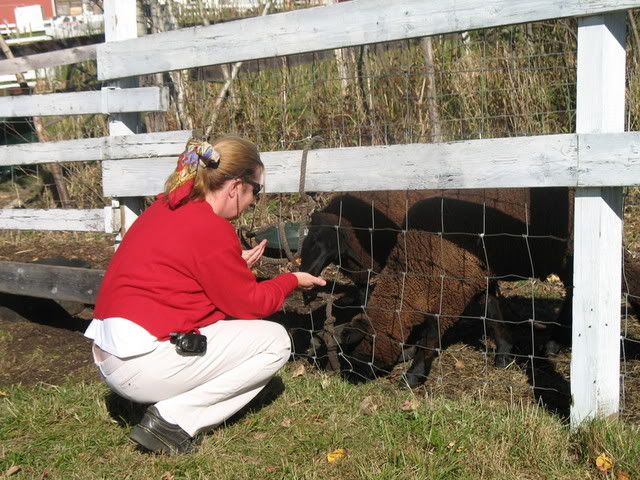 Yes, this goat only has 3 legs. I am drawn to misfits and loved her.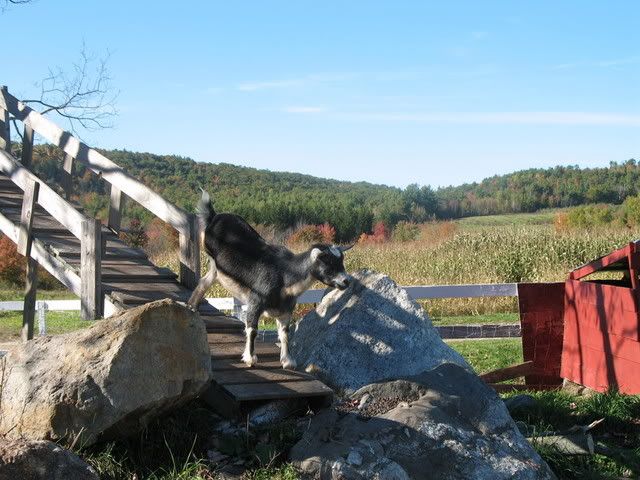 Yes, this calf has an under bite. Of course I preferred her too. Who likes perfection? Not me. I like the uniqueness of life and people and animals and well, whatever.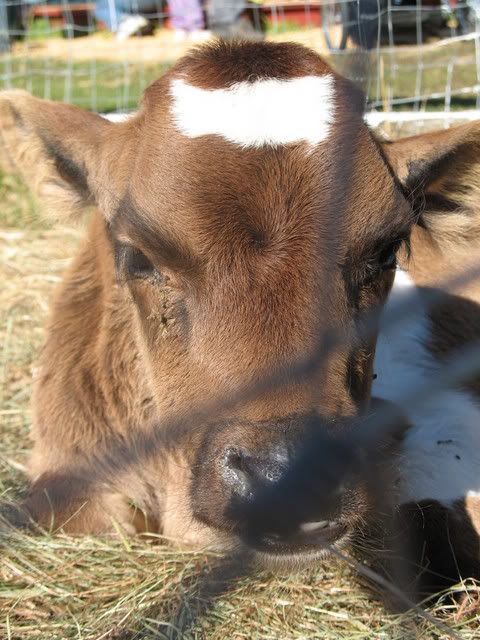 All I could think of was Babe, while watching these little piggies. "I want my mom…." Awwwww. Poor pigs are victims of their physiques. They were so lovable and came running to socialize each time we came by. Cuties, they were….
The kids loved the corn box. Anyone ever see Children of the Corn?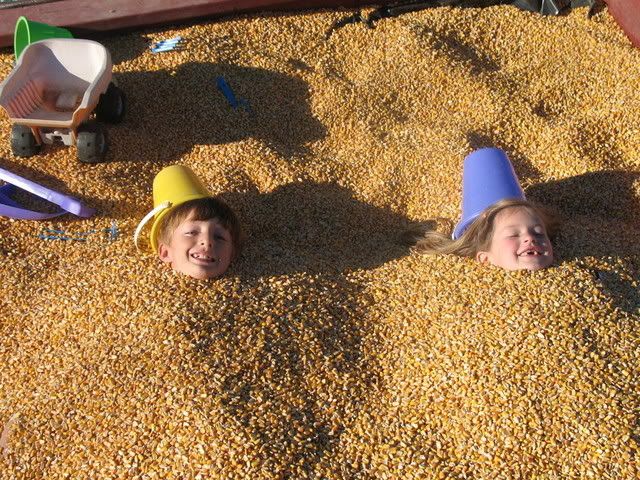 Jack loved this 57 (I think) Chevy. Light blue and cool as beans. This is Carson. Jack really did not let him inside the car....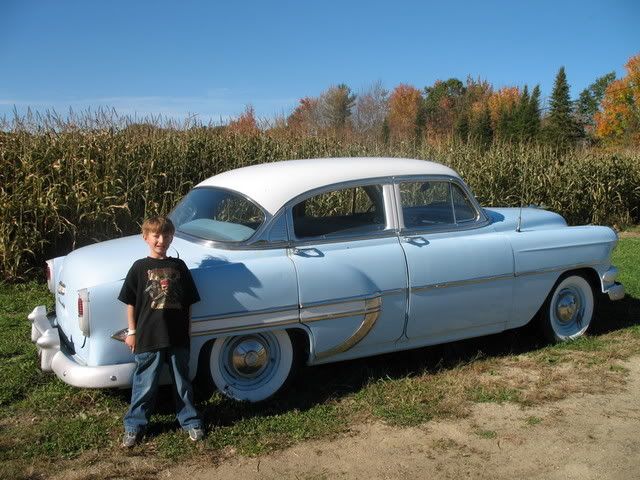 And Jack had a tantrum when it was time to take on the corn maze. I stayed with him in the car and text messaged a friend for about an hour…. We finally convinced him to go in….
He was unpleased and headed right back to the Chevy like a mouse to cheese after leaving the maze. No more tantrum...until it was time to leave again...
We had to bribe the kids to finally leave the amusement area, but not before letting them drive the tractor and get a taste of punkin picking…..
We then set off on the 1-½ mile drive up to the apple orchard and punkin patch.
Here we are at the top of the hill. Nice family photo right? Don't look too closely as young Jack does, infact, have his finger inserted in a nasty spot on his face. Willie Wonka would not be pleased…..
These are organic apples. Unfortunately the blonde attendant had no idea what varieties they had or where each was. All the maps had been given out today. Apparently it was a banner day. The kids picked apples, not their noses, with joy.
We parents enjoyed the warmth and the views. Ricker Hill Farm is close to heaven on several counts….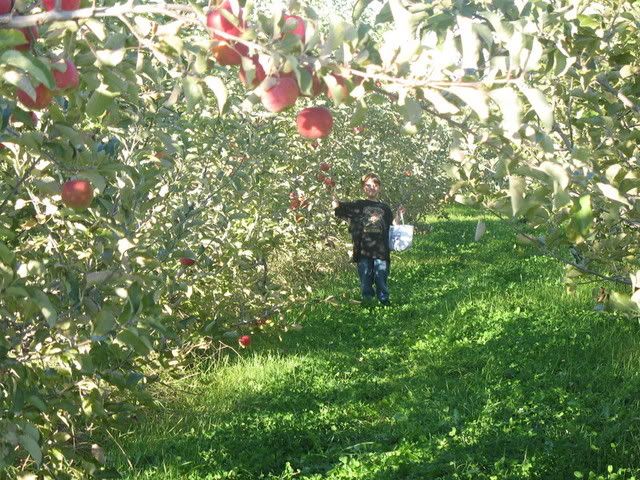 The last activity was the pumpkin patch.
It was somewhat picked over and our bribe had been to promise the kids whatever pumpkin they wanted….Of course they chose the largest pumpkins in the land. Linus would have danced on the doghouse with Snoopy. I sent DJ to find out the cost of said pumpkins. He came back with a price of 99 cents a pound. What? Our kids picked 34 and 36 pound pumpkins. This was going to be nearly $100 for 3 pumpkins? So that is how they got by with that cheapo rate down at the amusement area, I thought….. I went back and tried to break it to the kids that we would have to stop at Walmart to buy pumpkins, as we did not go and take out the maximum cash allowed from our ATM on the way. My daughter wailed, my sons crossed their arms and sat on the selected pumpkins that were now "theirs".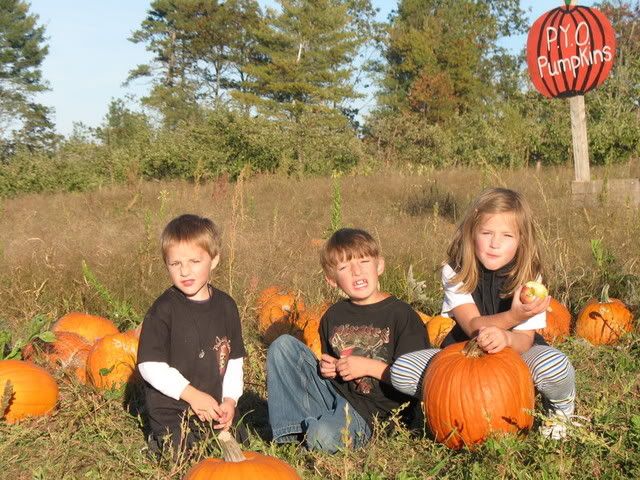 I stood with my arms akimbo. My brain works on things. I cannot, I absolutely cannot, let a problem go unsolved. I am dogged that way. I went to talk to the girl to try to bargain….after all, the price was outrageous….When what before my wondering eyes should appear? A sign that read Pumpkins 29 cents LB. Miss Attendant had misquoted the price of those pumpkins to DJ and he missed the sign, like he misses the tie he wants in his closet. And I wondered how many before us had paid the outrageous 99 cents per pound for a pumpkin for their little abbies....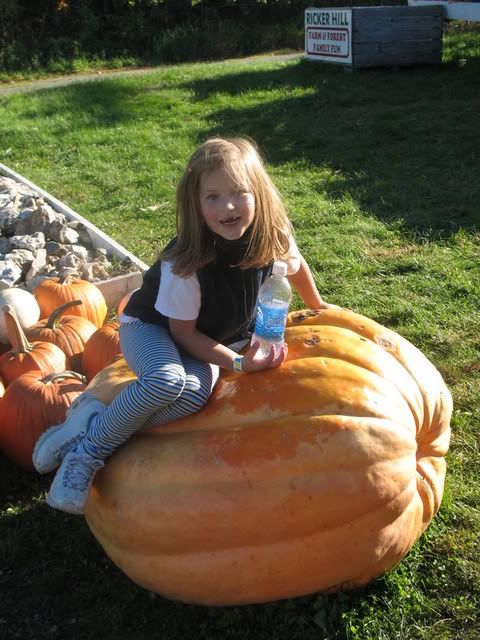 There would be punkins after all. And we loaded up the orange orbs and headed home.
This is the last sight we saw as we pulled into our drive.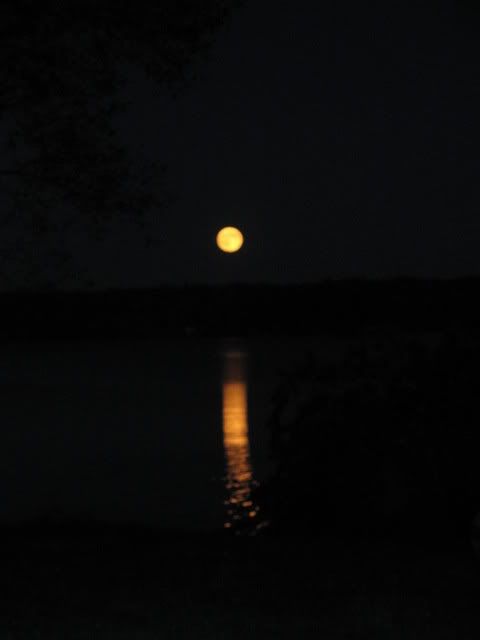 An incredible, huge and glorious harvest moon coming up over the horizon casting an incredible reflection in our lake. Maine, the way life should be. It was on this day. Happy fall one and all….