Well, I've been back awhile, but here's a small trip report that I was able to create. I actually wrote most of it while we were actually on our honeymoon. Hopefully I'll write up a little about the last two days eventually.
Here's what happened: DH and I were married August 12 2006 and we left the very next morning for our disneymoon! 8 days, 7 nights at POR! woohoo
DH had NEVER been to disney, so I was so excited to take him there! We had a great time, and hopefully you'll enjoy hearing about it. (i'm not that great at writing, so ya, read if you want
)
Day 1
Our flight was extremely bumpy, but luckily we got into Orlando safe and sound and early! The wait for the magical express was not long at all. DH and I got to the hotel around 11 or 1130 or so and checked in, but our room wasn't clean yet. So we went to downtown Disney where we had lunch at Rainforest Café (yummy)! We then went over to the Disney Christmas store where we found a mickey ornament and we had it personalized.
We then found a phone and called to check on our room and it was ready! We headed over to it. It's a descent room, a bit of a let down I think after being upgraded to a suite at the westin (our wedding night) and those heavenly beds there, but it'll sufficed. Once we got there we saw that our baggage had beat us there (thankfully, i had heard some horror stories about it taking hours upon hours, and we had to pack our carryon's light due to the plane restricitions). We then decided it was time for a nap. DH and I were both exhausted! So after about 3 hours we woke up and decided it was time to head to the Magic Kingdom. I was so excited to get there. We walked up to the main gate, and DH took some pics of me in front of the flower mickey head. We went in and went straight to city hall and got our honeymooner buttons. (seriously, get these, they give you at the very least a lot of congrats). We had a bunch of time to kill so we went into the shops on main street. It started to pour rain so we wasted a bunch of time in the shops. DH let me get this really cute yellow tinkerbell backpack thingie (which I had planned on getting before the trip, he just didn't know it) The rain let up allowing us to get some pictures with Walt and Mickey in front of the castle, and then we headed over to tomorrowland. Of course, we started with Buzz DH loves that character. We got on the ride and DH CREAMED me like 230,000 to 14,000 lol. I really sucked at that game. After a little more time killing and getting our extra magic hour bracelets, DH and I headed towards the castle (Our first ADR was CRT for 8:45pm, I was sooo excited about this one). We were a little early, so again a bit of time killing in Tinkerbell's treasures where we finally broke down and got ponchos. It was raining soooo much and I hadn't packed any (yeah i know, big no no)! So ya, we went over to Cindy's a bit early and checked in and got to meet Cinderella. They took our picture and we were called upstairs. It was so pretty in there! We were sat at a table a bit away from the windows, but still cozy. Our waitress brought over a "present" from Cinderella (really nice glass etched champagne flutes) and took our orders. DH and I both had the BLT salad appetizer (really good), DH had cheese tortellini for entrée (was a bit cold) while I had spice rubbed chicken and mashed potatos (the polenta wasn't for me) yummmm….Oh I almost forgot the best part, pretzel rolls. They were delicious! Before our meal came out two of the girl mice from Cinderella and the fairy godmother came out and performed and took pictures. It was really sweet. They all were pointing out our hats (I had bride/groom hats embroidered for us before the trip) etc. and then they sang a "happy celebration" song for all the birthdays and anniversaries. It was really sweet tho, the fairy godmother had seen us before the number and when she asked if anyone was celebrating their honeymoon/wedding she came right over near us. We were the only ones there doing so and everyone cheered for us and she asked us when/where we were married and gave us a bunch of attention. It was so sweet that I was tearing up! We had a great time and the food was great. The fireworks started while we were still in there, but the windows were foggy and they were harder to see than I had pictured so we went outside. In doing so, we walked right out of the front of the castle with this HUGE crowd out there staring at it. It was almost like they were all looking at us. After a few good shots in the "you aren't supposed to be this close" zone, DH and I walked down and sat and watch the rest of wishes. It was really nice. Then he and I were going to ride space mountain and buzz once more during EMH, but the space mt. line was WAY too long so we just did buzz and came back to crash at the hotel. It was a LONG day!
Day 2
Today started at about 7am when we got up. Animal Kingdom had EMH this morning, so we headed over there. First thing we did was head over to Everest. The line was saying 40 mins, but we hopped in it anyways. It was really like 15 mins. The ride was a LOT of fun, DH and I both enjoyed it. Afterwards we got some cool snapshots of monkeys and everest from afar on our way over to the safari.
It still being morning, we got some great shots of animals. DH and I were even given our own row in the truck! I think it was b/c of our hats/buttons . With that over, we decided we were hungry so we found a counter service and had brunch (one right by the safari, I can't remember the name of it). Then we decided to head over and check out camp Minnie Mickey. After some photo ops with Donald, Mickey, and a hilarious goofy
we decided to see Festival of the Lion King which was really cool.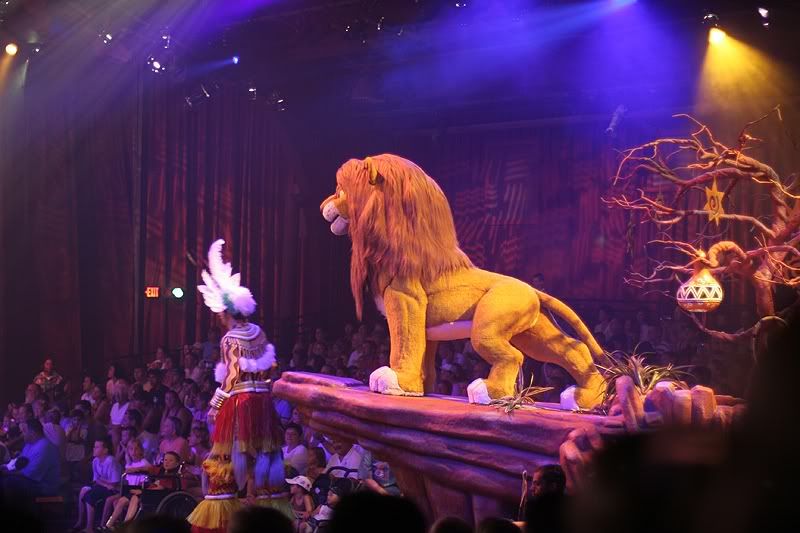 I especially liked the gymnastic monkeys! Then we decided it was time for a break, so we headed back to the hotel for a nap lol. I loved having so much time to do everything. It allows us to just rest when we are exhausted . Oh! I forgot to mention that DH got a really cute bucket hat that had a bunch of pins on it, so he let me get a lanyard and a few pins (I have a modest collection of Tinkerbell pins from when I went to disney with my parents and sister on a "make a wish" kinda trip last year for my dad). We transferred most of the pins from his hat to my lanyard and now we then set out to trade for buzz lightyears (for DH) and Tinks. The lanyard I got was from the tinkerbell starter pack, so was perfect to put all the tinks I have back home on when we got back. After a nice nap we awoke to a knock at the door. A castmember had a note signed by mickey and Minnie for us plus some mardi gras beads
. After that we headed to EPCOT. We rode Spaceship Earth(just have to do it)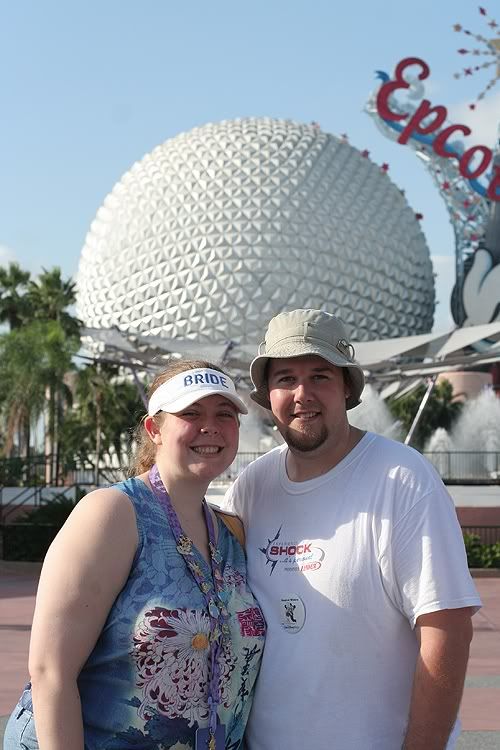 and then headed towards soarin'. The wait was like 70 mins, so we picked up fastpasses (at like 4:30 the fastpass return was like 7:54!). Then we headed over to the living seas. We immediately got in line for Turtle talk (took about 1/2 hour there) which was really cute. We then looked at the fishies and saw a manatee up close which was really sweet, i love manatees. It was nearing time for our dinner so we headed to Rose and Crown. It is the restaurant in the UK of the world showcase. We were seated nearly immediately. DH and I both had potato and leek soup (pretty ok), followed by grilled steak with mashed potatos and dessert. I made the mistake of thinking "medium well" would be like hamburger medium well, aka NOT bleeding, so when it came out with blood seeping out of the meat I was disgusted. I barely finished my dinner because of it, but at least they cooked it more for me and all was better. After dinner we went back and rode soarin' which was fun. DH's foot was hurtin (he refused to buy crocs, though I told him he'd be sorry, which he was, I was comfortable the whole time with my ugly bright pink shoes! :-D)so we headed back. At the hotel we decided it would be nice to check out the pool so we changed and swam for like an hour in one of the "quiet pools". It was really nice, not nearly as many people/kids as the main pull. Then we decided we were a big hungry (R&C wasn't as filling for the reasons I said earlier)...so we waited for room service
I've actually never ordered room service, so this late night snack was good (expensive, but yummy none the less). Tomorrow…magic kingdom and whispering canyon for dinner yay!
Day 3
We started today a little later at about 9am. We were tired from everything for the past few days. We headed over to Magic Kingdom.
The first thing we did was head over to space mountain. We had intentions of getting fast passes, but the line was only like 20 mins so we stood in it. After a great ride we decided to head towards fantasy land. On our way it was like 11am so we decided to grab lunch. I LOVE the Disney dining plan. We ate at Starlight Ray's Café and both had chicken tenders, fries, water, and a dessert. After lunch we went to Mickey's toon town fair and got pictures with Aurora, Cinderella, and Snow White. Then we rode it's a small world (and afterwards I promised DH I'd never make him ride it again). After small world it was off to haunted mansion, then Big thunder mountain railroad, and then pirates. In line for pirates we met a nice family from the UK. They had some pins too and we were just talking away. It came up that I have a tinkerbell collection at home, so they dug into their bag and found a UK exclusive tinkerbell pin which I traded for . It's really cool. The new pirates is cool too. The jack sparrow character looks SOOOO realisitic! It was amazing. Some of the new effects are cool too. DH and I then grabbed some yummy ice cream on main street USA (yay snack credits, and I highly reccommend the ice cream store at the very end of main street, closest to the castle. They give you a TON of ice cream for one measly snack credit, and it's delicious) and then went over and rode buzz again. I did much better this time, I even beat DH . We then decided to head back to the hotel to rest in air for a bit before dinner at the Whispering Canyon restaurant in the Wilderness Lodge. I had never eaten there, and hadn't read much about it, so I was a bit leary, but the castmember helping me figure out my ADRs promised it would be a good experience, and boy was the food great! They make it a bit more like "home", throwing straws at you, telling you that you must have a napkin or you get no drink...and watch out if you need catsup! I had chicken with some really good mashed potatos and DH had this chicken penne stuff. Oh and we had nachos for an appetizer that were great. For dessert I had this big chocolate cake and DH had an apple pie kinda dish. Before dessert came out though, our waiter brought out two glasses of champagne on the house. But before we could drink them he made us stand up and got out this microphone. He announced that we were "mr. and mrs. I****" and then asked anyone if they were invited to the wedding etc. Needless to say we ended up re-inacting our "you may kiss the bride" moment. It was really cute, everyone cheered. Then we sipped our champagne with our yummy desserts
. When we got back to the hotel we stopped and picked up our packages (seriously, buy things early and get them delivered, it's so nice not to have to carry things around!) which included our personalized ornament! It is so pretty (as you may have seen earlier when I mentioned it)!!
Day 4
Wednesday started right on time. DH and I got up and headed over to the main building at the hotel to get my card reactivated (somehow it had gotten de-magnetized or something...which happens a lot apparently, so watch out). After that we caught the bus for MGM. First stop there was the Rockin' Rollercoaster. 1/2 hour wait, not bad (we didn't really utlize fast passes as much as we should have, but we had so much time that we didn't really mind). We both that it was awesome! We got to sit in the very first row of it too (a lovely couple of teen girls were there and we were in the 2nd row and offered it to "the newlyweds" which was really sweet)! So much fun. Then we headed back towards the main entryway stopping in a lot of the shops on the way. One of them, a candy type store, saw our buttons and gave us 2 free candy coated marshmellows on sticks! They were actually really good. After that we headed towards the great movie ride. The line there was too long so we snuck behind it to a mickey magic show. On our way there we met JoJo from JoJo's circus! Of course we got pictures (Dnephew loves that show) and then saw the magic show. We were going to do the backlot tour after that, but again the line was huge and completely in the sun, so we decided to try to get into the Sci-fi dine in theater early (we had ADRS, but I realized I made too many for the credits we had, so this one was OOP). Lunch was really good there. DH and I both had hamburgers with fries, and then we were going to order sundaes, but our waitress found out that it was our honeymoon and gave them to us "on mickey". After lunch it was on to Star Wars! We got in on that one pretty quickly. DH was real excited about it, and even moreso about the store at the end of it! The ride was just the way I remembered it. After that DH and I were really hot so we headed back to the hotel. We got off at the main building and walked by the pools to see how crowded they were. DH stopped once again at the quiet pool near our room (he already had his trunks on) and I went and changed and met him there. Swimming was fun again, but I think it's what caused us both to now be a bit sunburnt . Awhile after swimming we decided it was dinner time. We hadn't used our counter service meal for the day, so we headed back to the main building and ate at the food court there, which was actually pretty good (and seriously, the DDP, if you can get it, is so awesome, you will NEVER go hungry!). After that we went over to Magic Kingdom. We found a spot (about an hour early) for the parade. It really made us mad though because people just kept walking up and just standing there. (OK, here's my one rant...It's like SIT DOWN if you are in the front row or even in front of people, it's just common parade etiquette. If you are in the very front row, odds are that there are going to be kids behind you whose parents are making them sit down, so if you sit, everyone else can see...you stand, and then little kids --or whiney honeymooners--can't see! ARRRRGHHH so SIT DOWN seriously, is it that hard?) I grabbed an ice cream and pop for DH for a snack and then the parade was on! I love the spectro magic parade, and it was DH's first time seeing it, so he thought it was amazing! During it we started chatting with a Mexican family standing next to us. It was a hilarity of very poor English, and very poor Spanish, but they were the nicest family I think I've ever just randomly started talking to! They had a little daughter, not more than 6, and one on the way. The dad kept showing DH still pictures he had took on his camcorder during the parade (while we waited for fireworks). It was so sweet. The fireworks were amazing, and DH got some great shots of them. After the fireworks, I mentioned that we had just gotten married and they said "buena suerte" (good luck) and remember "God….Family…..work!" lol They were so sweet. After the fireworks we slowly made our way to the exit and busses where the line was HUGE (the biggest downfall of POR I think, the lines were always really big). Finally we got on one and headed to the hotel.
Day 5
Today started REALLY late. DH and I just wanted to sleep in. Hey, long days and tons of excersize = tired honeymooners. When we got up we ate again in the food court there at the POR. After that we bought gifts for eachother (which we didn't have the money to do before). I got DH a Star Wars watch, and he got me a tinkerbell one. They are both great! Both were a bit big on us, so we decided to head to downtown Disney to get them fixed. While we were there we went through all of the World of Disney store. I got a lanyard series tinkerbell pin (yay!) and DH let me buy another tink pin that I really liked. We got back to the hotel just in time to change clothes and head out for our dinner reservations at the California Grill. This is a VERY high class restaurant on top of the Contemporary resort. It has a dress code and everything! We hitched a bus over to the magic kingdom and then got to ride in the very front of the monorail over to the contemporary (really cool, and all you have to do is ask). That was so cool. We got to the Grill on the 15th floor about 40 mins early, but they told us we could get nearly right in. They sat us at a table with an AMAZING view. We could see all of magic kingdom and epcot too! There were these walkways on top of the contemporary outside too that we went out on.
For appetizers I had a flatbread (sundried tomatos, pesto etc.) and DH had goat cheese ravioli. Then for our main course we both had Beef Filet with a barbeque sauce, green beans, and mashed potatos. It was AMAZING! DH and I both thought it was the best meal we've ever had. Oh, our table was decorated too with mickey confetti, and then they also brought us out a congratulatory cake piece, as well as our desserts.
They also took a picture of the two of us and printed it out for us! The total bill, 132 or so. Luckily, dining plan kicks in and we got it for free! It was seriously to die for, our best meal here. After that, we hopped a bus to MGM and saw fantasmic which was really good as usual.
Day 6
Again, today was a later start. We got up around 10:30 and got dressed and booked over to planet Hollywood for lunch. We got our "free gift" there (a keychain) and then explored west side of downtown Disney for a bit.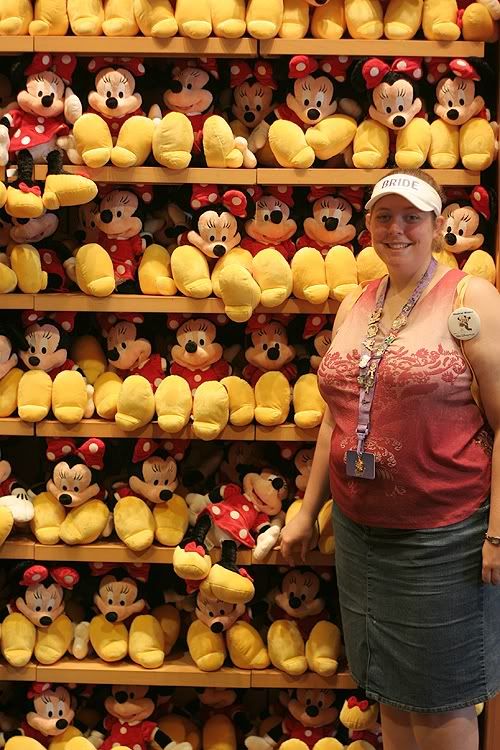 We came back to the hotel, picked up a few packages, then came back to the room for a few mins. Then we headed back out to EPCOT. We rode test track (said 70 min wait, but it was more like ½ hour to 45 mins).
After that we went to the world showcase and rode the mexico boat and then Malestrom in Norway. After a drink break in germany we had dinner in the American Adventure. During our meal, a guy came over (castmember) and asked us about what we were celebrating, then he asked our last name and then announced to everyone that we were on our honeymoon. Since we had just finished dinner he made us follow him and directed us to a phone and had us dial a certain number. That number led us to a message of congrats from mickey and Minnie! Then while DH listened to it he made up a certificate for us, all calligraphy and stuff, really cool. Then he lead us to an elevator and we got to pick any seat we wanted in the theater for the American adventure presentation (not my favorite thing to watch, but hey, special treatment, we couldn't resist
). When that was through we headed back towards Italy and found this perfect little spot right atop a little bridge to watch illuminations. While we were waiting, another couple on their honeymoon from Ohio came up. They were super nice, the bride even said she felt the exact same way about the whole "it just doesn't feel real" thing which was so nice to hear. Illumuniations was just perfect, more than I even remember. DH loved it as well.
Day 7
We spent most of the day again at Magic Kingdom. We ran around going to all the things we missed. The hightlight: Mickey's Philharmagic for sure. It's a very good presentation. DH and I both loved it. Oh, and then also riding in the very front of the space mountain car, it's awesome! We again got to ride upfront on the monorail to head to the poly for dinner at O'Hanas. The food there was amazing. Everyone there is your "cousin" and all the food is set beforehand. We had an interesting salad, great honey BBQ chicken wings, peel and eat shrimp, and then the skewers with AMAZING scalloped potatos. DH mentioned to our Cousin that he wished he could get the recipe for me to make them at home. Lo and behold, right before our check came our Cousin brought me the recipe. I still need to send her one back (she said "you owe me one now)...Cousin Margie, I'll be sending it soon!. We both got lei's from the entertainer and from our Cousin, and then we had an AMAZING banana pudding desert. It is SOOOOO good and all you can eat! From there we went over to Epcot, but it was all wet, and by then DH and I were feeling sick with colds (all the sweating then going into the freezing hotel room = weakened immune system...that or the pool, or a combo of both...eh who knows), so we headed back.
Day 8
I guess eight days for a honeymoon in disney may be a bit much, who knows. We had a great time and would have been even better if we hadn't gotten those odd colds. On our last day there we spent most of it actually in the hotel. We felt really icky. I was determined to see the castle one last time, so I went by myself (DH was a lot sicker than I was). I miss it there already. DH and I talked alot about maybe moving down there one day so we can be near it...and I've actually opened the lines of communication on maybe having a vow renewal there for 5 or 10 year anniversary (probably just an intimate with just us and maybe our future kids, depending on the timing). I am so happy that we had our honeymoon there. Our magical express picked us up early (3 hours prior to departure) which was fine. We made it through all the security, picked up a last minute gift and then headed home. I'm so happy DH and I were able to spend his first time there together. It was an amazing trip! I'm just a bit sad to be home...