Someone gave me this recipe years ago. I've never tried it, but maybe it's what you're looking for???

Red-Hot Jello
Here's one I came up with about 25 years ago and the kids still ask for it every holiday. I don't have exact amounts since it's an original. But here goes....

First, I melt down about 3/4 c. red cinnamon candies (called Imperials, I believe) in about a cup or cup and a half of boiling water. I find that if I do this a day ahead of time and refrigerate it it works better.

1 large box Cherry Jello - prepared according to the directions on the box. Use hot water to dissolve the jello and use the cooled cinnamon liquid in place of cold water. If you forget to melt the Imperials the day before, just reverse and use the cinnamon water for the hot water called for in the directions. I add diced apples, finely chopped walnuts and some mini marshmallows. It comes out like a cinnamon flavored waldorf salad minus the creamy dressing.
__________________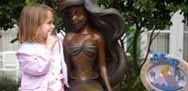 Ahhhh. . .HOME SWEET HOME!